Meghan Markle and Prince Harry Shine at World Mental Health Day Event in NYC Amid High Security
New York, NY - October 10, 2023 - Meghan Markle and Prince Harry, the Duke and Duchess of Sussex, made a grand entrance at a World Mental Health Day event in New York City today. The royal couple arrived in a seven-vehicle convoy, accompanied by a NYPD escort, five months after an incident they referred to as a 'near catastrophic car chase' in Manhattan.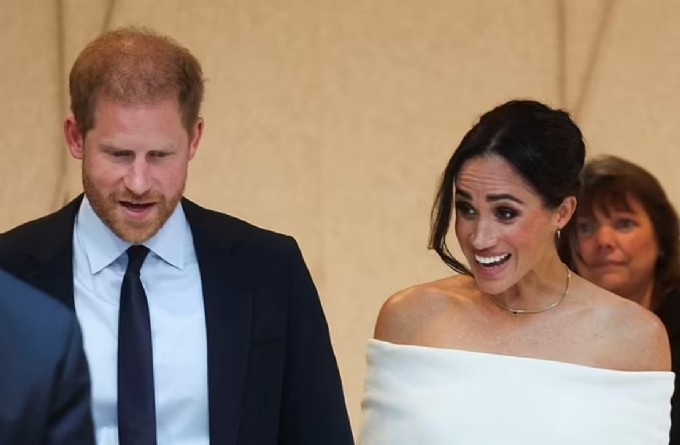 The event marked the first in-person appearance of the Duke and Duchess for their charity, the Archewell Foundation. Meghan, 42, exuded elegance in a strapless white blazer paired with matching white pants and heels. Prince Harry, 39, looked dapper in a navy suit. The couple initially appeared joyful upon their arrival but grew somber as the panel discussion began. Parents who had experienced tragic losses related to their child's social media use took the stage to share their stories.

During the emotional event, Harry and Meghan revealed that they had been working behind the scenes with these parents for a year, aiming to create a supportive community of shared experiences. The couple later expressed their gratitude to the parents who shared their stories, acknowledging the difficulty of being physically present at the event.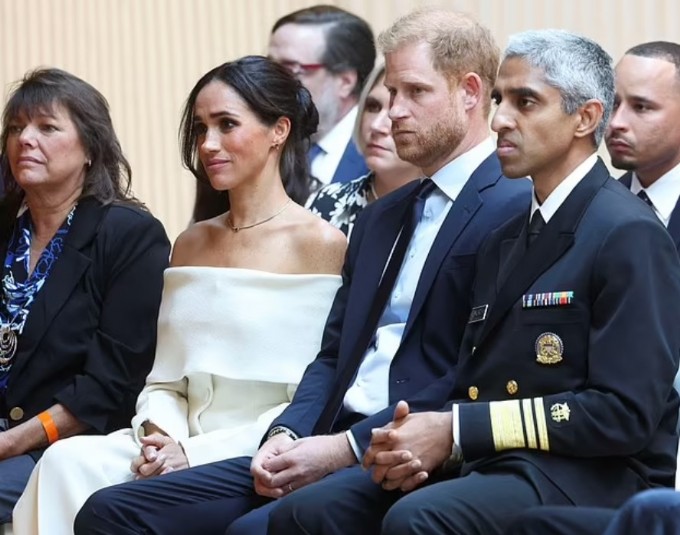 "I can't start without thanking all of the parents, the mothers and fathers who have been here today, physically and on this journey for the last year, creating this community of shared experience," Harry stated during the event.

Meghan also expressed her concerns about the impact of social media on their own children, stating, "As parents, though our kids are really young, they're two and a half and four and a half... but social media is not going away."

The event emphasized the importance of creating a safer online world for children and teens. The couple discussed initiatives that are driving positive change and shared personal experiences with parents who have faced tragic losses due to their child's social media use.

Before the event, Harry and Meghan visited the Marcy Lab School in Brooklyn, which offers an alternative to traditional four-year colleges, focusing on preparing young adults of color for careers in the tech sector within one year. The couple also participated in a mindful meditation session with students.

Today's event, titled "The Archewell Foundation Parents' Summit: Mental Wellness in a Digital Age," featured notable guests, including Today show host Carson Daly and US Surgeon General Dr. Vivek Murthy, who joined Harry and Meghan in their advocacy for mental health care.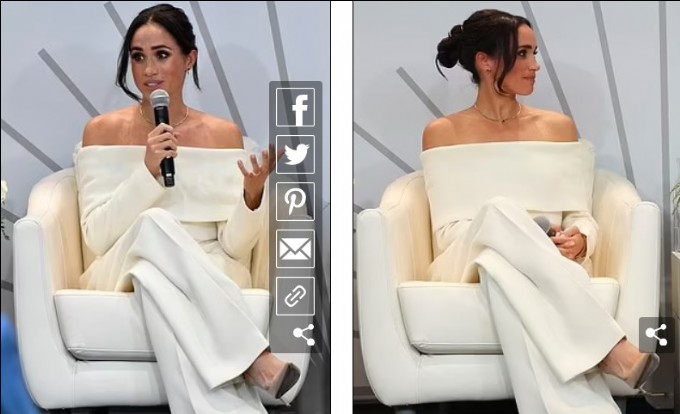 Harry and Meghan's appearance at the event came with heightened security, as they arrived in a fleet of blacked-out vehicles accompanied by an NYPD escort. The heightened security measures were in response to their previous encounter with aggressive paparazzi in May, which they described as a 'near catastrophic' car chase.

However, questions still linger regarding the severity of the incident. While the couple's spokesperson asserted they endured a 'relentless pursuit lasting more than two hours,' New York police officials downplayed it, describing it as 'a bit of a chaotic scene.'

The couple's commitment to mental health advocacy has been evident in their past endeavors, with Prince Harry even co-creating an Apple TV+ documentary, "The Me You Can't See," dedicated to addressing mental health struggles. Meghan has expressed concerns about the impact of social media on society and has been vocal about the need for change.

In a separate event, Prince William and Princess Kate hosted a youth-focused Mental Health Day event in the UK, emphasizing the importance of understanding emotions and building positive relationships. Kate wore a pair of star-shaped earrings given to her by a grieving mother in memory of her daughter, who tragically took her own life at the age of 17 after struggling with depression.

In her speech, Kate praised young people for their efforts in breaking the stigma surrounding mental health, stating, "Today, more people feel empowered to talk about their mental health than ever before. This is a major step forward."

Both events underscore the ongoing efforts of the British royal family to raise awareness and promote positive change in the field of mental health.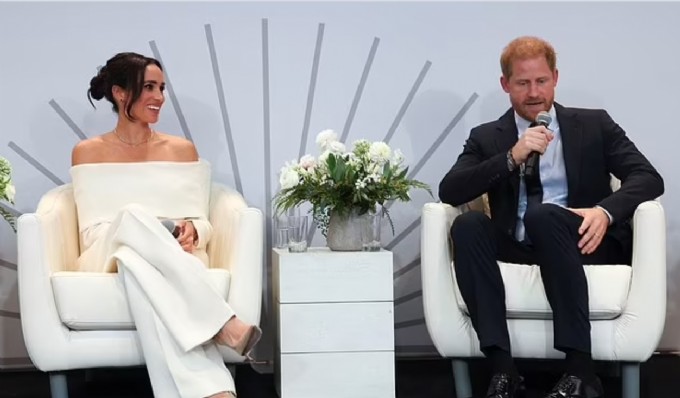 Full Names: Meghan Markle's full name is Rachel Meghan Markle, while Prince Harry's full name is Henry Charles Albert David.

Duchess of Sussex: Meghan Markle is commonly referred to as the Duchess of Sussex, following her marriage to Prince Harry.

Duke of Sussex: Prince Harry holds the title of Duke of Sussex after his wedding to Meghan Markle.

Archewell Foundation: Meghan and Harry co-founded the Archewell Foundation, a charitable organization focused on various social and humanitarian causes.

Former Actress: Before becoming a member of the British royal family, Meghan Markle was a successful actress, best known for her role in the TV series "Suits."

Wedding Date: Meghan Markle and Prince Harry's royal wedding took place on May 19, 2018, at St. George's Chapel, Windsor Castle.

Child: The couple has two children, Archie Harrison Mountbatten-Windsor, and Lilibet "Lili" Diana Mountbatten-Windsor.

Resignation from Royal Duties: In early 2020, Meghan and Harry announced their decision to step back from their roles as senior members of the British royal family, leading to discussions about their future roles within the monarchy.

Mental Health Advocacy: Meghan and Harry have been vocal advocates for mental health awareness and have worked on various initiatives to promote mental well-being.

Netflix Deal: Meghan and Harry signed a deal with Netflix to produce documentaries, docu-series, feature films, scripted television shows, and children's programming as part of their production company, Archewell Productions.

Spotify Deal: The couple also inked a multi-year deal with Spotify to produce and host exclusive audio content, including podcasts, through their Archewell Audio company.

Oprah Interview: Meghan and Harry's highly publicized interview with Oprah Winfrey in March 2021 generated significant media attention and discussion about their experiences within the royal family.

Charitable Work: Meghan and Harry have been involved in numerous charitable activities, including supporting veterans, mental health organizations, and initiatives related to gender equality.

Biographies: Meghan Markle released a best-selling memoir titled "The Bench" in 2021, inspired by a poem she wrote for Prince Harry on Father's Day.

Royal Titles: Following their exit from senior royal roles, it was agreed that Meghan and Harry would retain their royal titles but would not actively use them for royal duties.

Paparazzi Concerns: The couple has been vocal about their concerns regarding invasive paparazzi and have advocated for stricter privacy measures.

North American Residency: After leaving the UK, Meghan and Harry initially moved to Canada and later settled in California, USA.

Invictus Games: Prince Harry founded the Invictus Games, an international sporting event for wounded, injured, or sick armed services personnel, which has received significant attention and support.

Royal Family Relations: Meghan and Harry's relationship with other members of the royal family, including Prince William and Kate Middleton, has been a topic of interest in the media.

Social Media Presence: Meghan and Harry maintain a presence on social media platforms like Instagram, where they share updates about their philanthropic work and causes they support.

Fashion Influence: Meghan Markle's fashion choices often receive widespread attention, making her a notable figure in the world of fashion.