Napoli Fan Paola Saulino Makes a Daring Statement at Champions League Final in Revealing Bralet
Just days after dazzling fans with her body paint at Napoli's scudetto celebrations, the stunning Italian made heads turn in a tight two-piece yellow outfit.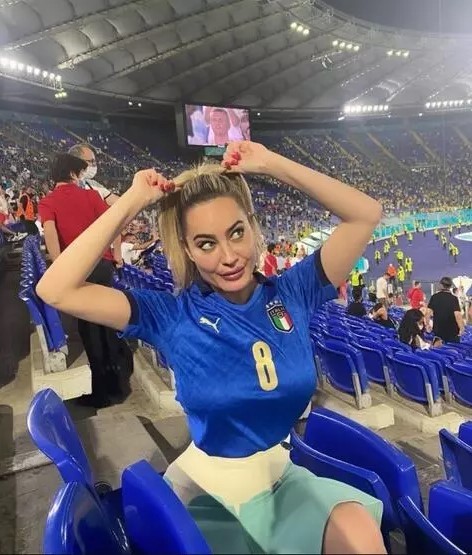 Paola's eye-catching ensemble featured a plunging yellow bralet that accentuated her ample assets. Fans couldn't help but shower her with compliments, drawing comparisons to Napoli defender Acerbi's struggle with Haaland on the field. One admirer humorously commented, "Your bra is struggling more than Acerbi with Haaland!" Another fan playfully remarked, "You're more naked here than at the Naples festivities!"
Paola, known for her vibrant personality, has a reputation for making bold statements. Earlier this year, she teased Daily Star readers by revealing her plans for a unique celebration: "I can reveal to the Daily Star readers that I will do something crazy and celebrate by doing a naked open bus top of Napoli!" While she didn't fulfill that exact promise, Paola did make a striking appearance on foot during Napoli's triumphant scudetto parade through the streets of Naples.
During the parade, Paola confidently flaunted her body paint attire, with only strategic strokes preserving her modesty. The body paint prominently featured Napoli's badge and Italy's Tricolore, symbolizing the country's national colors. To add a cheeky touch, Paola adorned the back with her name and the number '69' as her shirt number.
With her bold fashion choices and infectious enthusiasm, Paola Saulino continues to captivate both Napoli fans and onlookers. Her presence at the Champions League final was yet another memorable moment in her journey of supporting her beloved team.