Netflix's most terrifying films revealed as horror fans left 'scarred for life
Netflix's most terrifying films have been revealed as horror fans were left 'scarred for life, throwing up and suffering panic attacks' after watching.
From nail-biting technology thrillers, supernatural curses, sickening fights for survival and even blood-thirsty pensioners, the streaming service has it all.
But even those who get a rush from indulging in their favourite horror flick will come across the occasional offering that even they find too frightening to finish.
Some fans have claimed they've felt physically sick, had stress headaches and been left squirming in their seats, after watching the 'scariest movies ever.'
So, are you brave enough to watch them? Here, MailOnline takes a look at the most horrifying films currently available to watch on Netflix.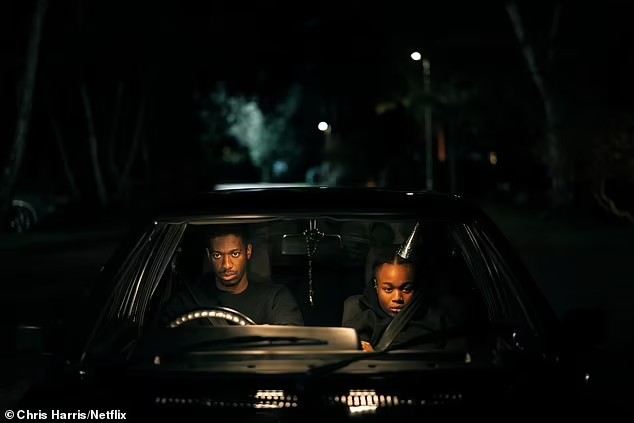 The Strays
Netflix fans said they were scarred for life after watching the streaming service's new horror film The Strays.
The creepy British horror film has left fans squirming in their seats after its debut on the streamer at the end of February.
The flick follows Neve (Ashley Madekwe), a light-skinned biracial woman who lives a suburban life in a small English town and works as a deputy headmistress.
She is married to a white man named Ian (Justin Salinger) and eschews anything that has to do with blackness.
Neve's past threatens to unravel her idyllic life and she becomes deeply distressed by the arrival of two strangers in the town who appear to know her.
In the trailer for the film, Neve is seen driving her children when the two strangers appear on the side of the road, almost causing her to crash.
Later, Neve and her husband are entertaining guests in their home when she spots a man staring at her from the pavement.
Becoming startled, she stands up and points outside, saying: 'What's that at the window? Someone's there, can't you see?'
But the other guests stare at her in confusion, with one saying: 'What's wrong with you tonight?'
Taking to Twitter, one user said of the flick: 'Just finished watching The Strays on Netflix and I think I'm scared for life because what the hell did I just watch!'
Fall
Horror buffs have been made physically sick by the film Fall.
The survival thriller follows two friends, Becky (Grace Caroline Currey) and Hunter (Virginia Gardner), who climb a 2,000 feet tall radio tower and get stranded at the top with no way down.
While it was released in the States last summer it has recently been added to Netflix, with a new score of viewers discovering it in recent days.
It's not a film for the fainthearted, with viewers taking to Twitter to say it had left them physically sick.
Common complaints from viewers are overwhelming feelings of stress, nausea and anxiety, particularly with those who have a fear of heights.
Taking to Twitter, viewers penned: 'Actually induced a stress headache. A really entertaining watch', another added: 'Watched this yesterday. Didn't know what to expect and was pleasantly surprised... and terrified!
A third wrote: 'Good movie… made me throw up and have a panic attack, but good'
The movie has been received positively by critics and currently holds a 79 percent score on Rotten Tomatoes.
Unlocked
Netflix viewers have been left terrified after watching a technology thriller they described as the 'scariest' film ever.
Fans took to Twitter to share their nail-biting reactions to South Korean mystery movie Unlocked, which debuted on the streaming platform in February.
The tense thriller sees a woman's life completely turned upside down when a dangerous man uses her lost phone to track her every move.
Viewers were left completely terrified by the eerie movie, with fans deeming the film to be one of the 'scariest' things they had watched in a long time.
One person even said they wanted to 'throw their phone into the sea' after being left very unsettled by the horrifying events.
Taking to Twitter, one viewer wrote: 'Have you watch the movie UNLOCKED on Netflix. Digital footprint is scary.'
Another said: 'Unlocked on Netflix is one of the scariest films I've seen in a long while. I want to throw my phone into the sea.'
'It was the scariest thing I've seen in a while and it will make you reconsider a few things. Most definitely WATCH IT. Highly recommended!!!', someone else wrote.
Directed by Kim Tae-joon, the film sees office worker Lee Na-Mi (Chun Woo-Hee) lose her phone on a bus, with Oh Jun-Yeong (Im Si-Wan) picking it up.
Jun-Yeong then tells her to pick up her phone at a repair shop under the pretense of fixing her broken screen, but instead installs spyware on to the device to track her every move, text and conversation.
Jun-Yeong starts to infiltrate Na-Mi's life, with her father growing suspicious of him, while Jun-Yeong then pretends to work at a software company and says he will try to help her with the spyware.
Jun-Yeong then leaks confidential information about Na-Mi, while still deceiving her into thinking he isn't the culprit and things quickly take a very dark turn.
Incantation
Released last month, Taiwanese supernatural film Incantation follows a young mother as she tries to protect her daughter from an evil spirit.
Tsai Hsuan-ye stars as Li Ronan who becomes entangled with a curse while visiting a rural village, the hex then begins to haunt her six-year-old daughter.
Viewers admitted they were in shock after watching the movie, with one joking that they 's*** their pants.'
'I watched Incantation a day before yesterday and I just want to say DO NOT EVEN TRY TO WATCH THAT MOVIE I AM STILL IN SHOCK,'
'Incantation on Netflix is the wildestttt horror movie I've ever seen,' another fan added.
It's currently the highest-grossing Taiwanese horror film, after it became popular though TikTok.
Social media users have been challenging each other to watch Incantation the whole way through without pausing or having to switch off.
Old People
One German horror flick has left viewers 'hiding behind their seats' after watching the grisly feature about blood-thirsty pensioners.
Old People follows character Ella (Melika Foroutan) as she returns to her countryside hometown to see her sister Sanna (Maxine Kazis).
In a gruesome twist of events, it becomes clear that all is not as it seems with the towns elderly people go on a murderous rampage, killing younger residents.
It eventually becomes clear that after years of neglecting the pensioners, a curse has been placed on the people, with the elders seeking their revenge.
One fan wrote on Twitter: 'Old People on Netflix is scary as hell my god…the stamina how!?'
'Old People on #Netflix might actually be the scariest film on there… It's German but so dark. Actually had to hide behind my hands for most of the movie,' another added.
A third person said: 'Not entirely sure why I'm still watching, it's creepy, disgustingly horrifying, sadistic and just messed up.'
The Call
When two women from different time connect through a phone call their fates change forever.
Kim Seo-yeon begins receiving calls from a terrified women who says she is being tortured, through a disconnected old phone.
A South Korean thriller, The Call, had horror seekers branding it 'crazy,' 'disturbing,' and the 'trippiest psychological thriller.'
Taking to Twitter one fan wrote: 'Watching Netflix The Call with my family. S*** getting weird.'
'Wouldn't doubt it if I had nightmares tonight watching The Call,' someone else said.
Another added: 'If you haven't seen The Call on Netflix then you're missing out on a phenomenal movie. You are also missing Jeon Jong-seo's outstandingly disturbing performance.'