Orange County Fair Returns with Exciting New Attractions and Beloved Classics
The long-awaited Orange County Fair is set to kick off this Friday, offering attendees a thrilling lineup of new exhibits and beloved favorites. One of the highlights of this year's fair is a custom-made exhibit dedicated to the art of music, marking the first new exhibit since the pandemic. Located in an entire exhibit building, visitors will embark on a nostalgic journey through iconic album art, featuring original hand-painted billboards that once advertised now-iconic albums.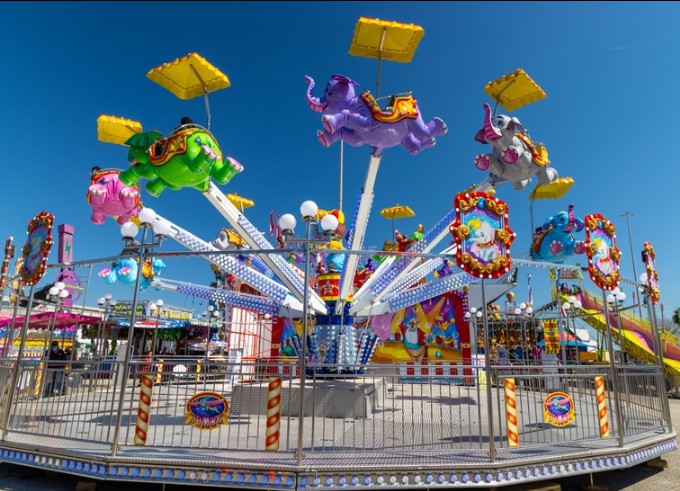 Orange County Fair CEO Michele Richards expressed her excitement, stating, "I've been watching it getting built every day, and I'm super excited about it." The billboards showcase the works of legendary artists such as Madonna, David Bowie, Prince, Tom Jones, and the Smashing Pumpkins, spanning music from the '40s and '50s to the present day.
In addition to the music exhibit, fair organizers have taken measures to control crowd sizes, ensuring a more enjoyable experience for attendees. All tickets must be purchased online in advance, eliminating on-site ticket sales. This approach has proven successful in providing a better guest experience and benefiting the surrounding neighborhoods.
This year's fair, themed "Happy Together," offers a special "super pass" that grants access to every day of the fair, excluding Mondays and Tuesdays. Priced at $60, the pass allows visitors to attend on any day, even if it's sold out.
An exciting addition to the fair is the provision of unlimited water at no cost. Visitors who bring their own thermos or bottle can enjoy chilled, filtered water at various filling stations throughout the fairgrounds. The initiative aims to reduce plastic waste and encourage sustainability.
Thrill-seekers will be delighted by the arrival of three new carnival rides, including the Joker 360, Rafter roller coaster, and Slingshot ride, providing adrenaline-pumping experiences for fairgoers.
Of course, the fair wouldn't be complete without a wide selection of indulgent fair food. This year's offerings include unique treats to satisfy different tastes, such as the Maple Bacon Smoothie for bacon enthusiasts, fruit pizza, and deep-fried s'mores. California Grill will also provide all-vegan and vegetarian fare in response to customer requests.
The Pacific Amphitheatre will host a series of concerts featuring renowned artists like Smokey Robinson, Dwight Yoakam, Cheap Trick, Chicago, Styx, George Thorogood, and Beck. Additionally, the Hangar will showcase various tribute bands throughout the fair.
Old favorites will also make a comeback, including the highly anticipated return of the rodeo, ensuring that visitors have plenty to discover and rediscover at this year's Orange County Fair.
With an exciting blend of new attractions and beloved traditions, the 2023 Orange County Fair promises to deliver unforgettable experiences for attendees of all ages.