Oscars 2023 live updates: Latest news from carpet, show
Live updates are brought to you by AP journalists in Los Angeles and around the country.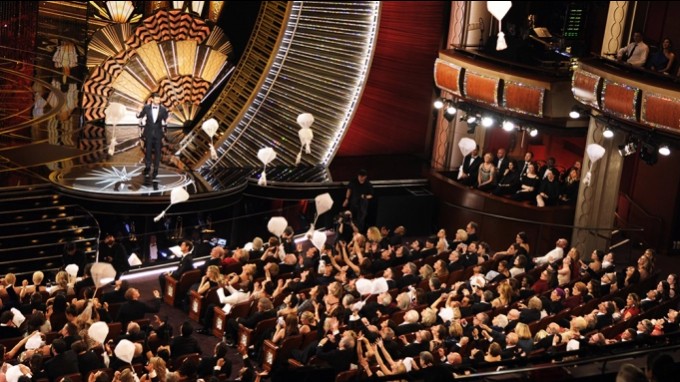 MARVEL EXECUTIVE VICTORIA ALONSO OUT TO SUPPORT 'ARGENTINA, 1985'
Argentine film producer Victoria Alonso, whose day job is president of physical, post production, VFX and animation at Marvel Studios, is here in support of best international film nominee "Argentina 1985," which she produced.
"They let me off the hook for a bit," she said of her Marvel bosses. "It's an important film."

Alonso, the film's director and cast posed in front of an Oscar and sang an Argentine song together for good luck.
"We're going to win an Oscar," she said, smiling before joining her team down the line.
___
LILLY SINGH TOUCHES UP
Comedian Lilly Singh stepped aside to a corner of the champagne carpet to adjust her outfit, a dramatic fuschia frock, and fix her makeup. But soon roaming photographers had spotted her and asked her to pose in front of the big Oscar.
"Right in front of the Oscar?" she said. "So many cameras I love it!"
She then made her way to the bleachers to give high fives to fans who cheered her on.
___
'RRR' SINGER PROMISES UNIQUE PERFORMANCE
"Naatu Naatu" singer Kaala Bhairava promised that tonight's performance of the "RRR" song will be unlike anything the audience has seen before. He told the AP on the carpet that the performance will feature a mix of old and new choreography. Bhairava will perform alongside Rahul Sipligunj.
___
FANS IN THE BLEACHERS
A few dozen lucky and well-dressed fans practiced their cheers before the stars started arriving. Nominees often make the bleacher one of their first stops to shake hands and pose for selfies.
LADY GAGA TO PERFORM 'TOP GUN' SONG, AFTER ALL
AP Film Writer Lindsey Bahr — our roving reporter tonight — reports that a person close to the production with knowledge of the performance confirmed that Lady Gaga will sing "Hold My Hand," the Oscar-nominated original song from "Top Gun: Maverick."
Producers had said just days before that the superstar's filming schedule for the "Joker" sequel would keep her from performing. Now that she's been added to the lineup, all five original song nominees will be performed tonight.
___
ALL CALM ON THE CHAMPAGNE CARPET
Our roving red — sorry, champagne — carpet reporter Lindsey Bahr reports that for at least a few moments, the champagne carpet was calm at the 95th Academy Awards as press, photographers and publicists took their places outside the Dolby Theatre before 4 p.m. Pacific.
Some chattered about the possibility of a Lady Gaga performance, while others took last-minute selfies in front of the larger-than-life Oscars. Others wondered if the light colored carpet was going to stay clean the whole night.
___
ODDSMAKER BET ON 'EVERYTHING, EVERYWHERE' TO WIN IT ALL
For those who don't want to wait, go ahead and offer congratulations to "Everything Everywhere All at Once."
Oddsmakers say it'll win at least six Oscars this year.
Yes, you can bet on the Oscars (in some states, anyway). FanDuel Sportsbook is among the many that has offered odds on the biggest categories, and it predicts — as many others do — that "Everything Everywhere All at Once" is the night's big winner.
A breakdown of some of their bets:
— Best picture, "Everything Everywhere All at Once"
— Best actress, Michelle Yeoh
— Best actor, Brendan Fraser
— Best director, Daniel Kwan and Daniel Scheinert
___
GUIDE TO THE BEST ACTOR RACE
A first-time best actor winner awaits for certain — since none of the nominees has won an Oscar.
It's likely a two-man battle between Brendan Fraser ("The Whale") and Austin Butler ("Elvis") for the award. Colin Farrell ("The Banshees of Inisherin") is a potential stealer, with Paul Mescal ("Aftersun") and Bill Nighy ("Living") potentially pulling off a surprise.
Will Smith was last year's winner for "King Richard," though few may remember that given the extracurricular events of that night.
GUIDE TO THE BEST ACTRESS RACE
The best actress category at Sunday's Oscars has the potential for history.
Michelle Yeoh ("Everything Everywhere All At Once") would become the first Asian woman to win in this category if she — as many expect — gets the Oscar.
The top threat to Yeoh's win has to be Cate Blanchett, the two-time Oscar winner who starred in "Tár" — depicting Lydia Tár, the fictional conductor of a German orchestra. Blanchett learned to play piano, speak German and conduct an orchestra for the film.
There was a surprise nomination of Andrea Riseborough for her performance as an alcoholic Texas single mother in the scantly seen indie drama "To Leslie." Five-time nominee Michelle Williams ("The Fabelmans") is also in the mix, as is Ana de Armas for her performance in the divisive "Blonde."
IF YOU MISSED RIHANNA AT THE SUPER BOWL, YOU CAN CATCH HER AT THE OSCARS
Rihanna stole the show at halftime on football's biggest night, and now she'll have a chance to leave her mark on Hollywood's biggest night.
She's scheduled to perform "Lift Me Up" from "Black Panther: Wakanda Forever."
"Lift Me Up," with music by Tems, Rihanna, Ryan Coogler and Ludwig Göransson and lyrics by Tems and Ryan Coogler, is nominated for original song. It is Rihanna's first Oscar nomination.
ARGENTINA SEEKING MORE GOLD
Not even three months have passed since Argentina celebrated one gold trophy — the World Cup, hoisted for all to see by the legendary Lionel Messi.
Another trophy hoist might be coming Sunday. And it, too, would prompt a national celebration.
Up for best international film is "Argentina, 1985," which details how prosecutors brought leaders of Argentina's bloody 1976-1983 military dictatorship to trial. It won a Golden Globe in January, which was big news in the South American nation, and now Oscar buzz could be the latest reason to party.
"After the World Cup win, this is an immense joy," the film's star Ricardo Darín said in Spanish at January's Golden Globe Awards. But it's up against Germany's "All Quiet on the Western Front," which was also nominated for best picture.
YEAR OF THE SEQUEL
For the first time, two sequels ( "Top Gun: Maverick,""Avatar: The Way of Water" ) are nominated this year for best picture.
And, of course, The Slap will be revisited.
There likely won't be a sequel to Will Smith striking Chris Rock during last year's Oscars — would anyone dare? — but it'll be talked about early and probably often. Host Jimmy Kimmel has already revealed the obvious, that it'll come up in his opening monologue. We'll be keeping a tally of how often it comes up.
The task of keeping the show going along smoothly — and only in headlines for the right reasons — falls to Kimmel. He was brought in partly to have a steady hand on the telecast, which will restore all categories to the live show. The Oscars also has a "crisis team" ready, just in case there is an unwanted sequel.
GLENN CLOSE OUT DUE TO COVID
Glenn Close has tested positive for COVID-19 and won't be presenting at the Oscars as planned.
A representative for the actor says she is isolating and resting. There's no immediate word on who will replace Close as a presenter. She was one of roughly 40 stars including Halle Berry, Andrew Garfield, Jessica Chastain, Michael B. Jordan and Sigourney Weaver who will be presenters Sunday.
Last year, Oscar nominee Lin-Manuel Miranda had to bow out of the show after his wife tested positive for COVID-19.
THREE TIMES THE CHARM FOR KIMMEL
Jimmy Kimmel is hosting the Oscars on Sunday night, the third time that he's held that distinction — which puts him into rare company.
He becomes only the fifth person to be the solo host of the Oscars at least three times, joining Bob Hope, Billy Crystal, Johnny Carson and Whoopi Goldberg.
Hope hosted solo 14 times, and five times with others. Crystal was a nine-time solo host, Carson a five-timer and Goldberg a four-timer.
There are four others who have been host at least three times, but lack the three solo gigs. Jack Lemmon hosted twice alone and twice with others; Steve Martin and Jerry Lewis each hosted by themselves twice and with others once; and David Niven was a three-time host, but never did the job solo.
In all, there have been 84 people to be recognized as having a hosting role at the Oscars. That list does not include one waterfowl; Donald Duck was credited as a host in 1958.
HOW TO WATCH THE OSCARS ​ The 2023 Oscars air live on ABC at 8 p.m. Eastern/5 p.m. Pacific. ​ If you're looking to tune into the red carpet, there's an Oscars' official pre-show beginning at 1:30 p.m. on YouTube. The Associated Press will livestream the first 90 minutes of arrivals on YouTube as well. Here's more on how to watch and stream the Oscars.
OSCARS PREDICTIONS
AP Film Writers Jake Coyle and Lindsey Bahr are pros at the predictions game — but the unexpected can always happen. Last year, Coyle edged out Bahr in predicting the eventual wins. We'll see who wins tonight, but until then: Read their predictions and check out the interactive Oscar ballot at the end.