Outrage at Italian Hotel's Controversial Buffet Stunt Involving Chocolate-Covered Woman
Voi Hotels, located in Golfo Aranci on the island of Sardinia, faced heavy criticism after serving a buffet that featured a bikini-clad female employee covered in chocolate. The incident, deemed "disgusting" and "thoughtless," led to public condemnation and even governmental comments.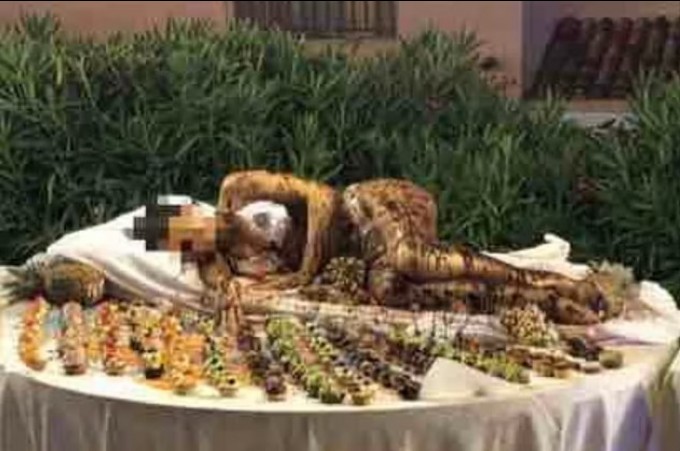 The controversy unfolded when hotel guests arrived at the poolside buffet expecting a spread of sandwiches, cakes, pastries, and canapés, but were met with shock upon seeing the semi-naked woman as part of the display. Federico Mazzieri, an HR manager and guest at the hotel, expressed his dismay at the scene and its implications for gender objectification.
Mazzieri recounted the incident, saying, "We were both speechless. My daughter said to me 'Dad, how disgusting, this is not a country where women can achieve things.' What on earth were the hotel management thinking of? It was simply objectifying the female figure."
The hotel's management had allegedly promoted a "chocolate statue" in advance, leading guests to interpret the intention behind the buffet display. The bikini-clad employee, a 20-year-old member of the entertainment staff, was covered in chocolate and placed amidst the food offerings.
Voi Hotels swiftly issued a public apology on social media, acknowledging the insensitive nature of the stunt and its misalignment with their values. The hotel expressed deep regret and emphasized its commitment to respecting staff and guests. It vowed to take immediate action to prevent similar incidents in the future.
Cristian Solinas, the regional governor of Sardinia, criticized the hotel's actions, stating that the incident tarnished the welcoming image of the region. Paolo Manca, a representative of Italy's Federation of Hotels, deemed the incident "unforgivable" and in poor taste but expressed doubt that it reflected the chain's standard practices.
The controversy has raised questions about appropriate and ethical marketing tactics within the hospitality industry. The incident serves as a reminder of the importance of respectful and considerate practices in both guest interactions and promotional efforts. As the hotel industry navigates challenges related to public image, maintaining a balance between creativity and sensitivity remains crucial for maintaining customer trust and reputation.