Paige Spiranac shakes Instagram as she shares naked bath pic
Club etiquette is a fairly strict topic at most golf courses, so one can be sure Paige Spinarac.
That's after the social media star and tipster shared a picture of herself basking in a bathtub with nothing but balls to cover her modesty. As strange as the choice of location for a scrub might be, few fans are likely to complain if they happen upon a nude Spiranac during their 18 holes.
Spiranac, 30, recently wowed at the Masters and attracted heaops of attention with her all balck- leather look on the eve of the competition. The Colorado native rubbed elbows with stars and fans alike at Augusta National, where Jon Rahm clinched the Green Jacket amid a series of rain delays.
But there were no such storm clouds in sight for Spiranac's sizzling shoot, which featured little else but grassy greens, sunbeams and the model's pearly whites. The American flashed her winning smile despite her dimple-ridden surroundings, with the caption reading simply: "Got balls?"
Not if you'll have anything to do with it apparently, Paige, considering there's unlikely to be many left for the rest of us. Spiranac is only little after all, and there must have been quite a lot of room left underneath the San Diego State University alumnus judging by just how much leg is jutting out from under the surface.
Fans were quick to point out the uncanny resemblance between Spiranac's shoot and an almost identical series of pictures starring former golf star Jan Stephenson. Australian Stephenson won three major titles during her career and was inducted into World Golf's Hall of Fame class of 2019.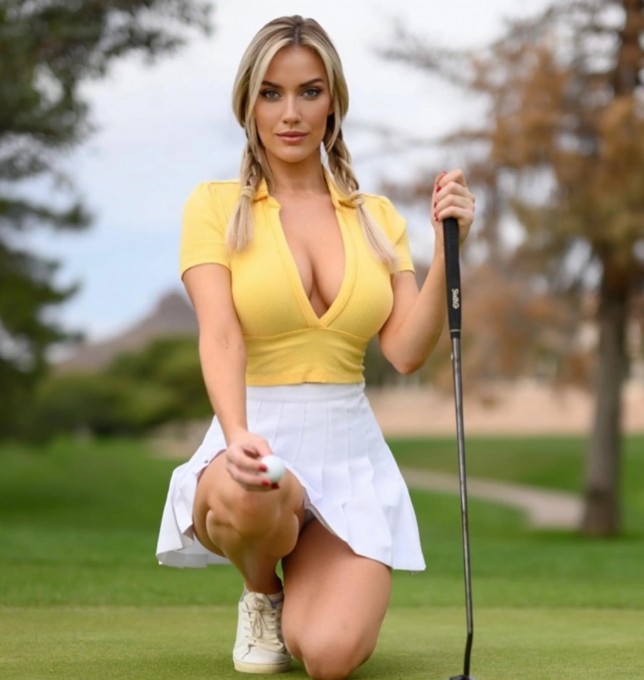 "Took inspiration from the legend herself! We are working on something special to honor her," Spiranac replied to one commenter. "I love to recreate images from women who have inspired me and also give credit where it is due. Jan is the OG [original gangster]."
Other admirers were less focused on the inspiration behind the shoot and more distracted by the content itself. "I've never wanted to be a golf ball more in my life," wrote one adoring disciple, while another remarked: "Best picture I've seen in a long time."
After starring as a major golf prospect in college, Spiranac continues to use her assets to their fullest in pioneering a career as a model, tipster and content creator. It's just as well her avenues are wide open, too, considering she may struggle to maintain a membership if she continues showing so much skin on the fairways.