Paris Hilton glow in a baby blue satin maxi dress as she attends model Lele Pons' wedding in Miami - after promoting her upcoming memoir
The iconic socialite, 42, who recently welcomed her babyPhoenix looked the epitome of chic as she entered the venue wearing a stunning baby blue gown draped over her enviable figure.
The stunning dress featured wide shoulder straps and a sweetheart neckline to highlight her bust.
The dress also featured a ruched detailing that cinched her in at the waist, highlighting her slender figure.
The blonde beauty also opted to further elevate her height with elegant silver textured court stiletto heels.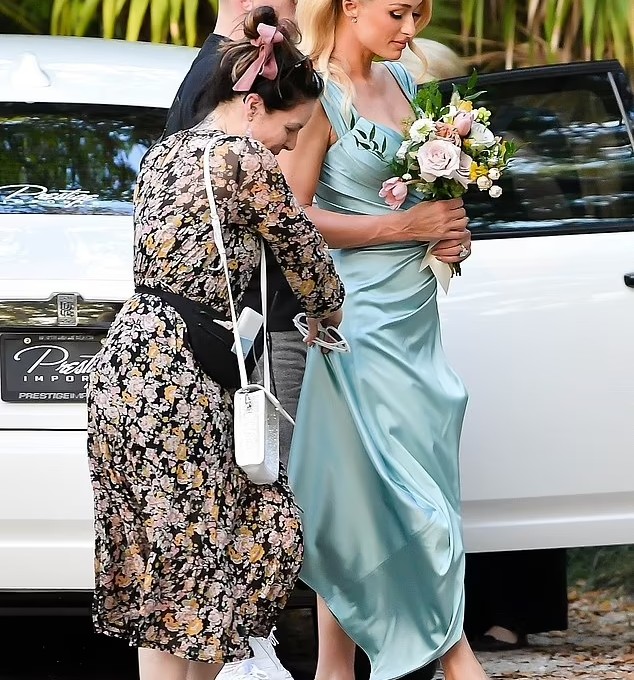 She also chose some simple diamond earrings to match the simple but elegant ensemble.
To finish the look, the blonde beauty styled her locks in a chic voluminous ponytail and styled her side bangs loose to the side to frame her face.
The socialite also wore a glam makeup look for the wedding by donning a smokey eye palette and a sheer nude lip.
The wedding appearance comes after Paris recently expressed her excitement about being a new mom and shared that she's ready for more kids in the future in a
TalkShopLive Stream on Tuesday.
The reality TV star - who welcomed son Phoenix Barron with husband Carter Reum, 42, via surrogate in January - gushed about her baby boy while promoting her upcoming book 'Paris: The Memoir.'
She said, 'I love being a new mom. I'm so in love with my little angel. He is so sweet and so adorable, and every night when I'm laying with him, he lays on my chest, and he just looks up at me, and I melt.'
The heiress also revealed that she would 'love to' have two more kids in the future and shared what she would name her daughter after recently revealing she underwent another round of IVF.
'I'm really excited for Phoenix to have a baby sister one day named London. It's my favorite city, and I've always wanted to name my daughter London.'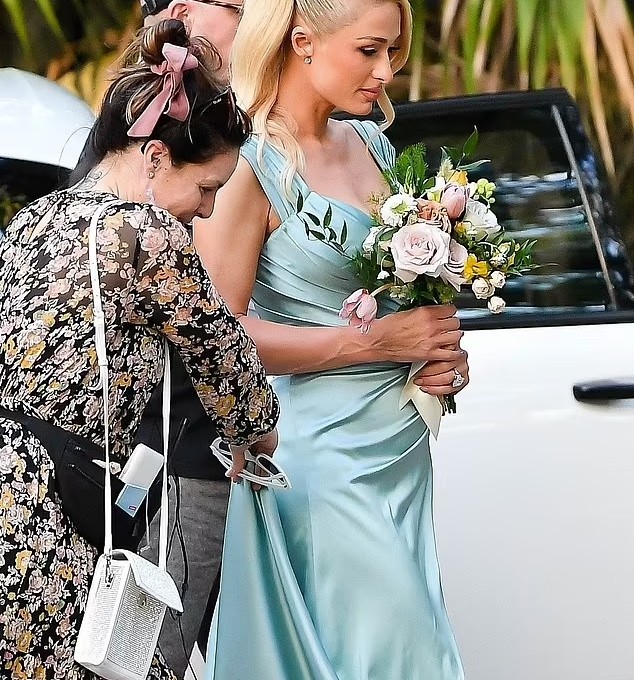 During the Covid lockdown, the couple successfully froze 20 embryos, but as they were all boys, they decided to try again to bid for a daughter.
Paris told Glamour magazine: 'We've done it seven times… I have all boys. I have 20 boys. I just went through the process again a month ago, so I'm waiting for the results to see if there's any girls.'
During her livestream, she also explained her reasoning behind having a boy first: 'I wanted to have a boy first because I feel like having a big brother. I wish that I had one because I feel like a lot of things that happened to me wouldn't have happened if I had a big brother to protect me.'
The DJ continued to praise her baby boy as well as her husband.
'I'm just so happy to be a mom. I've always wanted to be a mom, but I never really found someone that I could trust until Carter, so I'm just so grateful for that,' she said.
She also stated Pheonix is 'such a good baby. Like hardly ever cries. He is on such a great sleeping schedule. He's the most adorable, beautiful baby I've ever seen in my life.'
'Phoenix is my world. And I am just so excited for everything. All the memories to come, like the tooth fairy and Santa Claus and the Easter Bunny and, I don't know, there's just so many memories that I can't wait for,' she added.
Elsewhere in the stream, the socialite revealed how she's had her son's name picked out for over ten years.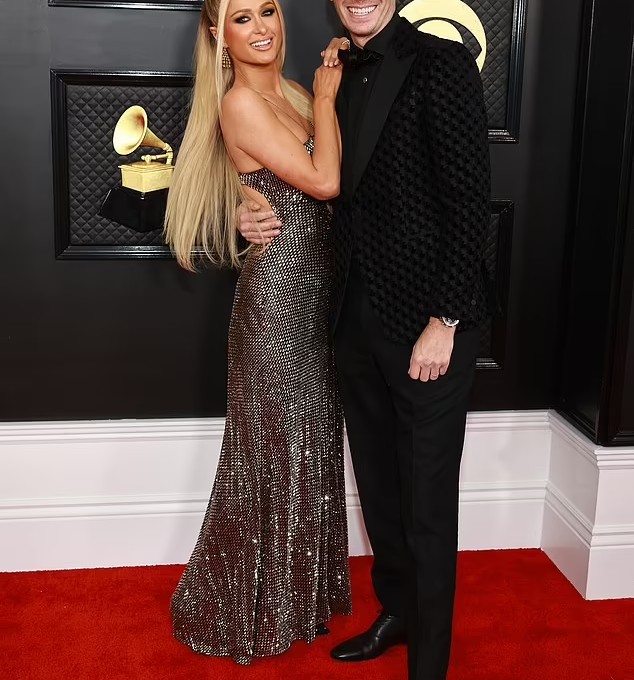 Paris said little Phoenix would appear on season two of her reality TV show Paris in Love, which she is currently shooting.
'Season 2 is just about my life. Being a mom, being married, just being at the hospital with Phoenix, and then bringing him home. And everything that goes with being a mom.'
It comes after Paris shocked the world when she announced she'd welcomed a son, including her own family, in January.
Speaking on her This Is Paris podcast, she said: 'Not even my mom, my sisters, my best friend knew until he was over a week old.'
During her chat, Paris also shared about her upcoming book, which she said is 'very personal' and will delve into the trauma she faced as a teenager at Provo Canyon School.
'I talk about my entire life and everything that I've been through. And it's definitely difficult to do, to have to re-live some of the moments but also fun moments, too,' she said.
'I've been in this industry for over two decades now, and for a lot of the time, the media was the one telling my story. And a lot of the times it wasn't true or was exaggerated or just completely invented.'
'And now, especially with this book, I am taking back my power and my narrative and telling the true story. Because there's just so many misconceptions and lies and just stupid rumors out there that aren't true. And I just tell what really happened.'
Her new book, Paris: The Memoir, is set to be released on March 14.