Paris Hilton and Carter Reum Share First Photos with Baby Phoenix
In this endearing glimpse into their lives as parents, Paris Hilton and Carter Reum are seen sharing tender moments with their newborn son, Phoenix. The couple, known for their recent wedding and high-profile romance, have chosen to let the world in on their newfound happiness as they cradle their bundle of joy.

One touching image captures Carter Reum gently pressing his lips against Paris Hilton's forehead, while she lovingly holds baby Phoenix in her arms, her eyes closed in contentment. Another precious moment shows Paris, at 42 years old, giving her son an affectionate kiss. She is adorned in a white robe with lace sleeves, which perfectly complements Phoenix's adorable beanie and onesie.

The enchanting photographs reveal the proud parents in all their glory, with Paris Hilton exuding sheer bliss as she cradles her peacefully sleeping newborn. Carter Reum, at 42, stands close by, donning a black long-sleeved shirt.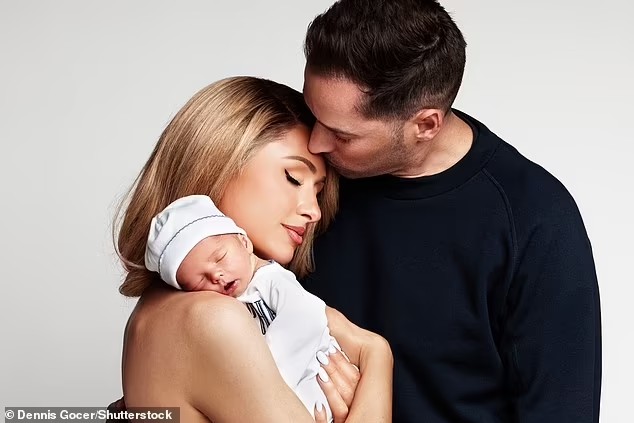 Paris Hilton, renowned for her glamorous style and media presence, appears effortlessly elegant with her makeup perfectly applied. Her look features liquid black eyeliner, blush, nude lipstick, and her signature blonde hair cascading down her back and shoulders in loose waves.

These heartwarming images come shortly after the fragrance mogul disclosed that there are already "seven" more embryos in storage, signaling her intent to expand her family. Paris Hilton's recent cover feature in Glamour UK revealed her and Carter Reum's decision to freeze embryos, with a surprising twist—all of them are "all boys."

In an open and candid interview, Paris Hilton shared that her journey to motherhood was influenced by her friend Kim Kardashian, who had recommended in vitro fertilization (IVF). Following this advice, Paris had her eggs frozen. However, when Paris Hilton and Carter Reum met and married, they decided to start a family together. During the COVID-19 lockdown, they froze embryos, and their collection allows for the possibility of multiple children in the future. Paris humorously noted, "I have all boys. I have 20 boys."

Addressing her choice to use a surrogate, Paris Hilton revealed a long-standing fear of childbirth that stems from her past experiences, including witnessing a birth while filming The Simple Life and other traumatic incidents related to medical procedures. Despite her fears, her yearning for a family led her to pursue this path to motherhood.

Paris Hilton delighted her fans with the surprise announcement of her son's birth last month, and she recently unveiled his unique name. The reality star chose to keep the news under wraps, not only from the public but also from her own family. She waited a week after Phoenix's birth before sharing the joyous news with her loved ones.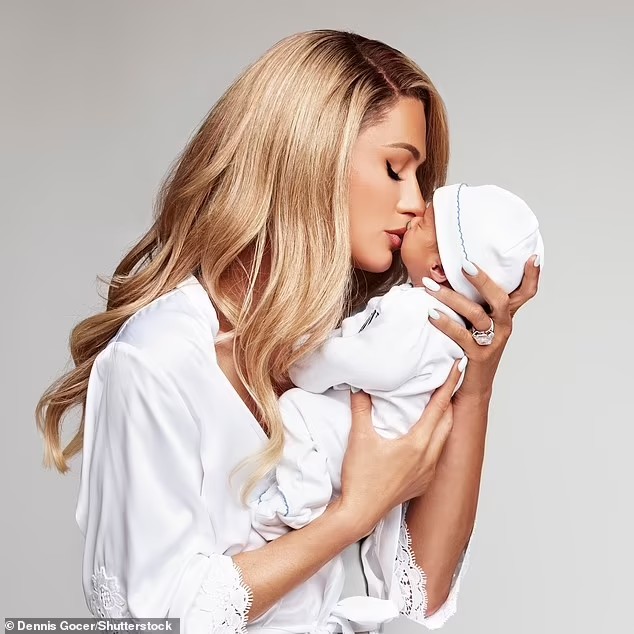 Reflecting on her decision to maintain secrecy, Paris Hilton explained that her life has always been extremely public, and she wanted this experience to be truly personal. She expressed her maternal instincts and the desire to protect her son by keeping the experience private.

While this marks Paris Hilton's first child, Carter Reum has a 'secret' daughter named Evie, from a previous relationship with Laura Bellizzi. Although their brief romance in 2011 ended before the pregnancy was discovered, Carter Reum does provide child support for Evie. However, reports suggest that he has not seen his daughter since she was an infant.

With an estimated net worth of $40 million, Carter Reum co-founded the investment firm M13 with his brother, Courtney Reum, and together they launched the liquor brand VEEV Spirits.

An exclusive source previously informed DailyMail.com that Carter Reum has never acknowledged Evie or provided her with any form of recognition, such as a birthday card or Christmas present.