Paris Hilton Stuns in Pink Mini Dress at PFW's Valentino Show
The 42-year-old star, renowned for her fashion-forward choices, turned heads with her chic and leggy ensemble.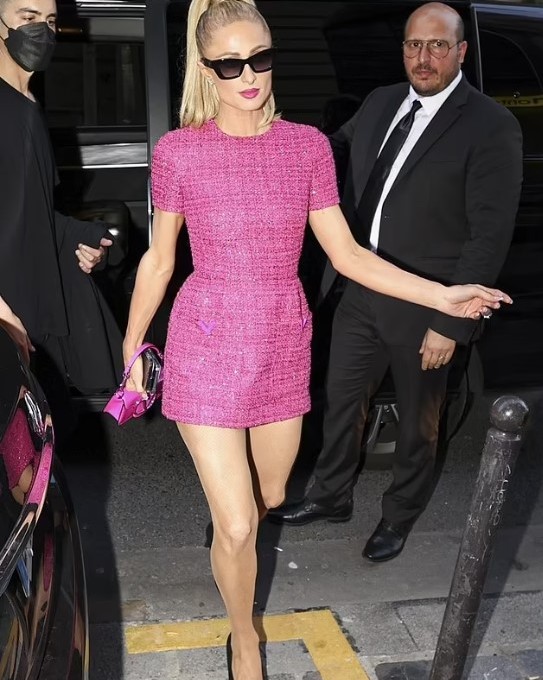 Hilton donned a vibrant pink mini dress that not only accentuated her svelte figure but also showcased her toned legs. The dress featured elegant capped sleeves and was a perfect fit for the occasion, leaving no room for fashion faux pas.

To complete her high-fashion look, Paris chose to elevate her height with a pair of sleek black heels. Her choice of accessories was spot on, with stylish dark shades and a petite leather bag from a renowned designer.

Her signature blonde locks were pulled back into a sophisticated high ponytail, adding to the overall sleek appearance. The flawless makeup, highlighted by a bold fuchsia lip, beautifully complemented her vibrant ensemble.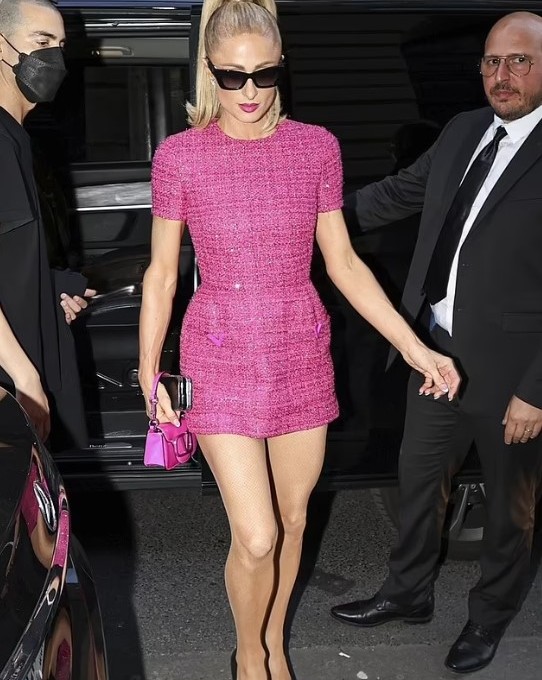 Paris Hilton, a prominent figure in the world of fashion and entertainment, effortlessly demonstrated why she is considered a style icon. Her presence added a touch of glamour to the already star-studded Valentino show, which featured other celebrities like Rosie Huntington-Whiteley, Andrew Garfield, Florence Pugh, and Amelia Dimoldenberg.

Paris Fashion Week, a highly anticipated event in the fashion calendar, kicked off on Monday and will continue until October 3. This year's edition includes 107 brands, with 67 of them hosting runway shows, making it a must-attend event for fashion enthusiasts.

Notably, one of the early highlights of the event was the return of Pierre Cardin, a legendary fashion brand, to the official Paris lineup after a quarter-century absence. The show featured retro space-age outfits that paid homage to the brand's iconic style. However, behind the scenes, there is ongoing legal turmoil among Cardin's relatives over the brand's inheritance following the designer's passing in 2020.

Rodrigo Basilicati-Cardin, the current overseer of the label, expressed his commitment to preserving the brand's legacy. He noted that selling the brand would mark the end of an era, and he expressed confidence in the court's decisions to ensure its continuity.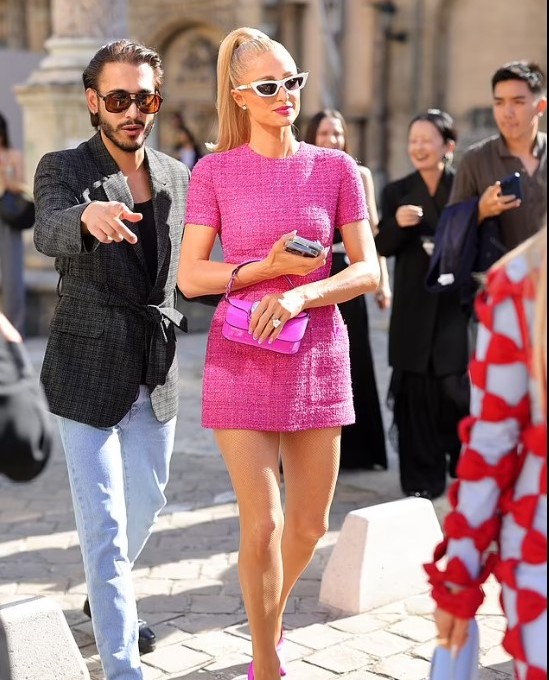 Other notable moments at Paris Fashion Week included Dior's latest collection, characterized by a monochrome palette with comfortable and breezy pieces alongside classic masculine jackets, pleated skirts, and cozy knitwear. Maria Grazia Chiuri, the creative force behind Dior, recently gained attention for dressing Queen Camilla for a state dinner at Versailles.

In addition to her Paris Fashion Week appearance, Rosie Huntington-Whiteley also graced the Dolce & Gabbana show during Milan Fashion Week, where she shared the front row with stars like Kylie Jenner and Halle Bailey. Rosie and her fiancé Jason Statham, who have been together since 2010 and share two children, tend to keep their personal lives private, focusing on their successful careers.

Despite their protective stance on their children's privacy, Rosie and Jason's commitment to each other remains unwavering. Jason, known for his roles in action films like "The Expendables" series, is currently working on "The Beekeeper," an action film featuring Jeremy Irons and Josh Hutcherson. The couple recently made a loved-up appearance at the Burberry fashion show during London Fashion Week, showcasing their enduring bond.

In the world of fashion and entertainment, Paris Hilton and Rosie Huntington-Whiteley continue to captivate audiences with their style and elegance, leaving a lasting impact on the industry. Paris Fashion Week promises more fashion-forward moments, setting the stage for the latest trends and designs in the world of haute couture.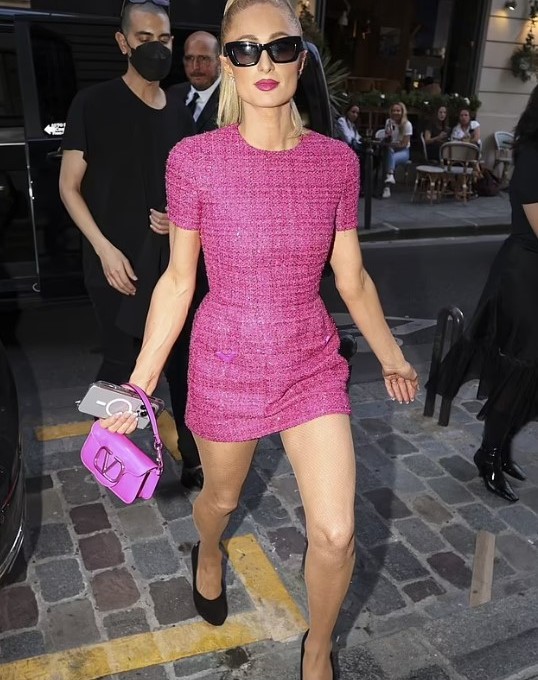 Paris Hilton - An American Icon
Paris Hilton is an American socialite, businesswoman, and media personality who has made a significant impact on the entertainment industry. Born on February 17, 1981, in New York City, Hilton hails from the famous Hilton family and has built her own empire through various business ventures and media appearances.
In 2023, Paris Hilton continues to be a prominent figure in the entertainment world. She has successfully transitioned from reality TV stardom to becoming a respected entrepreneur and DJ. With her innovative approach to branding and business, Hilton remains a relevant and influential personality.
As for her net worth, Paris Hilton has amassed substantial wealth over the years. Her net worth is estimated to be around $300 million, making her one of the wealthiest celebrities globally. Hilton's fortune is the result of her business ventures, including fragrances, fashion lines, and numerous endorsement deals.
Paris Hilton is also known for her involvement in the world of artificial intelligence (AI). She has explored AI-driven projects and collaborations, showcasing her interest in cutting-edge technology and innovation.
In her personal life, Paris Hilton does not have a son. However, she has been engaged and is known for her high-profile relationships. Her age, as of 2023, is 42 years old, and she continues to make headlines with her various endeavors.
One of Paris Hilton's notable ventures is her line of perfumes. She has launched a successful fragrance collection over the years, with various scents catering to different preferences. Hilton's perfumes have been well-received by consumers and have contributed to her business success.
Overall, Paris Hilton remains an iconic American personality with a thriving career, substantial net worth, and a continued presence in the worlds of entertainment, business, and technology.