Paris Jackson steals the show in plunging gold dress with a thigh-high slit as she attends the Fashion Trust US Awards in Hollywood
The second-oldest child of Michael Jackson, 24, who was the epitome of class at the Vanity Fair Oscars party earlier this month, flaunted various poses upon arriving at the star-studded event.
The singer, who recently appeared in Amazon Prime Video's Swarm, donned a gold gown that was made of a fabric that shimmered under the bright lights.
The ensemble contained a deep V-neck cut that fell down towards her lower chest and was held up with a halter-styled piece secured behind her neck.
A large, rhinestone-studded silver belt was added around her waist for a unique flare, and contained hues of red, pink, and also purple.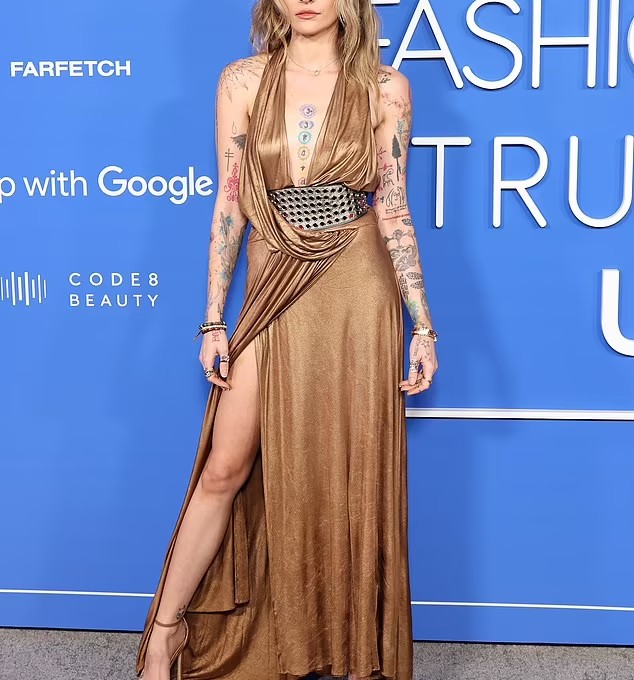 Pieces of fabric flowed down from the waist creating wrapped details, allowing the dress to fall down straight past her ankles.
The star also put on a rather leggy display with a thigh-high slit that was located on the right side of the gown.
Paris slipped into a pair of shiny, light brown open-toed heels that were secured with thin straps around her ankles while also coinciding the overall color scheme of her ensemble.
The actress accessorized her look with a dainty gold-chained necklace, along with an assortment of bracelets on her wrists, such as sleek gold and beaded pieces.
She also opted to add various gold rings on her fingers, as well as mini, silver nose rings for an edgy flare.
Her locks were parted in the middle, and effortlessly cascaded down past her shoulders in stylish waves.
At one point, the beauty turned partially away from the flashing cameras to better showcase the backless portion of the dress, and also flaunted her various tattoos.
Jackson's makeup was glammed up for the special event, and comprised of a layer of mascara to her long lashes, along with a shimmering gold shadow to make her blue eyes pop.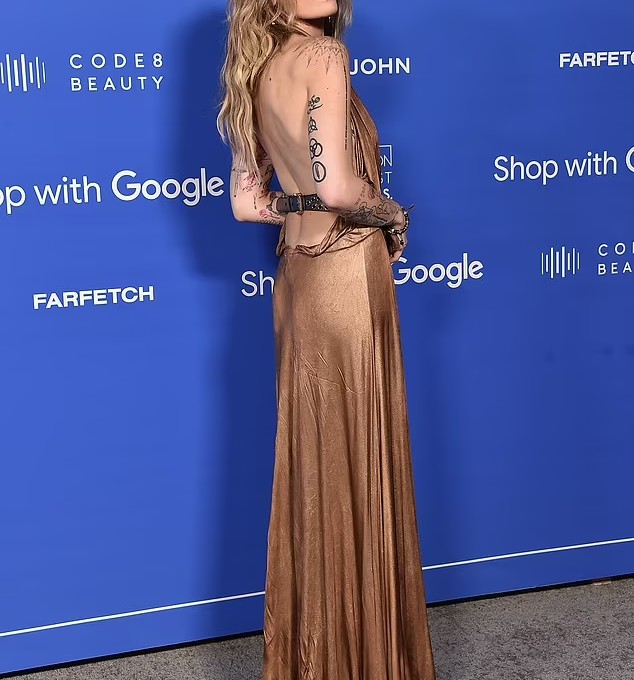 A warmer-toned contour and highlighter was added to accentuate her cheekbones, while a rosy tint was worn on her lips for a finishing touch.
During an interview with Allure last month in February, Paris opened up about her fashion choices.
'I dress for comfort when I'm not working and '90s [beauty and fashion] is pretty comfortable for me,' she expressed, adding, 'I like to stick with the darker colors, the earth tones.'
The star also discussed if she believed she has a 'signature' look, but admitted she didn't think she had one. 'Signature' seems like it would be relatively original, and that is not the case with my sound or my look.'
The Lighthouse singer continued, 'I just take [ideas] from a lot of the things that I like. Nothing's really mine; it's just a melting pot of my favorites, I guess.'
Along with joining other celebrities who were in attendance at the awards ceremony, such as Demi Moore, daughter Scout Willis, and also Paula Abdul, Paris has been celebrating the latest release of her single titled, Bandaid.
The track was released towards the end of last month, and the star recently told people at the time that the song is, 'a little bit louder, it's more fun. But in terms of the songwriting aspect, it's still the same acoustic folk approach that I always take when I'm writing.'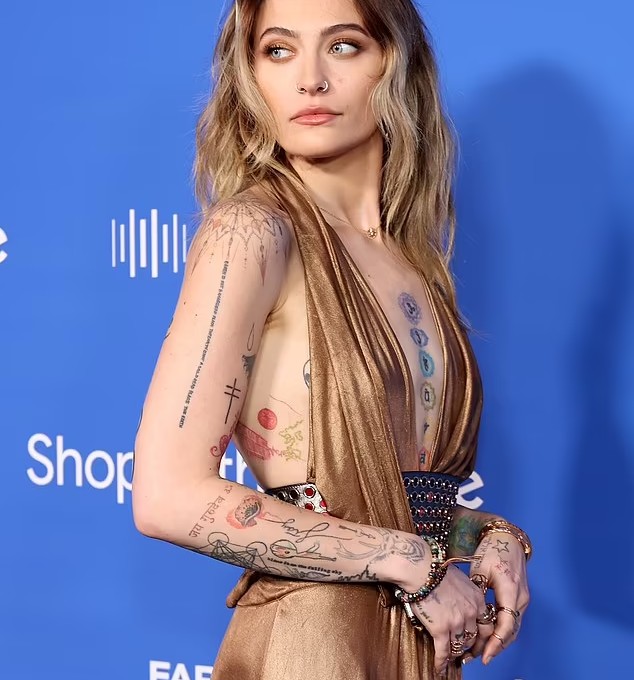 When talking about when inspiration for songs comes to her, Paris revealed, 'Sometimes it's in the middle of the day, sometimes it's late at night.'
'My process is just, I come up with a progression that is decent, that isn't too similar to other ones that I've used, and then I hum until I find a good melody. Then the lyrics just kind of happen,' she further explained.
The beauty also stated that her 'goal' is to possibly release an album sometime in the near future.
'I have enough [songs] that are already recorded and ready to go that would make an album. In terms of how many [songs] I have written, I don't even know how many I have. Dozens, maybe,' the star informed the outlet.
Jackson had the chance to showcase her other passion for acting, and made an appearance in the Amazon Prime Video thriller series, Swarm. She portrayed the character of Hailey in the show, which was created by both Donald Glover and Janine Nabers.
The premise of the project follows, 'A young woman's obsession with a pop star takes a dark turn,' according to an IMDB synopsis.
Janine opened up to Variety about casting Paris and called her 'great,' adding, 'She's a professional. She came in and asked all the right questions.'
'I'm a Jewish woman, she's identifies as Jewish, so we bonded about that. And she trusted us. She was like, 'I understand what this role is, and here's how I'm gonna approach it.'
The co-creator further applauded Jackson by adding, 'She really just owned it this character of a light-passing biracial woman who is really intent on letting everyone know about her Blackness.'