Prince and Princess of Wales sip on Guinness after praising each other in speeches at Kate's first St Patrick's Day Parade
The Princess of Wales enjoyed sips of Guinness after she paid tribute to her husband Prince William at the Irish Guards' St Patrick's Day Parade as she takes on her role as its new colonel.
Kate, 41, who was radiant in a turquoise coat which matched the colour of the 1st Battalion Irish Guards' blue plume, sipped on a pint of 'the black stuff' alongside her husband, Prince William, after the pair made speeches to officers and guards ant watched the parade at Mons Barracks in Aldershot.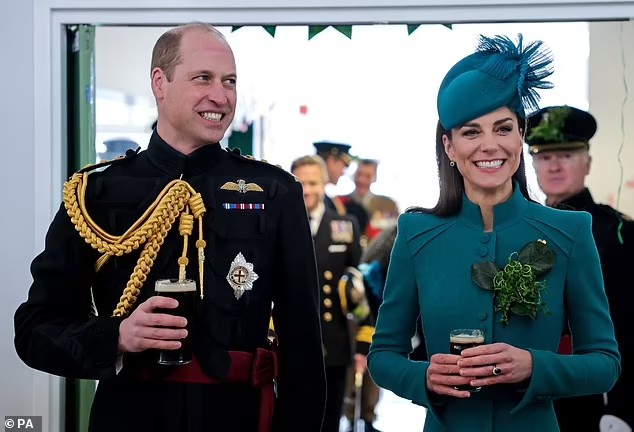 During her emotive speech, the Princess said: 'I really couldn't be prouder to stand in front of you here today. It really is a true honour to be your Colonel. I am here to listen to you, to support you, and to champion you in all you do – this is a responsibility I do not take lightly.'
Meanwhile William said that being Colonel of the Irish Guards has been one of the 'great honours of my life'.
Kate, 41, attended the event for the first time in her capacity as Colonel of the Irish Guards, following her action-packed day carrying out training drills in snowy conditions with them last week - and today recalled the day as 'so cold'.
Against a backdropp of miserable weather, Kate was a stunning flash of colour in a bespoke turquoise Catherine Walker coat complete with a frilled heart-shaped fascinator costing £1,450 from Jane Taylor and proudly displayed a Cartier shamrock brooch on her chest.
The coat, which was custom-made, matched the shade of the Irish Guards' blue plume. It featured structured shoulders, a buttoned-down middle and was belted at the waist to enhance Kate's svelte figure.
Her long brunette locks flowed down her back, while her make-up was minimal to enhance her natural beauty.
The mother-of-three kept her jewellery simple with a pair of emerald earrings which she has worn several times before.
Ahead of the parade, the Prince and Princess addressed the regiment onstage as William spoke of his sorrow at leaving behind his role as colonel, while Kate confirmed her dedication to the role as she takes over.
William said: [I'm proud of everything [the regiment] stands for – just as I'm immensely proud of every single one of you.
But he added proudly: 'I may be stepping aside, but in Colonel Catherine you have a committed, focussed, and already incredibly loyal 11th Colonel.
'As you serve together over the years ahead, know that I will continue to watch you, with huge pride in having been one of you.'
In her speech, the Princess told the regiment: 'I really couldn't be prouder to stand in front of you here today. It really is a true honour to be your Colonel. I am here to listen to you, to support you, and to champion you in all you do – this is a responsibility I do not take lightly.'
She referred to her visit the previous week, where she took part in an outdoor exercise dressing field casualties while wearing combat gear, adding: 'All I saw was enthusiasm, pride, and incredible dedication. I was hugely impressed with your insistence that nothing is as bad as it seems, and – most of all - your boundless, irreverent, glorious sense of humour. That's what makes you who you are and what makes the Irish Guards unique.'
She also thanked her husband, 'Colonel William', concluding: 'Before I close, however, I want to thank Colonel William. He has always talked about his fierce pride for this Regiment. I know he will continue to support us all in the work we do.'
Kate was also gifted flowers by Aoife, 6, and Alice, 4, daughters of Warrant Office Second Class Alistair Wigley and smiled for official Officers' and Sergeants' Mess photographs.
Crouching down, she said 'thank you' and 'you both look gorgeous'.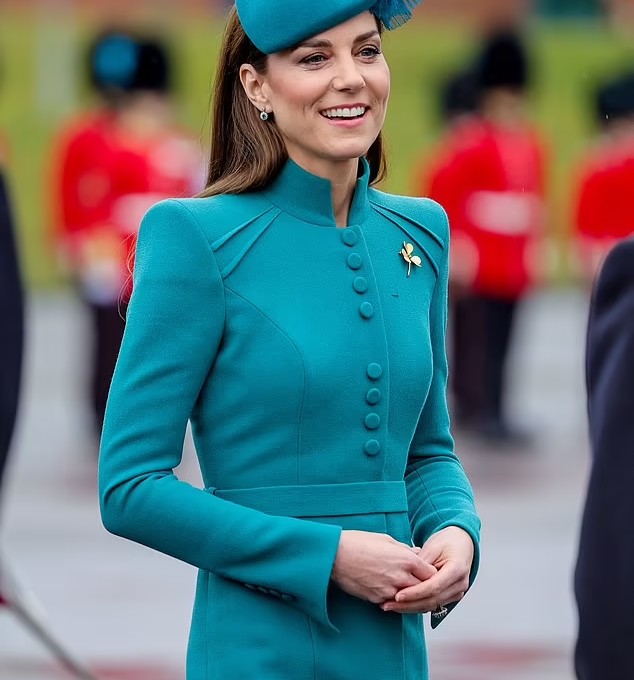 As part of the parade, Kate handed out sprigs of shamrocks to officers and guardsmen, which were then distributed among the ranks - and, of course, the Irish Wolfhound mascot for the regiment, Seamus, received one too.
While the shamrock sprigs were given out, the Prince and Princess of Wales fell apart laughing as Prince William's shamrocks were placed on his hat.
Dressed in a military uniform, William was pictured in hysterics as the bright green foliage was placed on his hat, leaving his wife in fits of laughter as well.
However, the placement of the sprigs appeared to be traditional as other officers and guards also displayed the sprigs on their hats.
And Kate also seemed thrilled to meet the Irish wolfhound, the mascot for the 1st Battalion of the Irish Guards, who was wearing a red blanket/coat to shelter from the rain.
The Princess made a fuss of the dog and stroked its chin as it lapped up the royal attention.
Following the parade, the Prince and Princess of Wales will meet with the Irish Guards Association which comprises of past members of the Irish Guards.
Kate will be invited to inspect the front rank, while William will inspect the second rank.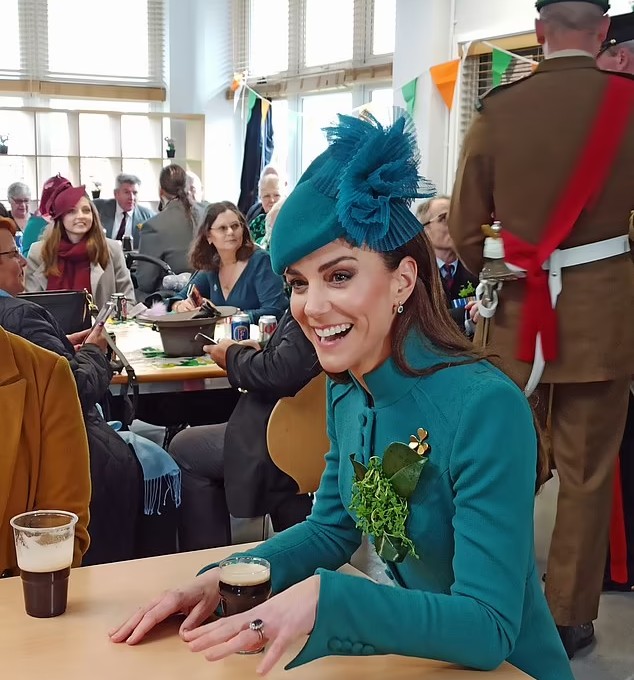 Following the inspection, the Prince and Princess will meet members of the regiment before sitting for official photographs.
They will also visit the Junior Ranks dining hall where the senior guardsmen in the Battalion will propose a toast to the couple.
Last week, the Princess of Wales attended the Salisbury Plain Training Area where she carried out military-style drills on her first official visit to the regiment as colonel.
With her hair pulled back into a sensible French braid, she got stuck into a battlefield casualty drill.
Crouching in the snow, she held the soldier's leg as she was shown how to wrap the wound and check the casualty's vital signs during basic battlefield first aid training.
As she placed a tourniquet – used to stop heavy bleeding – on his calf, the Princess apologised and said: 'It's the first time I've done this'.
Her appearance marked the first time Kate has visited the Irish Guards in her new position as honorary Colonel - she was promoted to her first Army role in December, taking over the position from Prince William.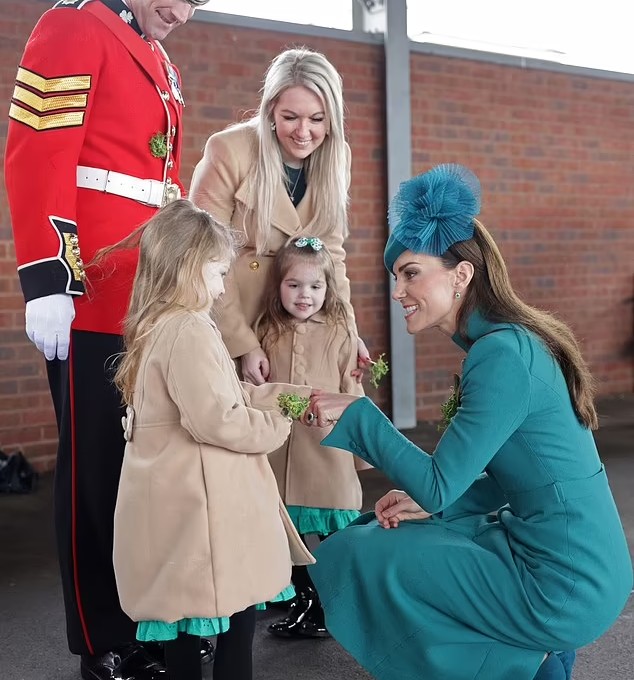 Kate enthusiastically asked questions about the different first aid methods used by medics in the Army as she tended to the fake injury during the casualty simulation. She then applied a second tourniquet and Celox gauze – also used to stop bleeding – to the soldier with the fake leg injury and chest gunshot wound.
Lance Corporal Jodie Newell, 25, who was in charge of teaching the Princess first aid, said: 'I was so nervous – I'm teaching the Princess of Wales med [medicine] – it was an honour.
'We were just showing her what we medics do in the Army. She was actually really good, really eager to take part.' L/Cpl Newell added that Kate took it 'all in her stride, like she has done it before' and that it was 'amazing' to have her visit the training area, particularly on International Women's Day.
Afterwards the Princess said that taking part in military first aid exercises brought the realities of their training 'to life'.
She said that the battlefield casualty drills, complete with fake gun fire and explosions, 'just brought it all to life'.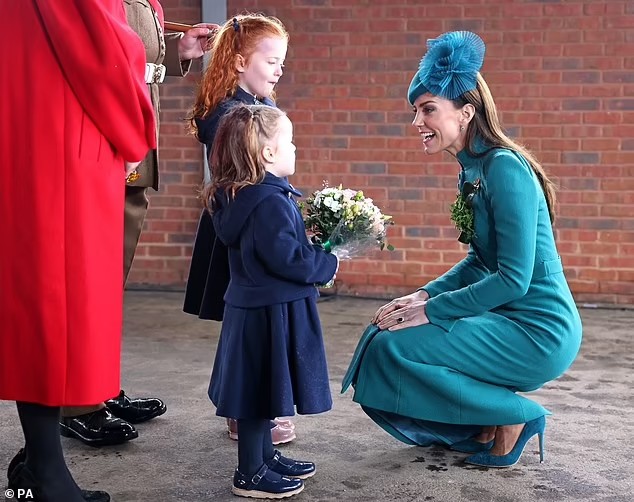 The Princess also learnt about anti-vehicle and anti-personnel mine clearance and viewed the weapons systems used by the Irish Guards. As part of the visit, she met guardsmen of No 1 and No 2 companies, who told her about their recent experiences training park rangers in East Africa in methods to counter poaching.