Prince Harry and Meghan Markle Surprise Audience at Katy Perry's Show in Las Vegas
The unexpected sighting of the Duke and Duchess of Sussex created quite a buzz among the onlookers.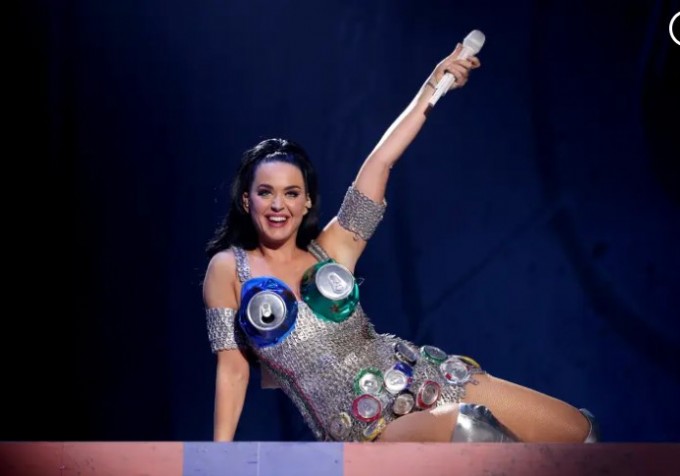 A photo shared on social media shows the high-profile trio, including the iconic Céline Dion, being escorted to their seats with tight security. A brief TikTok video revealed the audience's gasps and excitement as they tried to capture snapshots of Prince Harry and Meghan Markle during the surprise appearance.
"Katy getting A-list support," commented one enthusiastic fan. Céline Dion, who attended the event with her 13-year-old twin sons, Eddy and Nelson, added to the star-studded spectacle.
This outing marked Céline Dion's second public appearance since revealing her diagnosis of stiff person syndrome in December 2022. She was also spotted at a recent hockey game featuring the Vegas Golden Knights and the Montreal Canadiens.
Orlando Bloom, who is engaged to Katy Perry, attended the concert with the couple's adorable 3-year-old daughter, Daisy. In a candid clip shared online, the "Pirates of the Caribbean" star was seen dancing to Katy Perry's hit "Chained to the Rhythm" while holding their little one.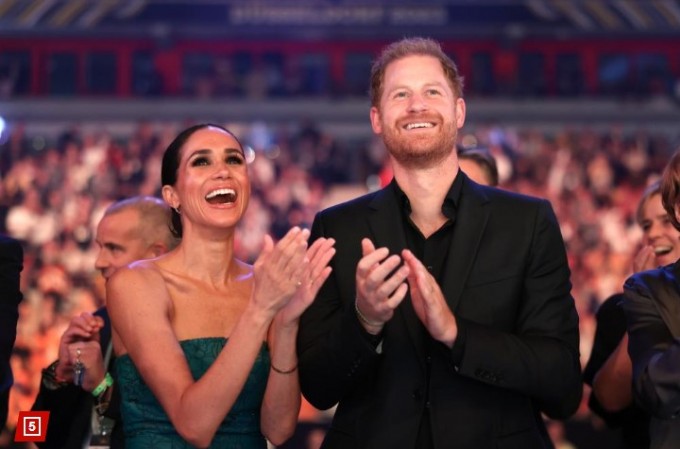 The surprise appearance of Prince Harry and Meghan Markle comes as no surprise to those who know about the close friendship between the Sussexes and the popstar couple. Perry and Bloom reportedly struck up a warm rapport with Prince Harry and Meghan Markle after the royal couple moved to their Montecito residence in 2020, according to People magazine.
In a previous statement, Prince Harry mentioned their friendly connection, saying, "Just two days ago, Orlando Bloom sent me a message — because he's just down the road, and we sort of keep in contact." The "Lord of the Rings" actor even goes the extra mile to alert Prince Harry whenever members of the media are in close proximity.
Katy Perry's residency in Las Vegas, which began in December 2021, saw several extensions due to overwhelming demand from her fans. Notably, this is not the first time she has performed for royalty. In May, she graced the stage at the coronation concert in honor of King Charles III, leaving a lasting impression with her performance of iconic hits in a stunning metallic Vivienne Westwood gown.
However, it's worth noting that Perry and Bloom have recently faced criticism and controversy over allegations of evicting a terminally ill veteran from his home, marking the latest in a series of legal disputes involving the acclaimed "Firework" singer.
Megan is pronounced "Meegan" in Welsh, while in English it is pronounced "Meg-an". The Welsh pronunciation is thought to be the original pronunciation of the name, and it is still commonly used in Wales today.
The English pronunciation of Megan is thought to have come about as a result of the name being Anglicized. This process of Anglicization often involved changing the pronunciation of foreign names to make them more familiar to English speakers.
The different pronunciations of Megan are a reflection of the different cultures in which the name is used. In Wales, the name is pronounced in the traditional Welsh way, while in English-speaking countries, the name is pronounced in the Anglicized way.
In the case of Meghan Markle, she has said that she prefers to be pronounced "Megg-an". This is the pronunciation that she uses in public and is the pronunciation that is used by the media.
Here is a summary of the different pronunciations of Megan:
Welsh pronunciation: "Meegan"
English pronunciation: "Meg-an"
Meghan Markle's preferred pronunciation: "Megg-an"
What did Kate inherit from the Queen?
After the death of Queen Elizabeth II on September 8, 2022, Kate Middleton, the Duchess of Cambridge, inherited the following from her:
The title of Princess of Wales, which was previously held by Diana, Princess of Wales.
A large collection of jewelry, including the Duchess of Cambridge's Lover's Knot Tiara, which is a favorite of hers.
A number of royal residences, including Birkhall in Scotland and Anmer Hall in Norfolk.
A significant portion of the Queen's personal wealth, which is estimated to be worth over £400 million.
Does Prince Harry have a biological sister?
No, Prince Harry does not have a biological sister. He has one biological brother, Prince William, and two stepsisters, Laura Lopes and Tom Parker Bowles, from his father's first marriage to Camilla Parker Bowles.
Prince Harry and Meghan latest news
Prince Harry and Meghan Markle are currently living in Montecito, California, with their two children, Archie and Lilibet.
They are working on a number of projects, including a documentary for Netflix and a memoir by Prince Harry.
They have also launched their own non-profit organization, Archewell, which focuses on social and environmental justice.
Prince Harry's real father
Prince Harry's real father is Prince Charles, Prince of Wales. This has been confirmed by both Prince Harry and Prince Charles.
Prince Harry net worth
Prince Harry's net worth is estimated to be around $60 million. This includes his inheritance from his mother, Princess Diana, and his earnings from his work as a royal and as a private citizen.
Prince Harry news
Prince Harry is currently working on a memoir, which is scheduled to be released in 2023.
He is also working on a documentary for Netflix with his wife, Meghan Markle.
Prince Harry has been outspoken about his mental health struggles and his desire to live a more private life.
Breaking news Harry and Meghan
Prince Harry and Meghan Markle have announced that they are starting their own non-profit organization, Archewell.
The organization will focus on social and environmental justice.
Archewell is named after their son, Archie, and their daughter, Lilibet.
Prince Harry wife
Prince Harry's wife is Meghan Markle, the Duchess of Sussex. They were married on May 19, 2018, at St George's Chapel, Windsor Castle.
What happened to Katy Perry's husband?
Katy Perry's husband, Russell Brand, divorced her in 2011 after 14 months of marriage. Brand reportedly filed for divorce via text message, which Perry found to be "devastating."
What does Katy Perry think of Meghan Markle?
Katy Perry has spoken positively about Meghan Markle on multiple occasions. In a 2018 interview, Perry said that she admires Markle's "strength and grace" and that she is "excited to see her new chapter in life."
Why was Katy Perry at the coronation?
Katy Perry did not attend the coronation of King Charles III on May 6, 2023. She was not invited to the event.
Did Katy Perry leave Orlando Bloom?
No, Katy Perry did not leave Orlando Bloom. They are still together and are married.
Katy Perry age
Katy Perry was born on October 25, 1984. She is currently 38 years old.
Katy Perry - Dark Horse
"Dark Horse" is one of Katy Perry's most popular songs. It was released in 2014 and reached number one on the Billboard Hot 100 chart. The song features a rap verse by Juicy J.
Katy Perry child
Katy Perry has one child, a daughter named Daisy Dove Bloom. Daisy was born on August 26, 2020.
Katy Perry net worth
Katy Perry's net worth is estimated to be around $330 million.
Katy Perry - Roar
"Roar" is one of Katy Perry's most empowering songs. It was released in 2013 and reached number one on the Billboard Hot 100 chart. The song is about overcoming adversity and finding your voice.
Katy Perry - Harleys in Hawaii
"Harleys in Hawaii" is a song by Katy Perry that was released in 2019. It features a sample of the song "Con Calma" by Daddy Yankee and Snow. The song is about finding love in unexpected places.
Katy Perry Instagram
Katy Perry has over 166 million followers on Instagram. She uses her platform to promote her music, her fashion line, and her charitable work.