Princess Leonor of Spain, 17, Dons Military Uniform for Cathedral Visit
The occasion was a flower offering ceremony, and the young royal showcased both her poise and military attire.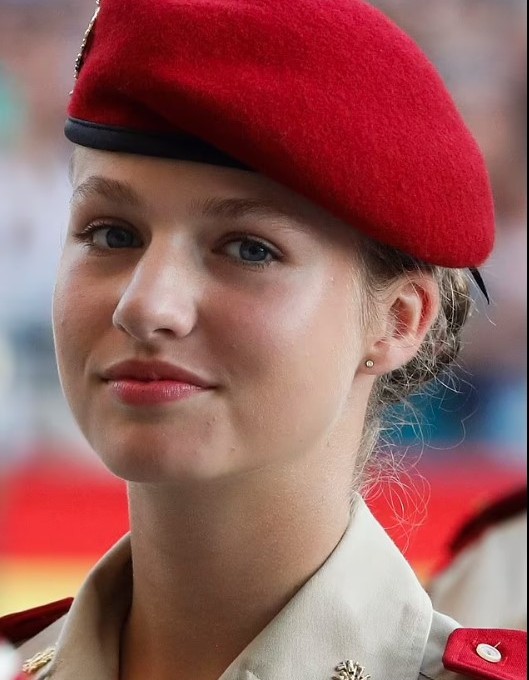 In a series of photographs, Princess Leonor was captured wearing a red beret, exuding confidence and grace among her fellow cadets from the Military Academy of Zaragoza. Her hair was meticulously styled in a chic plaited bun, a nod to her poised demeanor.

Known for her understated yet refined style, the Spanish heir to the throne opted for a minimal makeup look that accentuated her natural beauty. This appearance underscored her readiness for formal military duties, and it followed a previous series of images where she engaged in military drills.

During these drills, Princess Leonor displayed a blend of determination and camaraderie as she interacted with fellow cadets. She appeared at ease while attired in camouflage gear, even holding what appeared to be an automatic rifle in one of the snapshots.
The images also included Princess Leonor standing alongside her fellow students, all dressed in camouflage attire and protective gear. These photographs offered a glimpse into her preparation for her future role as a cadet.

These recent images emerged after a ceremonial event called the 'Act of delivery of Sabers' held at the academy. During this event, Princess Leonor was presented with a saber as a symbol of unity and guardianship.

Leonor's journey into the military world marks a significant step in her young life. After her training at the General Military Academy in Zaragoza, which is Spain's equivalent of Sandhurst, she will continue her education at naval school and subsequently complete three years at the General Air Academy.

In July, the princess, who will turn 18 in October, expressed her enthusiasm for embarking on this new chapter during the Princesa de Girona Foundation award ceremony. She emphasized her commitment to learning and contributing her best efforts to this important phase.

The princess's military attire is just one aspect of her royal duties and preparations. Her public appearances and engagements, alongside her sister Infanta Sofia, continue to be a focus of attention for the Spanish royal family and the public.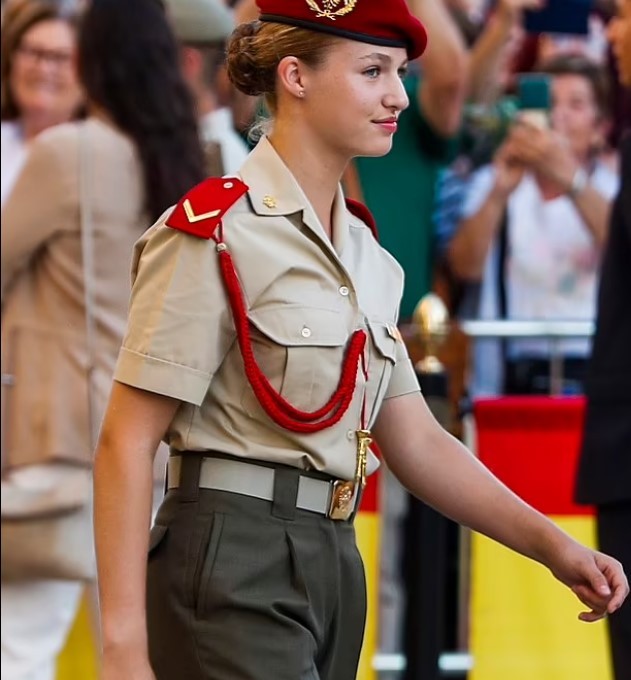 These recent images of Princess Leonor coincide with Queen Letizia of Spain's activities in Santiago de Compostela, where she inaugurated the school year. Queen Letizia, known for her impeccable style, opted for a bold yet elegant ensemble, featuring a Parisian-style striped top paired with navy suit trousers. The queen's choice of a low ponytail hairstyle added a touch of distinction to her overall look.

Queen Letizia visited the CEIP Plurilingüe do Camiño Inglés school, celebrating its tenth anniversary, in northwestern Spain. Her visit aimed to highlight the valuable work carried out by the school, a significant moment for both the institution and the queen.

In recent months, the Spanish royal family has experienced significant changes. Queen Letizia and King Felipe have seen their daughters embark on new journeys, with Infanta Sofia, aged 16, moving to Wales to attend UWC Atlantic College. This progressive educational institution, often affectionately referred to as 'Hippie Hogwarts,' offers a unique educational approach in a picturesque castle setting.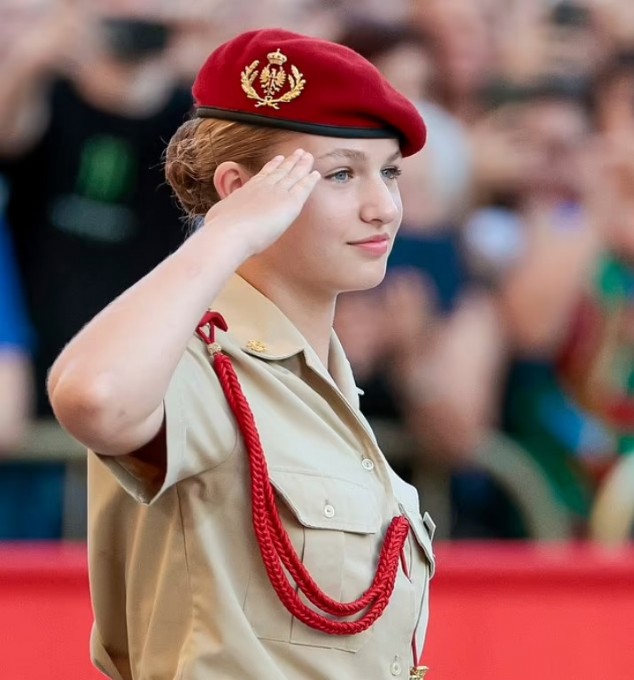 Located at St Donat's Castle in South Wales, the college provides a holistic education, covering subjects such as Tai Chi, the theory of knowledge, and Tibetan literature. It is a prestigious institution with an annual cost of £67,000, and it represents an exciting chapter in Infanta Sofia's educational journey.

In summary, Princess Leonor's recent appearance in military uniform at the Pilar Cathedral underscores her readiness for formal military duties and her commitment to her role as heir to the Spanish throne. Alongside Queen Letizia's activities in Santiago de Compostela, these events provide insights into the royal family's public engagements and preparations for the future.
Princess Leonor's Sister: Princess Leonor's sister is Infanta Sofia of Spain. Infanta Sofia was born on April 29, 2007, and is the younger daughter of King Felipe VI and Queen Letizia of Spain. She is the second in line to the Spanish throne, after her elder sister Princess Leonor.

Princess Leonor's Age: As of September 2021, Princess Leonor was born on October 31, 2005, which would make her around 15 years old at that time. Please note that her age would have changed since then, so you may need to check the current year to determine her exact age.

What Happened to Princess Sofia of Spain: As of my last update, there were no significant or notable events reported about Princess Sofia of Spain. She was continuing her education and growing up as a member of the Spanish royal family. Any recent developments or events related to her would require checking the latest news sources.

Is Princess Leonor Married: As of September 2021, Princess Leonor was not married. She was a teenager focused on her education and royal duties. Any updates regarding her marital status beyond that date would need to be verified through current news sources or official royal announcements.

Please keep in mind that the information provided here is based on my knowledge up to September 2021, and there may have been developments or changes since that time.