Protester in Ukrainian Flag Dress Makes Bold Statement at Cannes Film Festival with Fake Blood
The unidentified young woman used this attention-grabbing act to show support for Ukraine, making her appearance at the premiere of Just Philippot's film 'Acide'.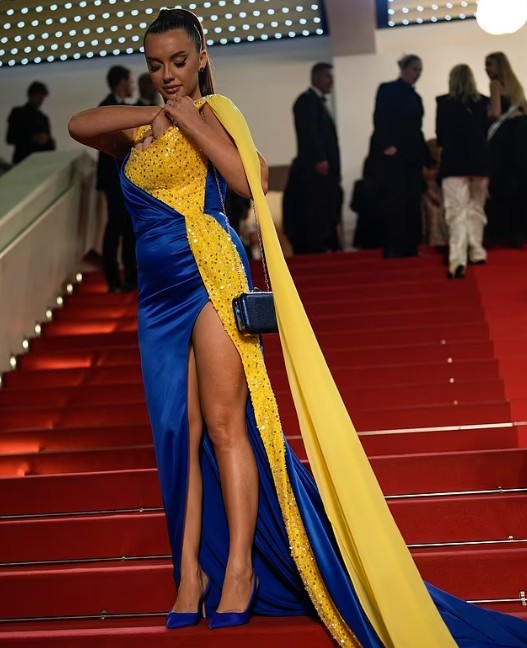 Wearing a floor-length blue and yellow ballgown, the protester reached into her dress, pulled out a capsule of fake blood, raised it above her head, and burst it as cameras captured the moment. The motive behind this shocking demonstration is not confirmed, whether it was a condemnation of the Russian invasion of Ukraine or why it occurred during the premiere of the French director's film.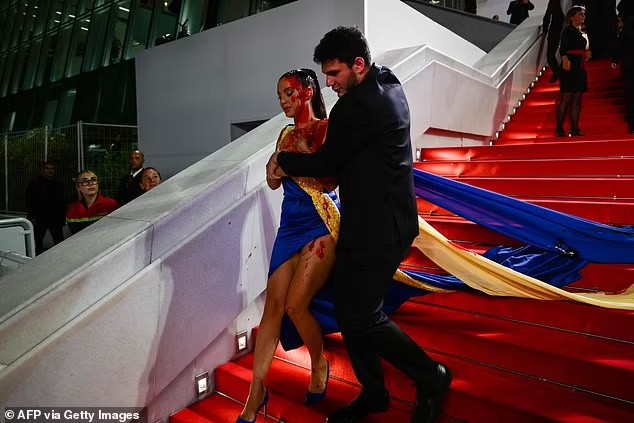 This incident echoes a similar protest that took place at last year's festival, where a Ukrainian woman made a powerful statement against the actions of Vladimir Putin's forces. She appeared on the red carpet fully clothed, later revealing body paint that read 'Stop raping us', adorned with a Ukrainian flag and the word 'Scum' written on her back.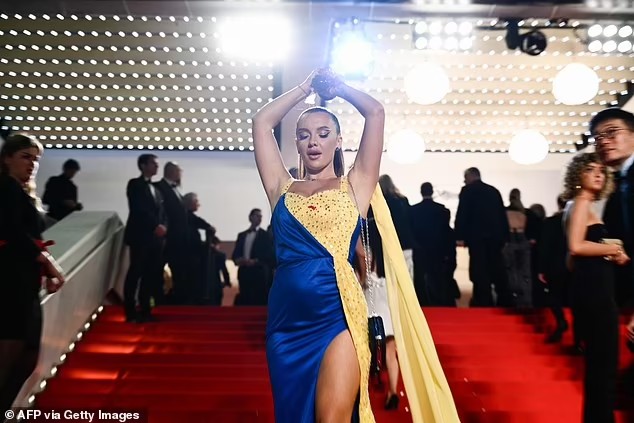 While Cannes boss Thierry Frémaux had previously expressed solidarity with Ukraine, this year's festival continues to impose a ban on Russian delegations or film companies associated with the Putin government. Amidst the glamorous showcases and celebrity sightings, the protest drew attention to the ongoing unrest in France due to Emmanuel Macron's decision to raise the state retirement age.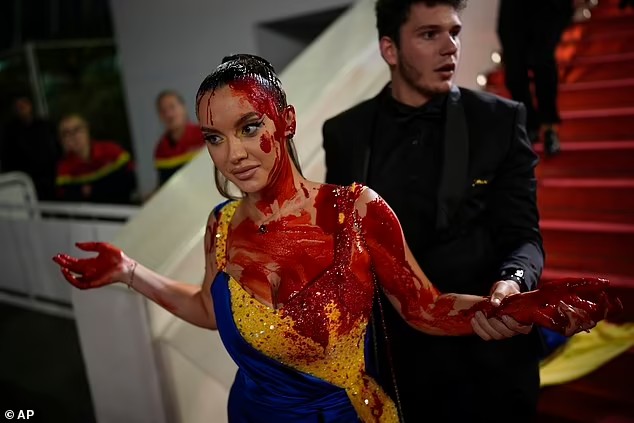 Authorities in Cannes tightened security measures ahead of the festival, banning demonstrations and gatherings on public highways to ensure public order during the internationally acclaimed event. Despite the restrictions, the eyes of the world remain focused on the prestigious film festival, where artistic expression and societal concerns intersect on the red carpets and beyond.