Putting pants on pause! VERY risque new fashion trend sees celebrities ditching trousers and wearing their UNDERWEAR as outerwear
Summer is coming and it looks like going sans pants will be what's hot - at least according to some of Hollywood's biggest stars.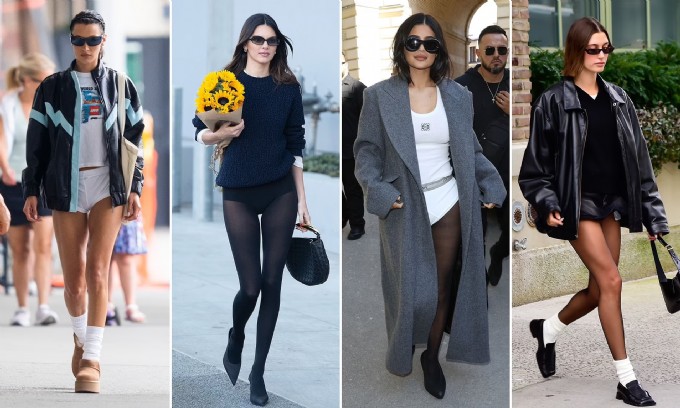 Models for Coperni, Victoria Beckham and Del Core have been seen storming the runways wearing barely-there micro shorts that could pass as underwear in Spring/Summer 2023 collections in Paris, New York and Milan.
but the tred started appearing late last year when the likes of Bella Hadid, Kendall Jenner and her little sister, Kylie, were spotted wearing underwear as shorts.
Even before that, in the same vein, a pregnant Rihanna rocked a tiny black pair underneath her sheer teddy dress in an iconic take on maternity wear.
Brands like Loewe and Coach have also embraced the no-pants look with celebrities at Paris and New York fashion weeks seen sporting their takes on the trend.
As we enter the warmer months of the year, FEMAIL takes a look at this slow-burning trend that will leave you thinking, 'Would I dare to bare?'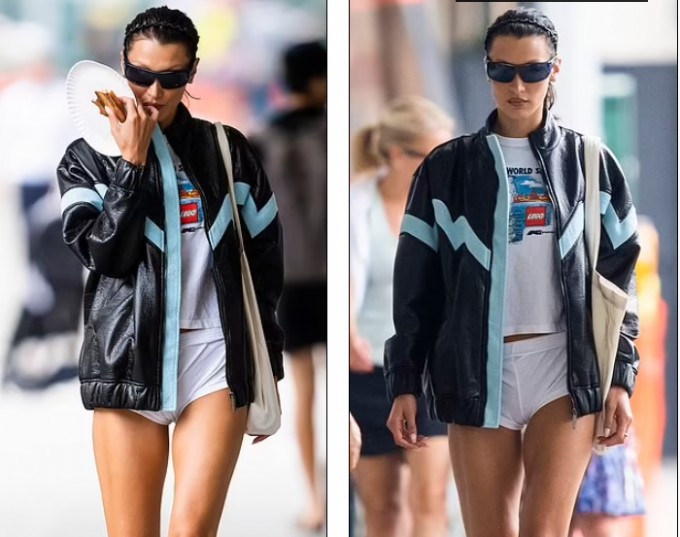 BELLA HADID: Always a trendsetter, the 26-year-old model made waves when she stepped out in New York City in a pair of underwear reminiscent of tighty-whities. She kept it casual with a graphic T-shirt, biker jacket, white tube socks and platform Ugg boots for the summer look back in September 2022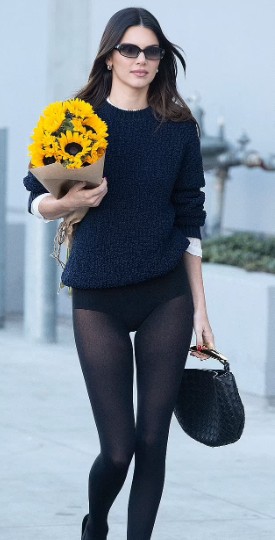 KENDALL JENNER: Just months after Bella was seen in her summer look, Kendall took the no-pants trend into fall with these black underwear-like micro shorts. To keep her signature pins warm in November, the reality TV star-turned-model sported black tights to complete her outfit and kept it cozy with a knitted sweater. For a chicer flair, Kendall threw on low-heeled sling backs and a Bottega Veneta sardine intrecciato leather tote worth $4,200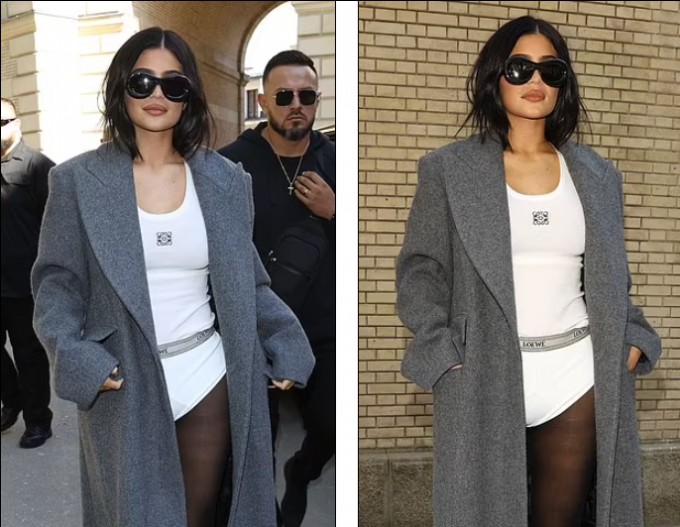 KYLIE JENNER: In September 2022, the makeup mogul coordinated her Loewe-branded tighty-whities, which retail for $490, at the fashion house's Spring/Summer 2023 show in Paris with a white tank top ($355), also from the brand. To elevate her look, she threw on a long gray coat ($4,600) and shielded her eyes from the cameras with dark sunglasses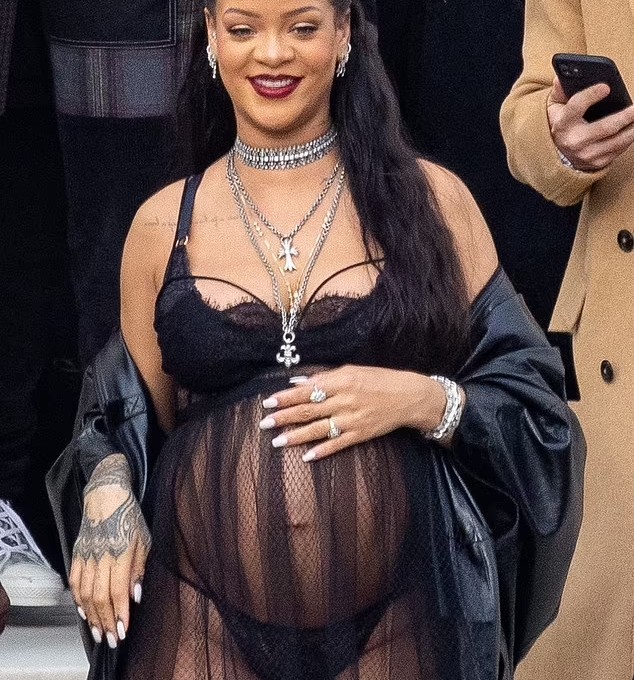 RIHANNA: The Umbrella singer is turning what people think is maternity wear on its head - and it's iconic. Rihanna just announced her second pregnancy, but it's this look from her first that really got our attention. Making it work for her, the business mogul wore tiny string briefs under a sheer teddy dress and a lacy bra - fitting for the owner of the Savage X Fenty lingerie label. She finished off the look with silver jewelry and a leather coat draped off her shoulders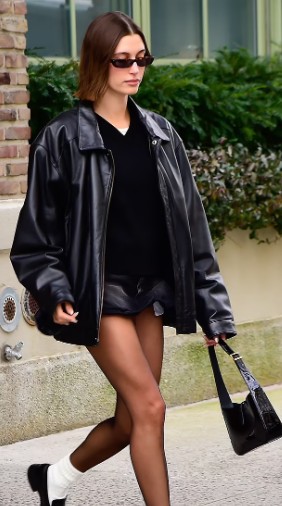 HAILEY BIEBER: The model, who is married to Justin Bieber, pared down her no-pants look with an oversized leather jacket. To keep warm in New York's chilly winter, the 26-year-old wore sheer tights, white tube socks and a pair of loafers. Underneath the jacket, she wore a black V-neck sweater. Hailey accessorized with a small bag and tortoiseshell sunglasses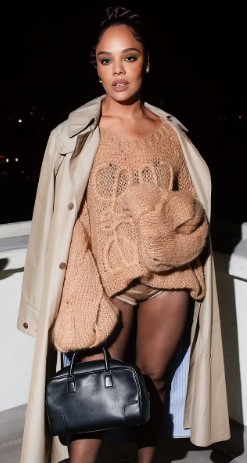 TESSA THOMPSON: The Marvel star looked ever flawless in her no-pants outfit with an oversized sweater from Loewe back in November. Her micro shorts were a similar hue to her Loewe sweater and she paired it with a classic trench and the brand's balloon heeled sandals, worth $1,200. And Tessa also got the memo about sheer tights.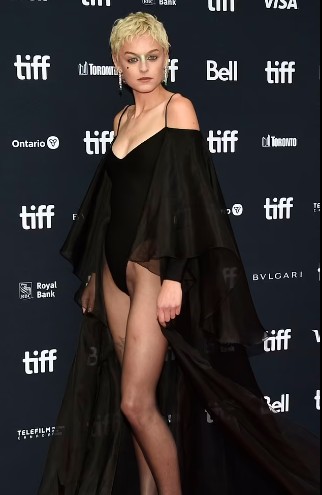 EMMA CORRIN: The 27-year-old British star, who uses they/them pronouns, stepped out in this high-cut bodysuit look for the My Policeman premiere in Toronto back in September 2022. Best-known for their role in The Crown as Princess Diana, Emma's red carpet looks are very different to their on-screen persona, so it's no surprise they opted to try the no-pants trend - and they succeeded in pulling it off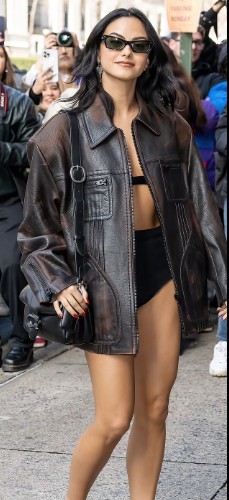 CAMILA MENDES: Similar to Hailey's look, the Riverdale star gave her no-pants look a grungier edge with a brown leather jacket. At Coach's Fall 2023 show for New York Fashion Week, Camila, 28, rocked this matching black bra and micro shorts set. She wore $225 studded loafers and carried a Pillow Tabby, worth $550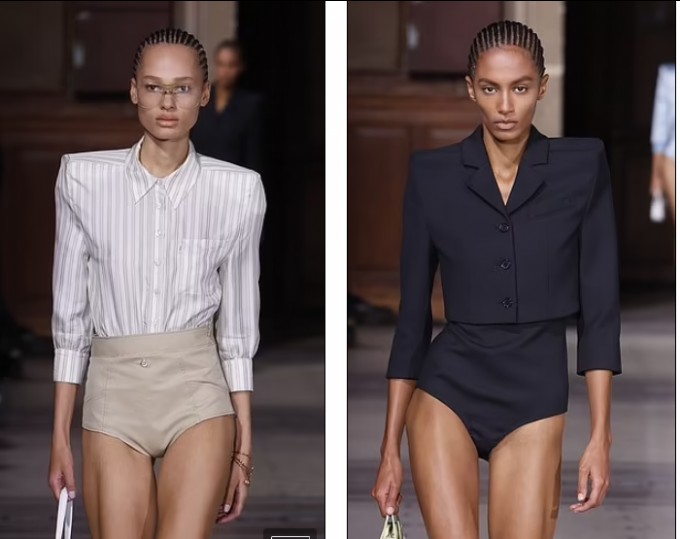 COPERNI: The fashion house sent models down the runway in micro shorts that looked like underwear for their Spring/Summer 2023 collection back in September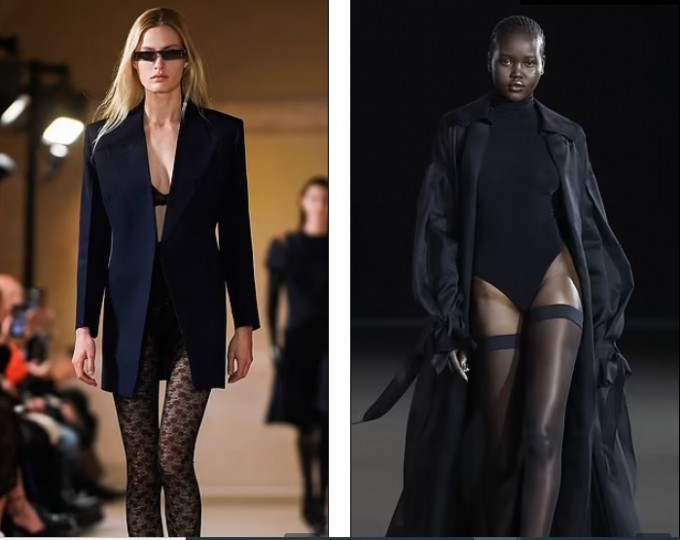 VICTORIA BECKHAM AND DEL CORE: It's Posh Spice approved - the fashion designer dressed her models (left) in similar looks seen on Kendall and Camila. And this Del Core bodysuit pictured right emulates the no-pants look and looks to be on-trend for Spring/Summer 2023.