Schoolgirls are left in tears after being ordered to stand in line as 'male teachers inspected the length of their skirts to make sure they are not too short'
Parents at Rainford High School in St Helens, Merseyside, claimed girls whose skirts were deemed too short were made to queue up and asked to adjust their skirts by teachers - and that parents were contacted if they did not comply.
Both male and female teachers were involved in the inspection, it is understood.
One woman told the liverpool Echo her 'granddaughter came home mortified that her skirt height was inspected by a male teacher in front of male pupils'.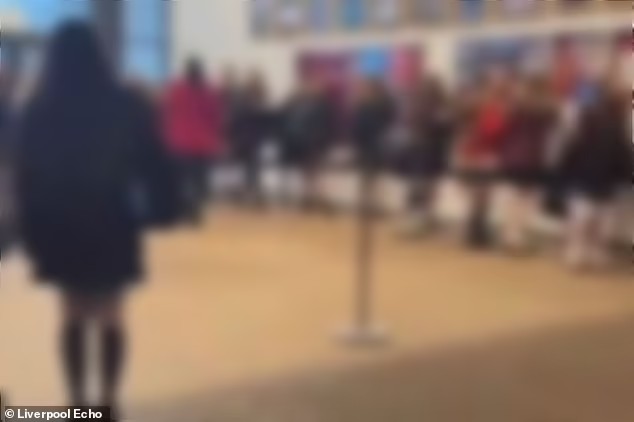 A parent claimed some pupils had been left 'crying and embarrassed' as a petition was started titled 'Stop Rainford High controlling girls skirtd'.
The parent, who asked not to be named, told the st Helens star: My daughter stated that they are asked to adjust their skirt and if they say no or cannot then parents are contacted and told their child must come in the following day in a longer skirt or they will be given a detention.'
'I do understand some students may wear particularly short skirts, but that cannot be the case for this amount of girls. They shouldn't get detention or suspension over skirt length.
'The male students are now using this as an excuse to laugh at the girls, what message is this sending to them?'
Another parent told the Liverpool Echo: 'My daughter came home in tears after this debacle. One of the highest achievers in her year, never been in trouble in her life and is subject to this.
'Skirt at the knee and wearing tights too. Young girls lined up at the door and separated by male staff! 2023 not 1823.'
Rainford High's Principal Ian Young said the school had been 'concerned about the failure of a significant number of students to wear the skirt to the standards and expectations laid down in the uniform policy' adding that they have 'taken firm action to politely challenge our students around how they wear uniform'.
He confirmed to the MailOnline: 'No one has been suspended directly for not wearing the uniform correctly. Students have been suspended due to their conduct towards staff that is linked to the issue but no one at all has been suspended for not wearing a skirt in line with the school policy.'
A petition, started by Lexi Pennington, claims that girls are being 'punished' for wearing skirts above their knee.
'Parents during a cost of living crisis are being forced to buy new skirts or risk the children being suspended from school, in a school that constantly preaches the importance of students attending school and lessons they find suspension a suitable consequence which is completely contradictory to the schools aim, school is supposed to prepare us for the workplace however when we see teachers in the school walking around their workplace with skirts not following these same rules it seems very unjust,' the description states.
'Also given the fact the pupils are being treated almost as animal being almost headed into a penned in section in the auditorium to be inspected seems very demeaning and almost inhumane to the female students being inspected by the male staff.
'I understand the fact that some skirts are too short and incredibly revealing and are not suited to a school setting however unless these extreme violations occur I don't see why girls legs are much of a problem to the school community and how girls with skirts that are an inch above the top of the knee are deemed unacceptable and these perfectly fine skirts are being forced to be replaced which see is wasteful.'
It argues there are more important issues for the school, rather than trying to 'control' skirt lengths.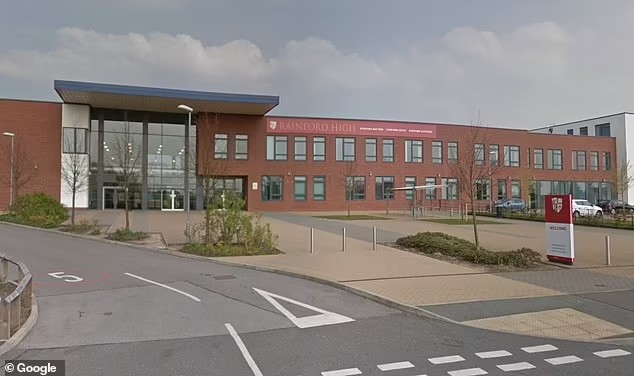 The full statement issued by Principal Ian Young:
'As a school we have been concerned about the failure of a significant number of students to wear the skirt to the standards and expectations laid down in the uniform policy.
'We have attempted to work with our young people by consulting and working with the student leadership teams to propose a compromise position that was acceptable to both the staff and the students.
'This compromise was implemented between November and February half term, unfortunately, this was also ignored by a significant minority of students.
'Rainford High has a clear uniform policy that despite having tried to work with our student community to adjust and compromise throughout this academic year, has unfortunately seen a refusal to comply by approximately 45 per cent of the students.
'We have taken firm action to politely challenge our students around how they wear uniform. The issue of required skirt length as a school rule has been within the school policy for a number of years and all parents and students are directed to this upon joining our community.
'As a school that believes Everyone Matters, Everyone Helps and Everyone Succeeds we have strived to support and work with the school community to achieve an acceptable position on uniform for all members of our school community. This approach has not delivered the standards as a school we expect which has therefore meant we have with regret had to revert to our previous uniform policy of knee-length skirts .
'As a school, our focus is for our young people to exemplify and learn the importance of high standards and expectations so they can be ready to contribute to our community and wider community as successfully as possible.
'The discourse with our young people has been positive and proactive and I am delighted they have spoken with passion on this topic and as a school we are listening however we have consistent standards and expectations which cannot be compromised.
'A school environment is exactly that, a place of learning and development, not the outside world or an adult work place. There are rules, standards and expectations that are in place to support young people to develop, learn and grow in a safe environment.
'These rules and systems may not be seen outside of school communities however are necessary within them to ensure a large school can operate safely and effectively. Behaviours, attitudes and problems are dealt with by teachers. At Rainford we employ teachers of all genders who are highly effective and professional and able to offer support, help, care and guidance to our students.
'Concerns raised by parents around how we have dealt with challenging students regarding this issue will be investigated fully. At this point I have no evidence that any member of the school staff has done anything other than behave in a professional manner.
'As a school, we provide an inclusive and supportive approach to our community, allowing all our young people to access a wide range of activities and support services alongside a balanced curriculum that has been recognised by a strong OFSTED report and the school being significantly oversubscribed for the past 8 years.
'As a school we spend increasing amounts of funding on services to support students anxiety and resilience. The reaction to our decision to ensure our school uniform policy is adhered to has raised significant concerns around our young people's wider well being we will be working hard as a school to work with our community and support our young people through the challenge of following our uniform policy.'