Selena Gomez turns heads in dazzling wedding dress as she films Only Murders in the Building season three with Steve Martin and Martin Short
The star, 30, who plays Mabel Mora in the show, wowed in the full, princess-style gown paired with a long traditional veil and sheer gloves.
The actress, 30, wore dangly earrings with her dark hair pulled back into a low bun and added a pop of color with bright red lipstick.
Her co-stars Martin Short and steve Martin were also featured in some of the snaps, giving fans clues to this future storyline.
Steve Martin shared an image with Selena in the wedding gown on Twitter, 'Guess what just happened!' as he recreated his iconic Father of the Bride look with the actress.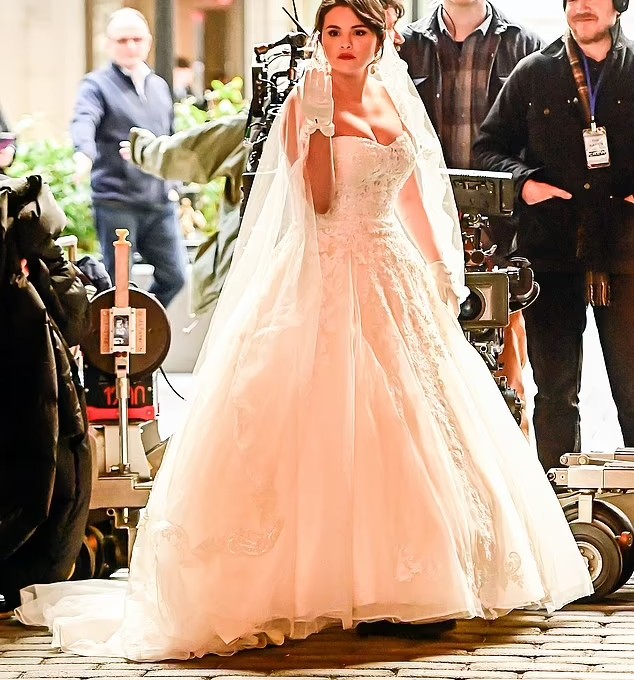 Martin also shared a snap of Short with Selena and captioned that, 'Turns out this happened, too.'
Earlier on Tuesday, the Lose You To Love Me singer was spotted in another glam look on set in New York City.
She wore a sleek, plunging black dress and scarlet lipstick for scenes with Martin and Short.
In one mysterious sequence, Selena could be seen emerging out of an elegant archway while Steve and Martin gesticulated wildly beside her.
Shortly after the show began in 2021, Selena gushed about the experience of working with the two comedy titans on the series.
'They immediately made me feel like I was a part of a trio. They're just the best. They are extremely humble and kind, and they just have a different human perspective on life than anyone I've ever met,' she told People.
'I asked them about how life used to be, and it was always so interesting to hear about the industry and what it used to be like. I felt like a sponge, just absorbing everything I could. We're all on a group email chain.'
The three of them all play people who happen to live in the same apartment building and are all very into true-crime podcasts.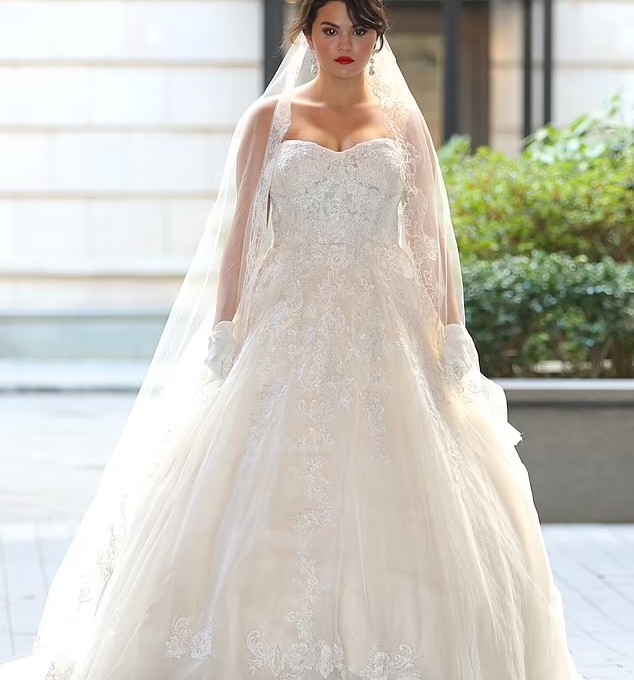 When someone is murdered in their building in season one, the leads wind up using their amateur sleuthing skills to try and get to the bottom of the crime.
Paul Rudd, who had a cameo in the season two finale and is reprising his role for season three, showered praise on Selena in a recent interview.
'It's the most amazing thing to be [part of], and to be in that room. Selena is great and I've worked with Selena, she's a really good friend of mine. I adore her,' he said.
The Hollywood heartthrob - who previously played Mike Hannigan in Friends - told Entertainment Tonight: 'Martin Short and Steve Martin are Mount Rushmore.'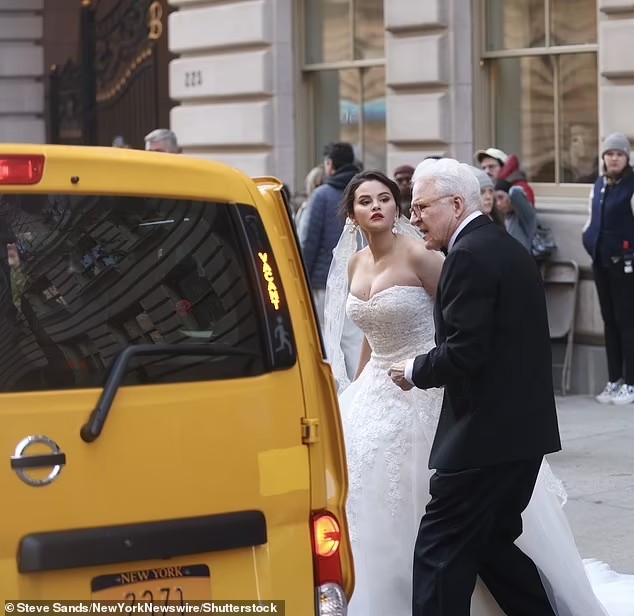 In an episode of the Apple TV+ series Dear..., Selena recently bared her soul about the emotional toll of being mocked online for her figure.
She shared on the show that her weight fluctuated because of the various medications she took over the course of her longtime battle with lupus.
'And obviously, people just ran with it. It was like they couldn't wait to find a thing to bring me down,' the Come And Get It singer declared.
Selena said that the experience of being 'shamed for gaining weight because of my lupus' left her 'crying my eyes out.'