Shakira Arrives in Miami with Sons as Lewis Hamilton Enjoys Beach Getaway with Tennis Star and Actress
The 46-year-old Colombian songstress, amid swirling rumors of a new romance with NBA star Jimmy Butler, appeared calm and composed as she touched down in Miami. Shakira confidently strolled through the airport, donning oversized sunglasses and a stylish gray print jumpsuit that tantalizingly revealed a glimpse of her black bra.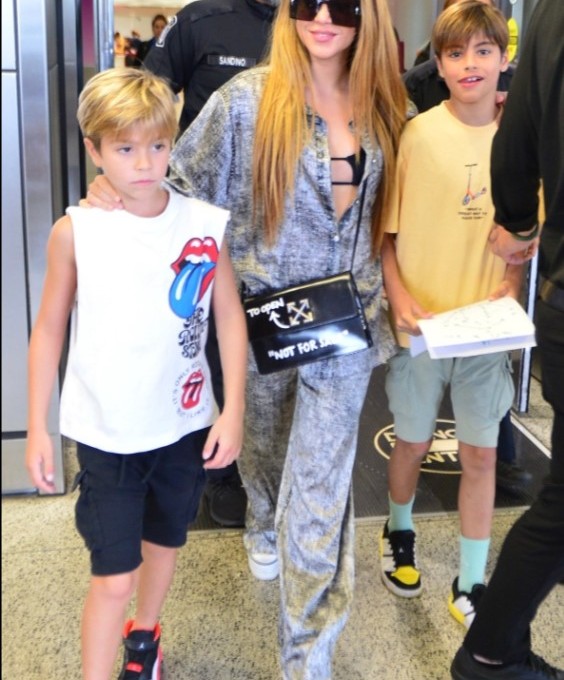 Sporting a bag with the words "To Open" and "Not For Sale" slung over her shoulder, she held the hands of her sons, Milan (9) and Sasha (7), whom she shares with her former partner, footballer Gerard Pique.
In the meantime, Lewis Hamilton basked in the sun aboard a yacht in Ibiza, accompanied by 20-year-old tennis prodigy and heiress Jenny Stray Spetalen, as well as Mexican actress Eiza Gonzalez.
While the Formula 1 star indulged in the festivities on the party island, Shakira was spotted enjoying a cozy evening at an exclusive bar in London last week, fueling speculation about a potential love triangle involving Jimmy Butler. The basketball legend, who recently made headlines for his outings with Shakira, reportedly shares a connection with the singer that brings a smile to her face, regardless of their 13-year age gap.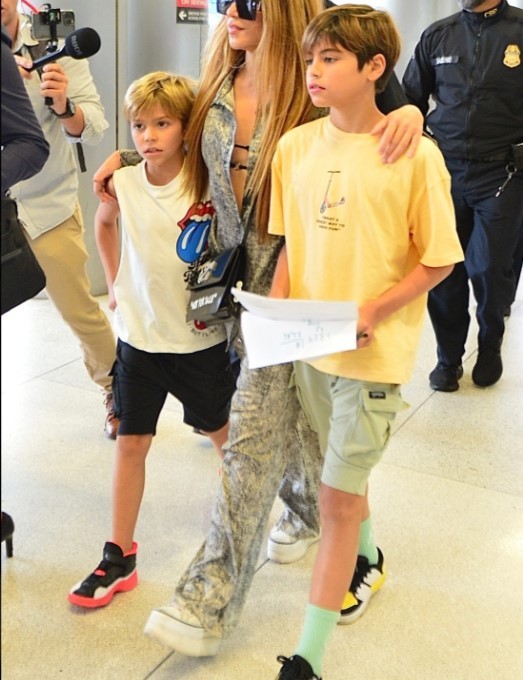 According to an insider who spoke with Us Weekly, the relationship between Shakira and Butler is still in its early stages, making it difficult to determine if it has long-term potential. The source revealed, "They have been out a few times, but things are very new and it's too early to tell if there's long-term potential there. Jimmy makes Shakira smile, and she feels happy spending time with him."
This news comes shortly after Shakira was spotted courtside during the NBA Finals last month, further fueling rumors of a romantic connection between the singer and Butler. The pair began engaging on Instagram following the game, with Butler, who plays for the Miami Heat, recently expressing his appreciation for Shakira's stunning appearance at Paris Fashion Week.
Interestingly, Shakira's arrival in Miami coincided with the British Grand Prix, leading to speculations that she was there to support her rumored beau, Hamilton. The alleged A-list couple was seen reveling in late-night celebrations after the racing driver secured a third-place finish at his home circuit.
Their close relationship has been the subject of persistent rumors, fueled by their intimate outings together. Shakira had previously cheered Hamilton on from the Mercedes team's VIP area during the Spanish Grand Prix last month.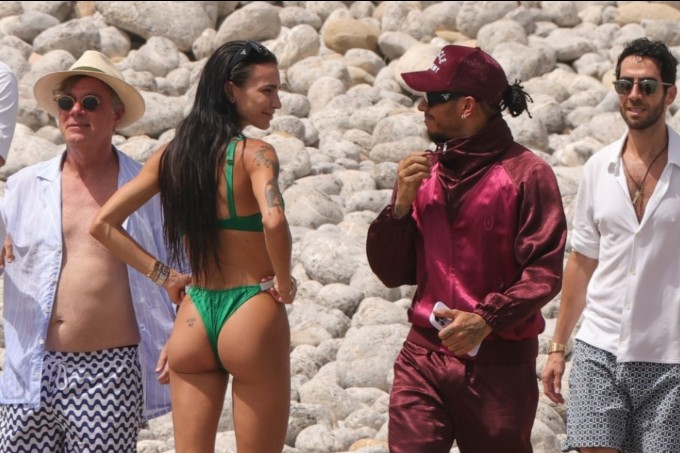 Following the race in Barcelona, the pair were photographed looking affectionate as they enjoyed cocktails with friends, further intensifying speculation about their relationship. In May, Shakira also attended Hamilton's race in Miami, her new hometown since relocating to the United States earlier this year. The duo was spotted on a boat together after the race, with Hamilton displaying chivalry by picking up Shakira from her £12 million beachfront mansion.
As both Shakira and Lewis Hamilton enjoy their respective adventures, fans and media alike eagerly await further developments in their personal lives, wondering if these rumored romances will blossom into something more profound.