Sophie Turner Spotted with Prestige Bachelor Peregrine Pearson After Steamy Kiss
The duo attended the Rugby World Cup Final match between New Zealand and South Africa at Stade de France.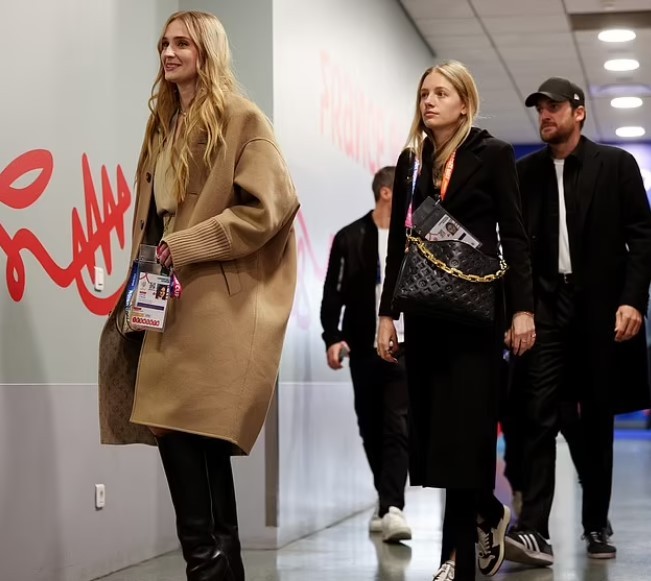 Sophie appeared to be in high spirits as she arrived with Peregrine, who is often referred to as Britain's most eligible bachelor. She led the way, walking a few steps ahead of Peregrine, before stepping onto the pitch to present the World Cup trophy.

Earlier on the same day, the pair had been spotted in Paris, indulging in a romantic kiss, marking their growing closeness. This development comes just one month after Sophie's ex-husband, Joe Jonas, filed for divorce.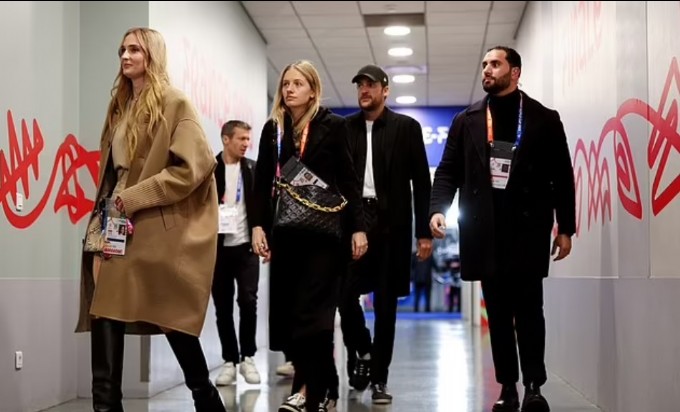 A photograph captured by The Sun showed Sophie sharing a passionate kiss with Peregrine in the French capital. Peregrine, the heir of the 4th Viscount Cowdray with a family wealth of £224 million, had recently ended his relationship with model Princess Maria-Olympia of Greece and Denmark, who is 27 years old.
The new couple didn't shy away from public displays of affection, engaging in a romantic smooch. Later, they parted ways, each departing in chauffeur-driven cars, only to reunite at Stade de France in Paris.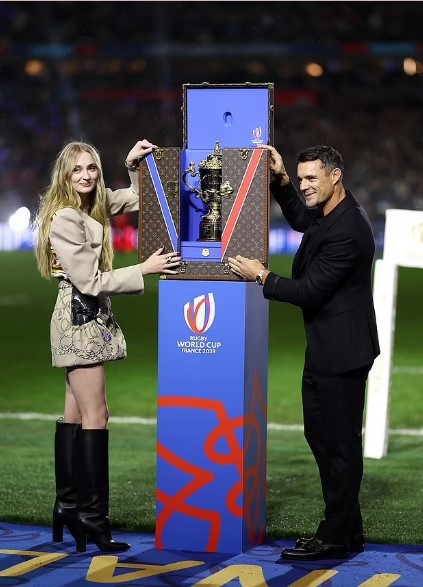 An eyewitness shared, "They arrived together at the chauffeur pick-up location outside of the station. It looked like they might have both come on the Eurostar from London. They stood there for a few minutes and were chatting and laughing a lot. He then took his hat off and leaned in to give her a big kiss. After the kiss, they parted ways."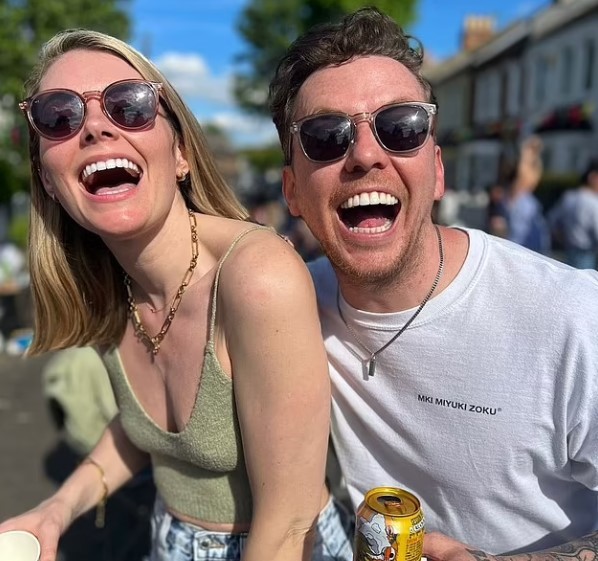 Peregrine has since returned to his £5 million residence in Chelsea. MailOnline has reached out to Sophie's representatives for comment.

Meanwhile, back in the United States, Joe Jonas, aged 34, was on parenting duty. He was photographed in New York's West Village, dressed as a prince, pushing his daughters in a princess stroller.

He lovingly placed his children, Willa, aged three, and Delphine, 15 months old, in a stroller adorned with pink and gold decorations. Joe appeared to be enjoying quality time with his children, creating special memories for them.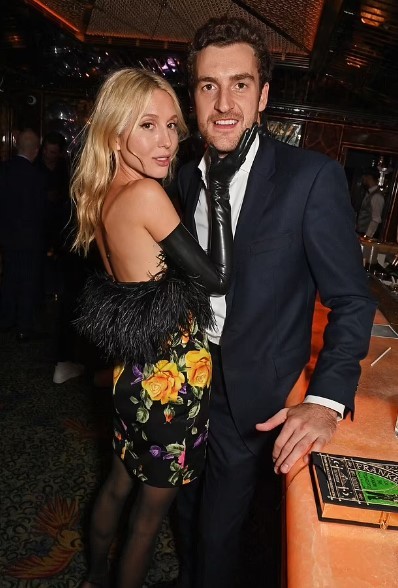 This development follows Joe and Sophie's recent temporary custody agreement after their separation. The agreement will allow each parent to spend two weeks at a time with their daughters, giving the girls the flexibility to travel between the United States and the United Kingdom.

In a joint statement, Joe and Sophie said, "After a productive and successful mediation, we have agreed that the children will spend time equally in loving homes in both the U.S. and the UK. We look forward to being great co-parents."

The custody arrangement will also permit Jonas to take his daughters on tour with his band, The Jonas Brothers, while Turner will have the opportunity to spend Christmas with them in the UK alongside her family.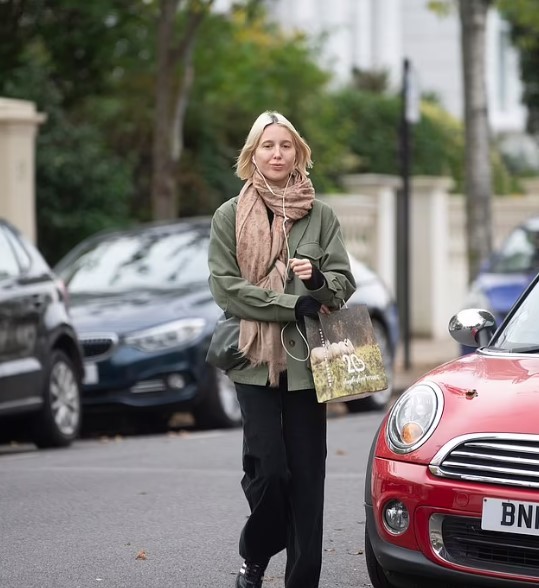 Sophie Turner 2023. Sophie Turner is a British actress who is best known for her role as Sansa Stark in the HBO fantasy drama series Game of Thrones. She has also starred in films such as X-Men: Apocalypse (2016), Dark Phoenix (2019), and Broken Soldier (2022).
Turner is married to American singer and actor Joe Jonas, and they have two daughters together. She is also a vocal advocate for mental health awareness and has spoken openly about her own struggles with anxiety and depression.
In 2023, Turner is set to star in the upcoming film Joan of Arc, a biopic about the French heroine. She is also rumored to be attached to several other projects, including a new season of Game of Thrones prequel series House of the Dragon.
Turner is a talented and versatile actress who is sure to continue to have a successful career in the years to come.
Sophie Turner Net Worth: Sophie Turner's net worth in 2023 is estimated to be $12 million. This includes her earnings from acting, brand endorsements, and other ventures.
Turner has starred in several successful films and television shows, including Game of Thrones, X-Men: Apocalypse, and Dark Phoenix. She is also a brand ambassador for Louis Vuitton and has appeared in campaigns for other major fashion brands.
Turner's net worth is likely to continue to grow in the coming years as she continues to star in successful projects and negotiates lucrative endorsement deals.
Sophie Turner Game of Thrones: Sophie Turner is well-known for her role as Sansa Stark in the popular TV series "Game of Thrones." She played this character throughout the show's run, gaining recognition and critical acclaim for her performance.
Sophie Turner Movies on Netflix: The availability of movies on Netflix can vary by region and change over time. Sophie Turner has appeared in various films, and some of her movies may be available for streaming on Netflix. You can check the Netflix library in your region to see which of her movies are currently available.
Sophie Turner Instagram: Sophie Turner has an official Instagram account where she shares updates about her life and work. You can follow her on Instagram to stay updated with her posts and activities.
Sophie Turner Children: Sophie Turner and Joe Jonas have one child together, a daughter named Willa, born in July 2020.
Sophie Turner Baby: As of my last updat in January 2022, Sophie Turner and her husband, Joe Jonas, had one child, a daughter named Willa, who was born in July 2020.
Sophie Turner Age: Sophie Turner was born on February 21, 1996, which makes her 27 years old as of October 2023.