Star Trek Day 2023 Celebrations: Jerry O'Connell to Host, 'Strange New Worlds' Episodes Airing on CBS
The host for this year's commemoration is Jerry O'Connell, known for his role in Star Trek: Lower Decks. Set to take place on September 8th, this special event marks the 57th anniversary of the iconic television debut of Star Trek. The occasion will encompass an array of activities, including special screenings, tributes, and exclusive glimpses into the franchise's future.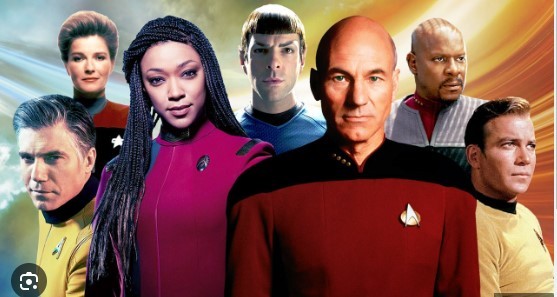 Jerry O'Connell's tribute to the beloved Star Trek universe will encompass various segments that revisit significant moments from the past 57 years. The celebration will also honor 50 years of Star Trek animation and pay homage to Star Trek: Discovery as it approaches its final season. Additionally, fans can anticipate an exclusive sneak peek into the upcoming fourth season of Star Trek: Lower Decks.
Viewers around the globe will be able to enjoy the Star Trek Day special for free via platforms such as StarTrek.com/Day, YouTube, Twitch, and Facebook. In the United States, the special program will be available for streaming on Paramount+, Pluto TV, and Mixable. Moreover, it will be broadcasted on select local CBS affiliates, including Comedy Central, Paramount Network, Pop TV, Fave TV, and Smithsonian.com.
The festivities extend to CBS, which has planned special back-to-back airings of the first two episodes of the Paramount+ original series, Star Trek: Strange New Worlds. The broadcast will commence at 8 p.m. ET/PT.
Episode 101 - Series Premiere: "Strange New Worlds" The premiere episode delves into the story of Pike (Anson Mount) as he emerges from self-imposed exile to rescue one of his officers on a clandestine Starfleet mission. The narrative explores his efforts to navigate the rescue mission while grappling with a vision of the future he has received. This episode is a teleplay by Akiva Goldsman, with a story crafted by Akiva Goldsman, Alex Kurtzman, and Jenny Lumet. It is directed by Akiva Goldsman.
Episode 102: "Children of the Comet" The second episode, titled "Children of the Comet," follows the U.S.S. Enterprise crew as they discover a perilous comet on a collision course with an inhabited planet. As they strive to divert the comet's path, they encounter an enigmatic alien artifact embedded in the icy surface of the comet. This relic poses unexpected challenges, and while the away team grapples with unlocking its mysteries, Pike (Anson Mount) and Number One (Rebecca Romijn) confront a group of zealots determined to halt their interference. The episode is written by Henry Alonso Myers and Sarah Tarkoff, and directed by Maja Vrvilo.
Additionally, the celebration includes a special evening dedicated to Star Trek: The Animated Series. This segment offers an opportunity for fans to enjoy a selection of episodes from the hit animated series Star Trek: Lower Decks. Screenings will be hosted in various cities, including Columbus, Dallas, Denver, Philadelphia, Phoenix, San Diego, St. Louis, Washington D.C., Vancouver, Calgary, and London. Fans can register for these free screenings at Star Trek Animated Celebration Screenings, starting at 9 am PT/12 pm ET.
With Jerry O'Connell's enthusiastic hosting and exclusive insights into upcoming Star Trek content, Star Trek Day 2023 promises to be a memorable celebration for fans around the world.
Star Trek is an American science fiction media franchise created by Gene Roddenberry. It is set in the 23rd and 24th centuries, where humans and other alien species have joined together to explore the galaxy.
The franchise began with the television series Star Trek: The Original Series, which aired from 1966 to 1969. It has since spawned numerous sequels, prequels, and spin-offs, including television series, films, novels, comic books, and video games.
Star Trek is known for its optimistic view of the future, its exploration of moral and ethical issues, and its diverse cast of characters. It has been praised for its groundbreaking special effects, its innovative storytelling, and its positive messages about peace and cooperation.
The franchise has a large and passionate fan base, and it has been credited with influencing popular culture in many ways. It has been cited as an inspiration for other science fiction works, and it has been used to promote science education and social activism.
Star Trek: The Original Series (1966-1969): The first Star Trek television series, which follows the adventures of the USS Enterprise, a starship exploring the galaxy.
Star Trek: The Next Generation (1987-1994): A sequel to the original series, which follows the adventures of the USS Enterprise-D, a starship in the 24th century.
Star Trek: Deep Space Nine (1993-1999): A spin-off of The Next Generation, which is set on a space station in the Gamma Quadrant.
Star Trek: Voyager (1995-2001): A spin-off of The Next Generation, which follows the adventures of the USS Voyager, a starship stranded in the Delta Quadrant.
Star Trek: Enterprise (2001-2005): A prequel to the original series, which follows the adventures of the USS Enterprise-E, a starship in the 22nd century.
Star Trek is a cultural phenomenon that has had a lasting impact on popular culture. It is a beloved franchise that continues to inspire and entertain fans of all ages.