Stella Maxwell Turns Heads in Black Lace Gown at 2023 LACMA Art+Film Gala
The glamorous event, presented by Gucci, took place at the Los Angeles County Museum of Art.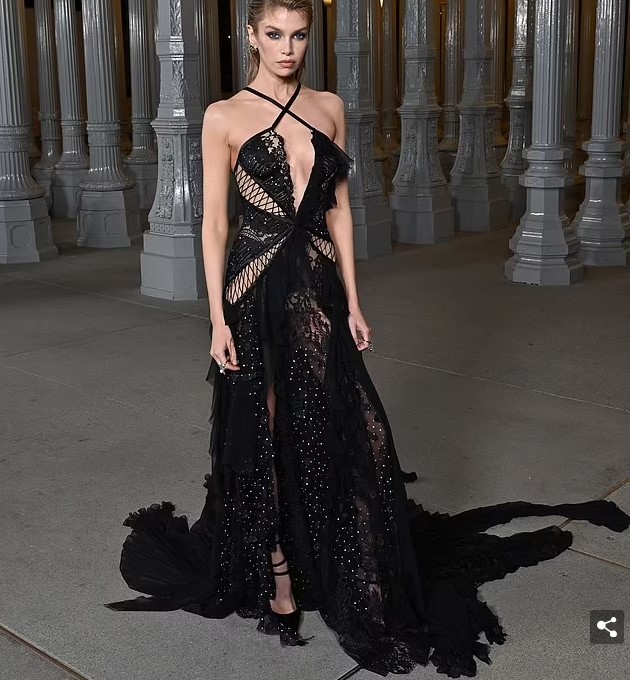 Maxwell showcased her stunning figure in an eye-catching black lace gown. The dress featured a daringly low neckline and unique cut-out detailing, giving her a show-stopping look for the evening. She elevated her height with a pair of black heels, ensuring that all eyes were on her during her grand entrance.
The gala brought together a star-studded guest list that included celebrities like Jennifer Lopez, Kim Kardashian, Heidi Klum, and Salma Hayek, among many others. This year marked the 12th edition of the LACMA Art+Film Gala, which honored director David Fincher and public art pioneer Judy Baca.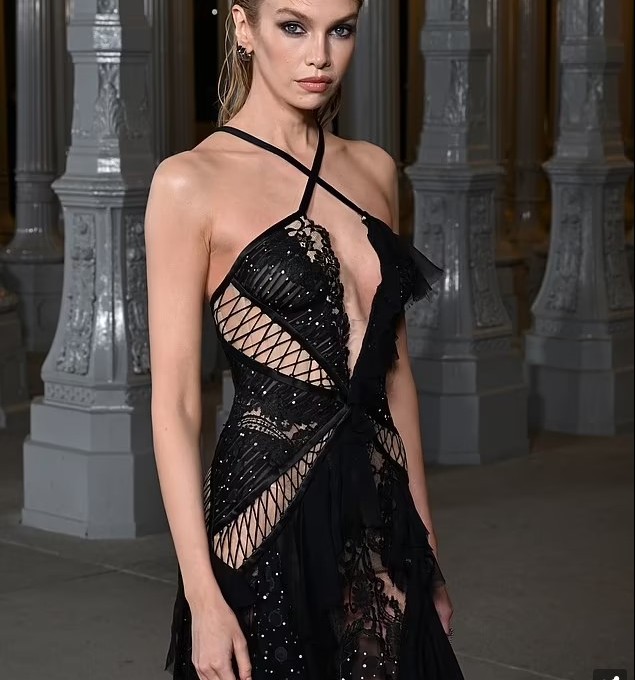 Stella Maxwell has had a busy schedule, as she made appearances at prestigious fashion events earlier in the year. In June, she graced the star-studded LuisaViaRoma & British Vogue Runway Icons fashion event in Florence. Later that same month, she was spotted during Paris Fashion Week.
In April, Maxwell celebrated a significant milestone in her career when she signed with the Society Management, a talent and modeling agency based in New York City. She expressed her excitement about this new chapter, stating, "Change in all things is sweet like lemonade. That first part is Aristotle, but the lemonade part is all me." Stella also noted that it felt natural to work within their network as she had been with Elite Paris for many years.
The Society Management echoed their enthusiasm in representing Stella Maxwell, describing her as a fashion icon with an outstanding career and admirable advocacy work.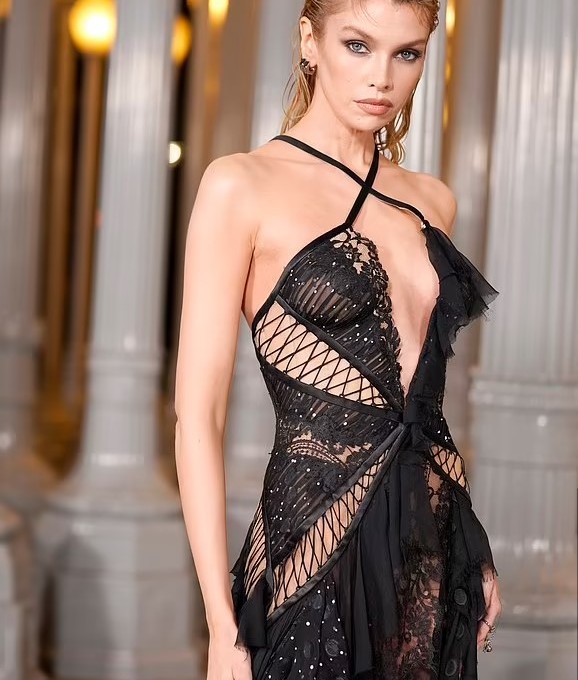 With an Instagram following of 9 million fans and followers, Maxwell recognizes the influence of social media in the modern modeling industry. In an interview with Teen Vogue, she explained, "I think social media has changed the game for modern-day models and people in general — men, women, everyone. It's kind of just changed fashion, you can see the change. It's a powerful tool. It's really changed the game because models have so much more power now and we can really say a lot..."
She also noted a positive shift in the fashion industry's openness and acceptance, stating, "I think these days everyone is becoming way more open and there's been a huge shift. I think fashion especially has influenced that. People are more open and comfortable now in our industry." Stella sees this transition as a step in the right direction, promoting inclusivity and reducing judgment in the fashion world.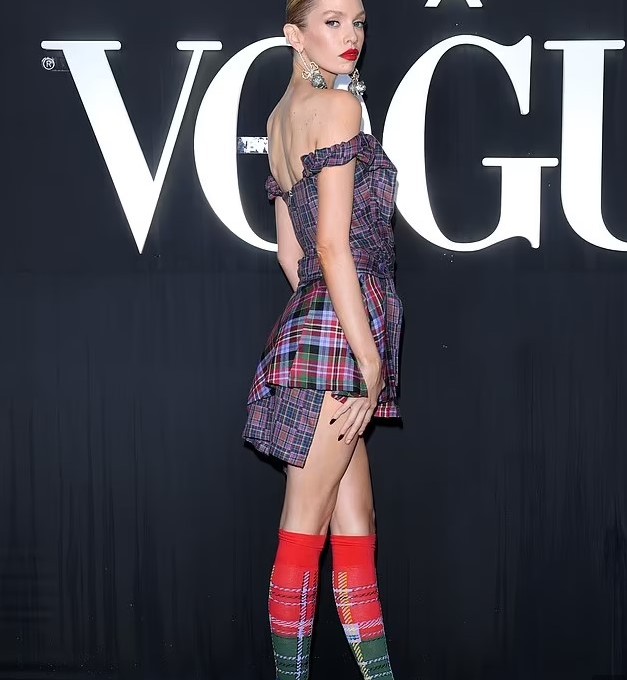 Who is Stella Magz? "Stella Magz" does not appear to be a well-known or widely recognized term or figure. It is possible that you are referring to Stella Maxwell, the model, as mentioned in your previous queries. If "Stella Magz" refers to a specific person or entity, more context would be needed to provide information about them.
Stella Maxwell Partner: Stella Maxwell's relationship status can change over time, and as of my knowledge cutoff date in January 2022, she was known for her past relationships with Miley Cyrus and Kristen Stewart. Please note that her current partner, if any, may have changed since then.
How old is Stella Maxwell? As of November 2023, Stella Maxwell is 31 years old.
Why is Stella Maxwell famous? Stella Maxwell is famous primarily for her successful career as a model. She has walked the runways for top fashion designers and brands, appeared in numerous fashion magazines, and worked as a Victoria's Secret Angel. Her modeling career and connections to celebrities have contributed to her fame.
Who did Stella Maxwell date? Stella Maxwell has been in the public eye for her high-profile relationships. She notably dated American singer and actress Miley Cyrus. The two were linked romantically in 2015, although they didn't officially confirm their relationship. Later on, Stella Maxwell also dated American actress Kristen Stewart. Her relationships with these prominent figures have attracted media attention.
Stella Maxwell partner Stella Maxwell is currently rumored to be dating French soccer player Kylian Mbappé. They have been spotted together on several occasions, but have not yet confirmed their relationship publicly.
Stella Maxwell age Stella Maxwell was born on May 15, 1990, and is currently 32 years old.
Who is Stella Magz? Stella Magz is a Brazilian fashion model who is known for her work with brands such as Victoria's Secret, Chanel, and Dior. She is also the founder of her own swimwear line, Magz Swim.