Stephen Bear SENTENCED to two years after sharing a secret sex tape with his Towie star ex Georgia Harrison
TheTV star, 32, filmed the consensual sex on CCTV then made at least £40,000 on OnlyFans from uploading the clip.
Bear, who faced a maximum two year sentence, has now been jailed for 21 months at Chelmsford Crown Court.
He was also placed on the Sex Offenders Register for ten years and was slapped with a five-year restraining order banning him from contacting Georgia.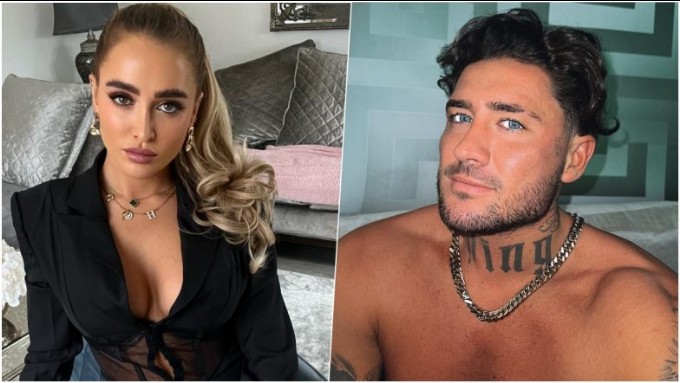 Bear was previously found guilty of voyeurism and two counts of disclosing private, sexual photographs and films.
As he was taken down to the cells, brazen Bear said to the judge: "Have a good evening, enjoy your weekends everyone."
His girlfriend Jessica Smith, who has vowed to stand by him, later shared a video taken before Bear's sentencing where he still claimed he did not have a "fair trial".
Judge Christopher Morgan said a jail term was the "only appropriate" punishment for Bear's sick crimes.
He dismissed Bear's claims he was not aware the CCTV was recording him and Georgia when they had sex in the garden.
The judge also said Bear "deliberately lied" when he told Georgia he had deleted the video so he could "exploit the economic value" of it.
And he praised Georgia for speaking out, saying she had suffered "extensive humiliation and embarrassment".
Brave Georgia said she is "happy and relieved" the matter is over in a statement outside court.
She also thanked fans for their support after bravely waiving her anonymity to speak out against her ex.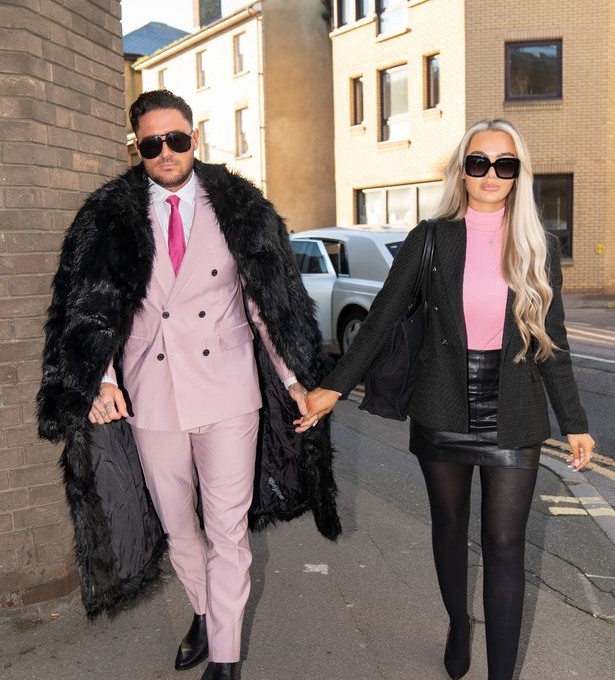 The star added: "Today's sentence is a vindication of what I've been put through and sends a clear message that the police and the courts take this matter very seriously.
"I want to let all other victims of this crime know that I stand in solidarity with them and I have absolutely no regrets in waving my anonymity.
"I hope that this puts anyone off committing this sort of crime and I hope for anyone else who's been a victim of it, it gives them some sort of justice."
Georgia earlier told the court how his antics turned her from a "happy go lucky" person to someone who suffers panic attacks.
She said she had so many attacks the Christmas following the video's release that she was in hospital for the majority of the festive period.
Georgia added: "It's my worst nightmare that any photo that should have been kept private would go public.
"When Stephen Bear filmed me without telling me it affected how I trust people. When I first saw the screenshot I felt physically sick."
Georgia also described the lack of empathy shown by her ex as "soul crushing" as she was forced to deal with "millions" of people watching the clip.
She told the court she had to move in with her mum after losing out on work following the horror ordeal.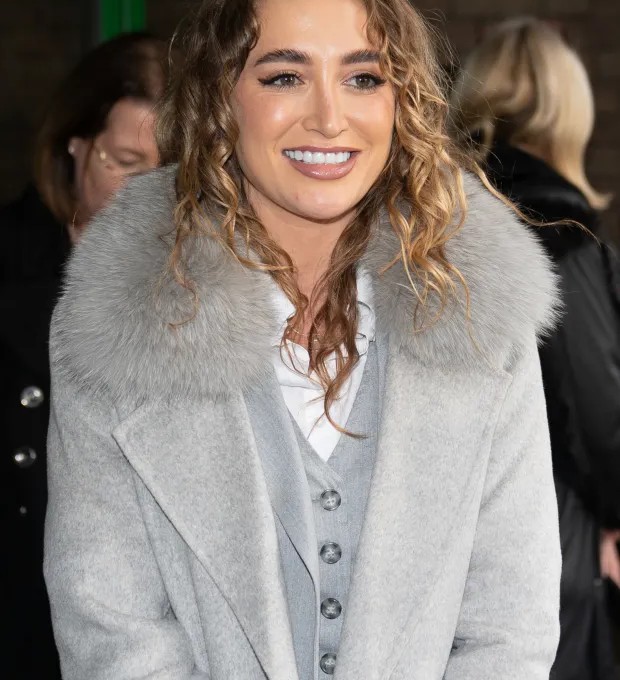 The reality star added: "[Bear is] so impulsive, and I am so afraid for what he will do next.
"I just want this to be done so I can move on as much as possible."
Bear was accused of feeling no remorse as he showed up to his trial each day in a Rolls Royce limousine with a cigar.
His lawyer Gemma Rose admitted the reality star has issues with "delusions of grandeur and distorted thinking".
But she claimed his behaviour at the trial was his way of dealing with the pressure of the case.
Ms Rose also told the court Bear was hoping to get away from the "toxic" world of reality TV and return to roofing.
Her comments came after he arrived at court today to jeers of "f***ing scumbag".
The disgraced Ex on the Beach star even sung Lady in Red to one reporter and moaned he didn't have a "fair trial" while taking beaming selfies with fans.
He refused to apologise for his sickening actions and when challenged, Bear told a journalist: "Stick that in your pipe and smoke it".
Jessica, who had held his hand as they walked through the throng of photographers, has vowed to stand by him, saying: "I love you. I'll always be by your side, stay strong babe.
"The truth will come out… you never had a fair trial."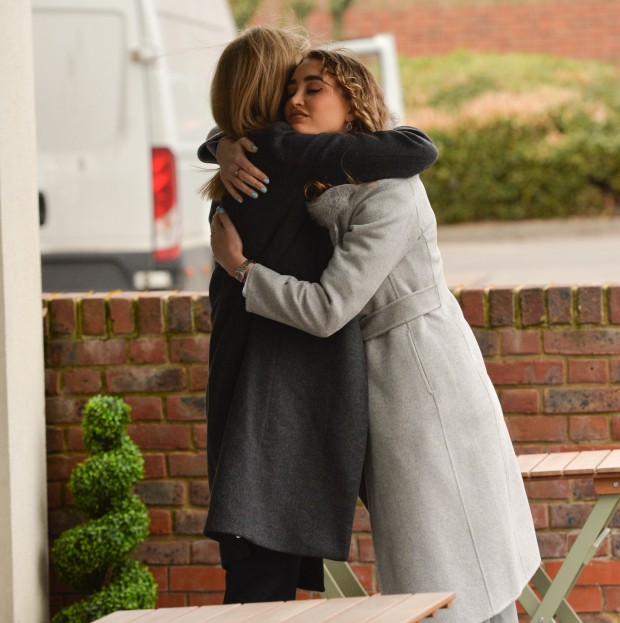 Brave Georgia previously broke down during the trial as she told jurors how the tape had ruined her life.
She said her and Bear had gone into the garden while drunk to play cards when she had sex with him unaware she was being filmed.
Georgia added: "We had had sex before. His performance was a lot more excited and a lot more dramatic than usual, looking back - more positions, more effort.
"I had no idea I was on camera."
When Bear said they "might have been caught" on CCTV, Georgia said she told him she needed to see it.
She claimed she realised it was a "serious situation" when she thought she caught him sending the clip on WhatsApp later that night.
Georgia said she broke down in tears and warned Bear she would "get him done for revenge porn" if the footage was ever sent on.
The reality star claimed Bear told her "I would never do that" and promised he would delet it.
She added: "I hit him and said if anyone sees this it's going to be really bad, it's going to change my life and yours.
"I'd known this guy for years and I trusted him somewhat but he acted like I was being really uptight."
When later confronted about the clip appearing online, Bear slammed her claims as "full-blown lies".
He also told her: "You've built something up in your head.
"You've built yourself up and it's made me look like a c*** and I am a c*** but I didn't do this."
The star claimed georgia had sent the video elsewhere and was now trying to "get him nicked".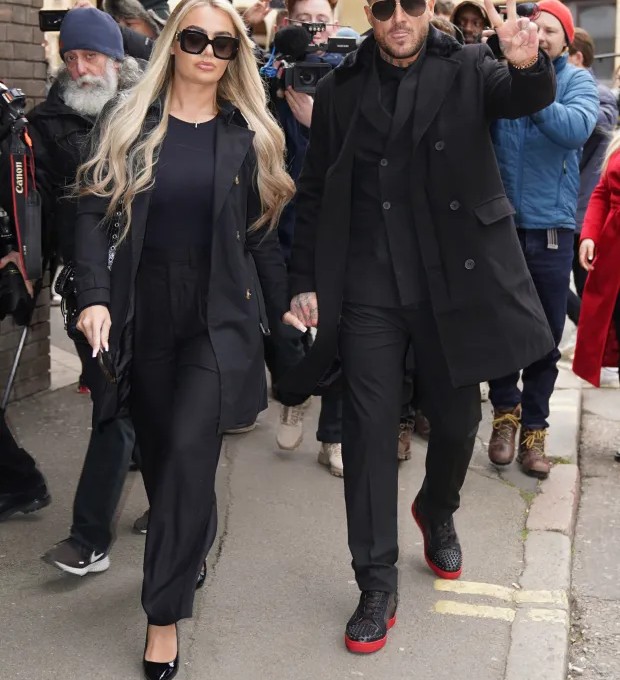 During his own evidence, the CBB winner claimed he was subjected to more than 1,000 personal attacks when the tape went public.
It was also revealed he had made almost £40,000 from OnlyFans in the weeks after sharing the clip.
Asked in court whether that was good money, he said: "I got offered almost £50k to do Celebrity Big Brother again so it depends what you call good money."
Just two months before it went public, Bear's Natwest account had been nearly £13,000 in debt.
The star also dragged ex-Towie star Lauren Goodger into his evidence as he claimed he had sex with her.
Bear said: "I've had many girlfriends in the press with high followings but I didn't do it to them. So why is Georgia the chosen one?"
He added: "I put in my best performance every time I have sexual intercourse with the ladies. If it's 20 minutes long, you've put in a good performance. Wasn't the old three minute wonder."
Sickeningly, Bear boasted a "50 per cent off deal" for his adults-only site alongside a photo of him arriving at court during the trial.
He added: "Come see why I'm trending".
Bear was on holiday in Dubai at the time and was arrested when he landed at Heathrow on January 15 last year.
When quizzed by police, Bear told officers he "didn't know what voyeurism meant".
Bear, from Walthamstow, East London, worked as a roofer before making it as a reality TV star.
He first appeared on Shipwrecked: The Island back in 2011 before fading away for a few years.
Bear, who previously dated Geordie Shore star Charlotte Crosby, then re-emerged on Ex on the Beach in 2015.
Since then, he's been on Celebrity Big Brother, Just Tattoo of Us and Celebrity Ghost Hunt Live.
Georgia has previously appeared on reality shows including Towie, Love Island and and Olivia Meets her Match.
Hannah von Dadelszen, Deputy Chief Crown Prosecutor for CPS East of England, praised Georgia for her "bravery and determination" following the sentencing.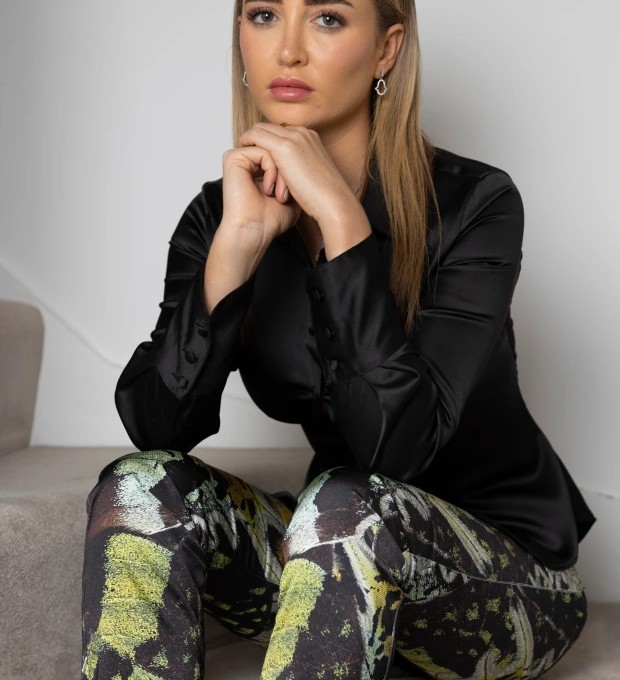 She said: "By contrast, Stephen Bear showed a complete lack of remorse by never accepting responsibility for his abusive behaviour, even going so far as to place the blame on Ms Harrison.
"Although she lives a public life, Georgia Harrison has the right to privacy. But that was taken away by Bear to make money in the most egregious way.
"Whether or not sex is consensual, it is a crime to share or threaten to share sexual images without consent to cause distress.
"This is a serious offence which has a lifelong impact on victims. Those like Bear who use devices to share photos or videos or threaten to do so can expect to be prosecuted.
"We want to encourage victims to come forward, safe in the knowledge they will have lifelong anonymity and can have special measures put in place when appearing in court, like giving evidence from behind a screen."