Stripper's Bizarre Behavior During Arrest Captured in Shocking Footage
Dash cam footage of her arrest has recently surfaced, revealing a cringe-worthy encounter with the arresting police officers.
Woman Asks to Be Tased During Traffic Stop in Ohio
A video has gone viral showing a woman asking to be tasered during a traffic stop in Ohio. The woman, identified as Sarah Spoonamore, was pulled over by Officer Christopher Demedal for speeding and running a red light.
In the video, Spoonamore appears to be intoxicated, with bloodshot eyes and slurred speech. She initially denies drinking any alcohol, but later admits to having a few beers.
Spoonamore then begins to make suggestive comments to Officer Demedal, telling him that he is "hot" and that she finds him "attractive." She even asks him to "kiss" her.
Officer Demedal remains professional throughout the encounter, repeatedly warning Spoonamore to stop making inappropriate comments. He also tells her that she is under arrest for DUI.
As Officer Demedal is preparing to handcuff Spoonamore, she asks him to "tase" her. She claims that she finds it "kinky."
Officer Demedal refuses to tase Spoonamore, explaining that it is not a toy and that it can be dangerous. He also tells her that he does not want to hurt her.
Spoonamore is eventually handcuffed and placed in the back of Officer Demedal's patrol car. She continues to make inappropriate comments and ask to be tasered until she is transported to the police station.
The video of Spoonamore's bizarre behavior during the traffic stop has been widely shared on social media, with many viewers expressing their shock and disgust. Some have also criticized Officer Demedal for not being more forceful with Spoonamore, while others have praised him for his professionalism and restraint.
It is important to note that tasers are powerful weapons that can cause serious injury or even death. They should only be used as a last resort, when an officer's life or the lives of others are in danger.
In this case, it is clear that Officer Demedal was right to refuse to tase Spoonamore. She was not posing a threat to him or to anyone else. Her request to be tasered was simply inappropriate and irresponsible.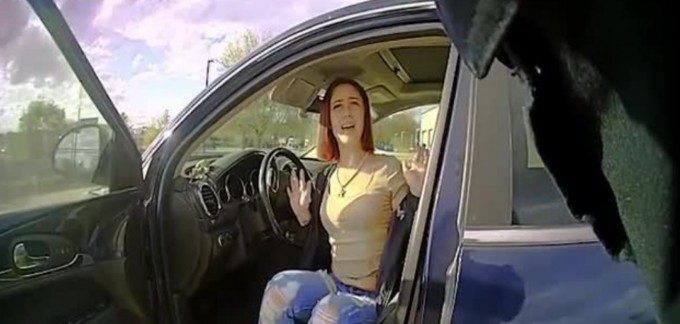 However, her story quickly changed, admitting to drinking "two doubles" of tequila at a friend's house. Later, she claimed to have consumed three doubles within six drinks. As the interaction with the officers escalated, Spoonamore revealed that she worked at a strip club.

During this peculiar encounter, she requested to be let out of the police car to speak in person, seemingly flirting with the officers and referring to one of them as a "handsome man." At one point, she giggled and asked them not to talk to her "between these bars."
While not captured on camera, Spoonamore allegedly spat in the face of Officer Dugan. A friend of Spoonamore's also arrived at the scene during the 15-minute interaction, expressing concern for her safety. The officers informed her that her friend would be facing multiple charges, including drunk driving, hit-and-run, and assaulting an officer.

Ultimately, Spoonamore was taken into custody and transported to a local police station. Throughout her arrest, she made disturbing threats, including one where she claimed she would "p*** on" an officer's face if he liked it. She later urinated in the back of the police car, claiming she couldn't control it.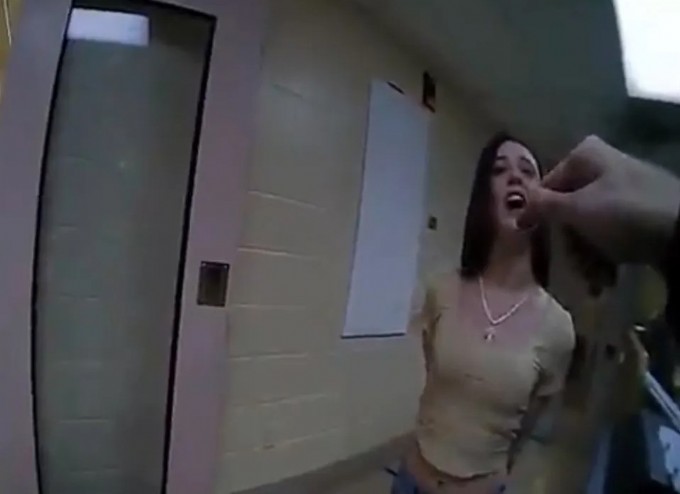 As she waited to take her mugshot, Spoonamore continued her unsettling behavior, approaching an officer and suggesting he taser her because she "likes it kinky." The video concludes with her screaming and crying while alleging that the officers were planning to rape her.

Grace Spoonamore now faces multiple charges, including speeding, driving under the influence, obstructing official business, and simple assault on an officer. Court records from Medina County indicate that she may also be charged with harassment involving a bodily substance, likely for spitting on an officer.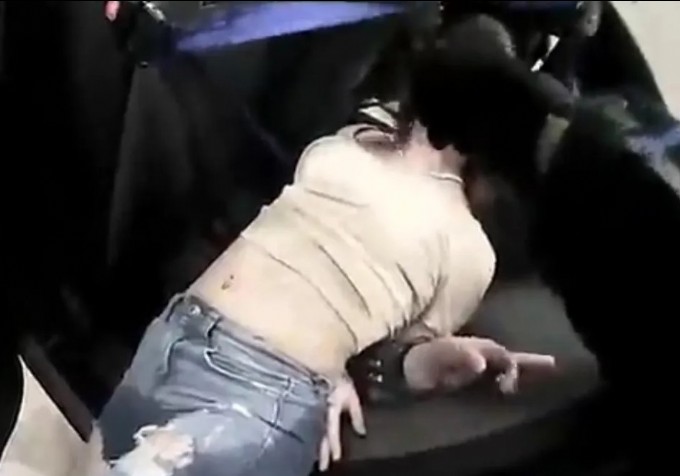 arah Spoonamore, the woman who asked to be tasered during a traffic stop in Ohio, has been charged with DUI and resisting arrest. Her pre-trial appearance is scheduled for September 18, with her criminal trial set to begin on October 2 in Brunswick.
If convicted of DUI, Spoonamore could face up to six months in jail and a fine of up to $1,000. If convicted of resisting arrest, she could face up to 90 days in jail and a fine of up to $500.
Spoonamore's case has garnered a lot of attention, both in the local media and on social media. Many people are curious to see how the case will play out and what sentence Spoonamore will receive.
It is important to note that Spoonamore is presumed innocent until proven guilty. She has the right to a fair trial and to be represented by an attorney.
It is also important to note that DUI is a serious crime that can have deadly consequences. If you are caught driving under the influence, you could face serious penalties, including jail time, fines, and the loss of your driver's license.
If you are planning on drinking alcohol, please plan ahead for a safe ride home. Do not drive under the influence.