Sydney Sweeney of Euphoria fame strikes a VERY provocative pose in a monokini with lacy thigh high stockings as she is filmed by another woman
The 25-year-old Hollywood staple was wearing a skimpy white and pink monokini with kiss marks all over it. She added white thigh high lace stockings and pale pink high heels.
The TV star was pushing her collaboration with the swimwear brand, Frankies Bikinis.
And in the new images, the star was being filmed by a model who may have been the designer herself - Francesca Aiello - while laying with her legs open on a green sofa.
It is one of the most eye-popping images presented to sell a swimsuit in recent memory.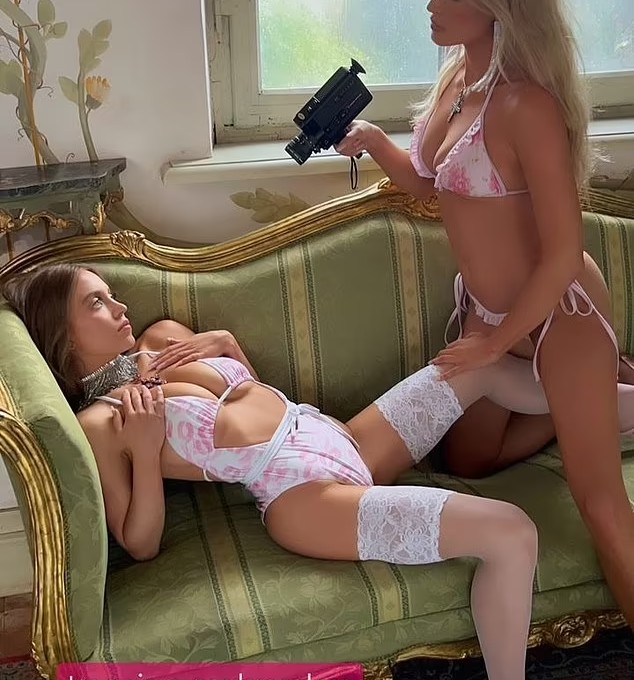 And Sweeney also left a flirty comment over the photo: 'Tag me in your orders so I can share a little love,' she wrote as she added a heart envelope and kiss emoji.
Sydney was also seen filming the blonde woman in another shot as the tables were turned.
Francesca recently admitted that she likes to highlight 'femininity' with her designs.
Frankies Bikinis' founder Aiello described the collection as 'inspired by the girl who follows her heart' with pieces that highlight Sweeney's 'gorgeous femininity and sweet romantic aura' on social media.
While speaking of the Sydney Sweeney x Frankies Bikinis collection, the Fifty-Fifty Films founder, who is engaged to Jonathon Davino, said she was also inspired by her love of the water.
'I grew up on the water, always running around in a bikini. If I wasn't swimming in the lake or the ocean, I was skiing or attempting to surf,' she raved to Elle.
Sweeney added: 'So there was always a part of me that wanted to create something that truly felt like me, and with Francesca [Aiello] and her incredible company, we really created something special.'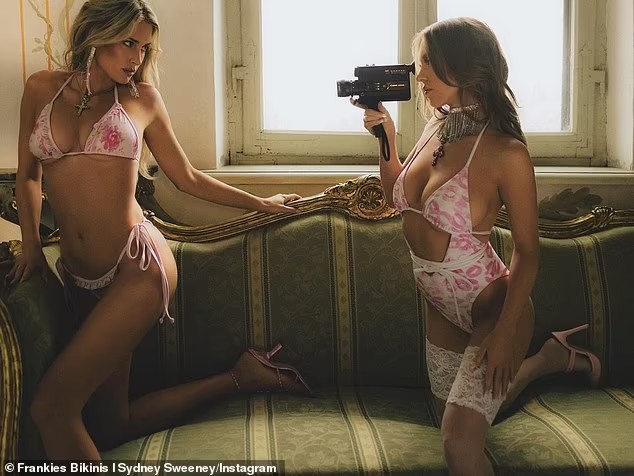 The actress noted that she previously wore clothing from Frankies Bikinis on her hit HBO series, Euphoria, while portraying Cassie Howard.
After meeting Aiello at her Venice, California office, Sweeney said they 'instantly hit it off' and began 'throwing around ideas and mood boards.'
Sydney also appeared in the dark blue lingerie set with black thigh high stockings while in a bedroom to plug the collaboration.
The new line dropped March 14.
This comes after the actress made a big splash last week in a white two piece for the same brand that made her look like a bride ready to walk down the aisle.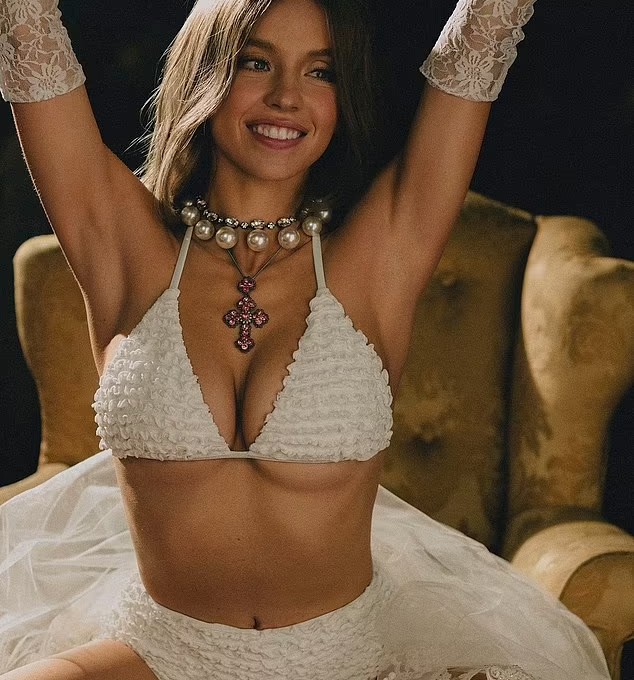 In a video, uploaded to company's Instagram, the two-time Emmy nominee can be seen posing in her sexy bikini as well as a pearl necklace layered over a pink cross.
Previously, Sweeney has opened up about feeling 'embarrassed' by her body while growing up.
'I never wanted to change in the locker room. I think that I put on this weird persona other people had of me because of my body,' she remembered.
'I had boobs before other girls and I felt ostracized for it,' she told British GQ.
'So I did played every sport and I studied really hard and I did everything that people wouldn't think I would do, to show them that my body doesn't define who I am.'
In 2018, at 21, she landed a small role on Hulu's The Handmaid's Tale, before booking parts on Sharp Objects and Once Upon A Time In Hollywood.
She works so hard because she experienced financial stress from a young age, including living in a one-bedroom hotel for nine months as a teen with her parents and brother. '[We were] the poor version of The Suite Life of Zack and Cody,' she joked.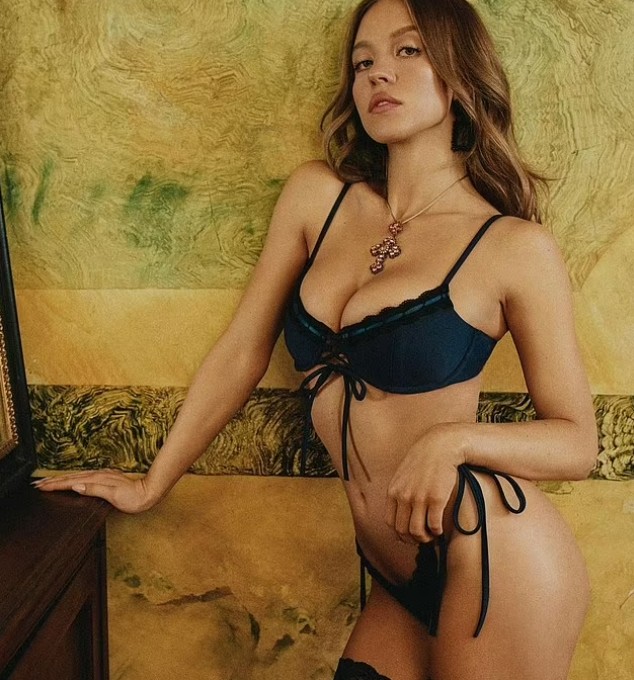 Sweeney added: 'I've experienced the way that I don't want to live, and I don't want my future children to have to go through the same struggles, or see me stress in the same way that my parents did.
'Nor do I want to see my family have to stress the way that we used to. I definitely try to control as much as possible, and then have everything put together to stay secure,' the beauty noted.
'I want to show younger generations that you can do anything, even if you don't have the means or the connections,' she concluded.