Taste of Chicago 2023 Announces Exciting Food and Concert Lineup
The Department of Cultural Affairs and Special Events has officially unveiled the lineup for the food and music festivities taking place on September 8th to 10th from 12 PM to 8 PM near Grant Park's Buckingham Fountain.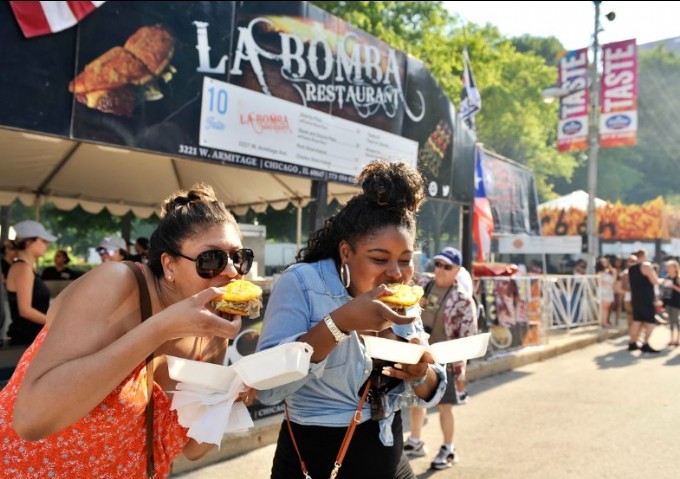 Mayor Brandon Johnson expressed his excitement, stating, "Since 1980, Taste of Chicago has been a beloved tradition showcasing our city's incredible culinary and cultural offerings. I'm thrilled to invite Chicagoans and visitors alike to Grant Park once again to enjoy familiar Taste of Chicago favorites, new vendor additions, and exciting entertainment for everyone to enjoy."
This year's event promises a delightful culinary experience with over 35 vendors and 15 food trucks. Attendees can indulge in a diverse range of delicious dishes and familiar favorites, along with new additions to tantalize their taste buds. The fan-favorite Eli's Cheesecake giveaway will also make a return, honoring the iconic establishment's birthday, and guests can enjoy complimentary cheesecake while supplies last.
Apart from the gastronomic delights, the music lineup promises to be equally thrilling. Headlining acts like Masters of the Mic: Hip Hop 50, Lupita Infante, Proyecto Uno, and Whitney are set to grace the stages and entertain the crowd with their electrifying performances.
To add to the excitement, the festival will feature a variety of entertainment options, including dance classes, bounce houses, and engaging games for families. For the adults, a beer hall, wine garden, cocktail lounge, and a new frozen adult beverage station will be available to enhance the experience.
This year's Taste of Chicago has moved to a new date due to the downtown Chicago street race hosted by NASCAR last month. However, the change in schedule has not dampened the enthusiasm, and the festival is set to welcome visitors from all walks of life to savor the best of Chicago's culinary and cultural delights.
Admission to Taste of Chicago is free, and vendors now accept both cash and credit cards, making it easier for guests to indulge in the culinary delights without any hassle. Don't miss this can't-miss Chicago summer tradition that celebrates the city's vibrant restaurant community and its status as one of the greatest culinary cities in the world. Mark your calendars for September 8th to 10th and head to Grant Park to savor a memorable and delectable experience at Taste of Chicago 2023.
Here's the full music and food lineup:
Food vendors
Cumin Club Indian Kitchen
Sapori Trattoria
Arun's Thai Restaurant
The Original Rainbow Cone
Healthy Substance Kitchen
LC Pho Restaurant
Yum Dum, Churro Factory (Xurro)
African Food Palace
Porkchop
The Eli's Cheesecake Company
Esperanza
Robinson No. 1 Ribs
Classic Cobbler
Baked Goods Company
Tacotlan
JJ Thai Street Food
Doom Street Eats
Badou
Senegalese Cuisine
Lou Malnati's Pizzeria
Billy Goat Tavern
Chicago Eats
Gaby's
Funnel Cakes
Frannie's Café
Prime Tacos
The Sole Ingredient Catering
BJ's
Market & Bakery
Connie's Pizza
Seoul Taco Chicago
Chicago's Doghouse
Tandoor Char House
Pies of London
Banato
Mr. E Chef Catering
Josephine's Cooking
Yvolina's Tamales
There will also be a "wide variety of food trucks."
Taste of Chicago Main Stage Schedule
Friday, September 8
DJ for the evening: Selah Say
5pm Slique Jay Adams and Mamii, both presented by Chicago Made
6pm Meagan McNeal
7pm Masters of the Mic: Hip Hop 50
featuring Doug E. Fresh, EPMD, KRS-One and Slick Rick
Saturday, September 9
DJ for the evening: DJ Janesita
5pm ÉSSO, presented by Chicago Made
6pm Lupita Infante with Mariachi Sirenas
7pm Proyecto Uno
Sunday, July 10
DJ for the evening: DJ Mike P
5pm Nola Adé and Cloud Farmers, both presented by Chicago Made
6pm White Mystery
7:15pm Whitney
Chicago SummerDance
Friday, September 8, 11 a.m. – 4:45 p.m.
11 a.m. DJ and Open Dancing
12 p.m. Line Dancing / Fre2Dance
1 p.m. Peruvian Folk Dance / Center of Peruvian Arts
2 p.m. Balboa (Swing) / Desiree Roffers
3 p.m. Reggaeton / Latin Street
4 p.m. DJ and Open Dancing
Saturday, September 9, 1 – 4:45 p.m.
1 p.m. Salsa / Latin Rhythms
2 p.m. Country Two-Step / Second City Country Dance Association
3 p.m. Zouk / Urbanity Dance Chicago
4 p.m. Dabke / Phaedra Darwish
Sunday, July 10, 11 a.m. – 4:45 p.m.
11 a.m. DJ and Open Dancing
12 p.m. Steppin' / Majestic Gents
1 p.m. Eastern European Folk Dance / Ethnic Dance Chicago
2 p.m. Bollywood / Meher Dance Company
3 p.m. Bachata / Desueño Dance
4 p.m. DJ and Open Dancing