Taylor Swift Announces Additional Eras Tour Dates for U.S. and Canada in Fall 2024
Taylor Swift's Eras Tour has taken the music world by storm, captivating fans with its mesmerizing performances and astonishing energy. The journey is far from over, as Swift recently revealed an extension of the tour with additional dates for October and November 2024, much to the delight of her dedicated fans in the U.S. and Canada.

The grand culmination of this highly anticipated tour is set to take place in November 2024 with a series of six electrifying shows at Toronto's iconic Rogers Centre in Ontario, Canada. This announcement has come as an unexpected but delightful surprise for Canadian fans who have been eagerly awaiting news about Taylor Swift's tour making its way to their country.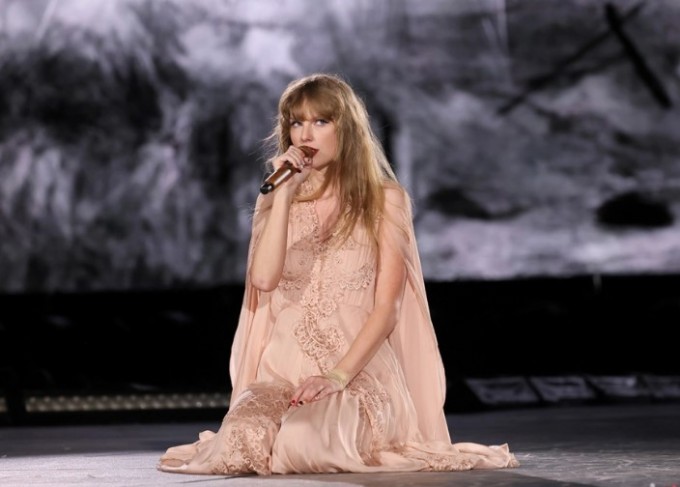 Prior to the grand finale in Canada, Taylor Swift will be gracing three prominent North American cities with her remarkable presence: Miami, New Orleans, and Indianapolis. The schedule boasts a trio of extraordinary concerts at some of North America's most renowned venues. The Hard Rock Stadium in Miami will be host to Swift's performance from October 18th to 20th. Following that, the spotlight will shift to New Orleans' Caesars Superdome, where Swift will enchant the audience from October 25th to 27th. Lastly, the tour will make its way to Indianapolis' Lucas Oil Stadium, where the pop sensation will leave a lasting impression from November 1st to 3rd.

The excitement doesn't stop there. Swift has enlisted the talented Gracie Abrams as the opening act for all the fall 2024 North American tour dates. This addition adds an extra layer of anticipation and star power to an already highly awaited series of shows.

In a surprising twist, Taylor Swift herself shared the news on social media with the words, "Turns out it's NOT the end of an era," extending a warm invitation to fans from Miami, New Orleans, Indianapolis, and Toronto to join her on this extraordinary musical journey. Fans in the U.S. have the opportunity to secure their spots through Verified Fan registration, which is currently open. However, time is of the essence, as registration is set to close this Saturday at 5 p.m. ET/2 PT. For those who miss out on this chance, resale tickets will also be available through reputable platforms such as Vividseats, Stubhub, and Seatgeek.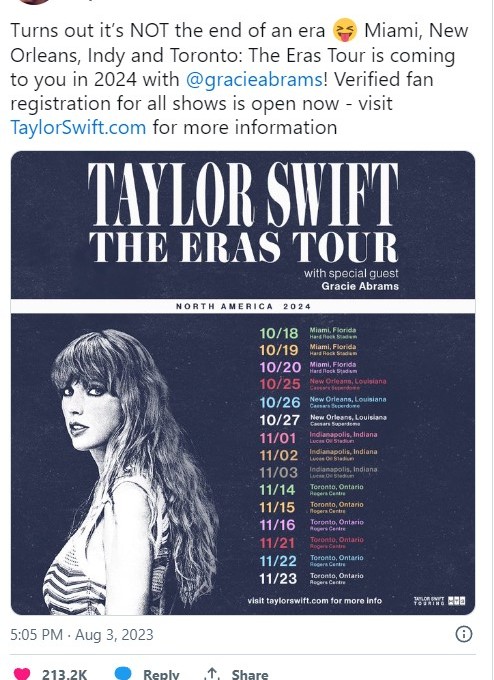 Even more thrilling is the fact that Swift has hinted at the possibility of further tour dates being added. This suggests that the Eras Tour might continue to expand its reach, creating even more opportunities for fans around the world to experience this unforgettable musical journey.

The Eras Tour has undeniably been a resounding success thus far, captivating audiences across Europe and various parts of the world. While the U.S. leg of the tour was initially slated to conclude with a series of shows at Los Angeles' impressive SoFi Stadium, this recent announcement has extended the excitement and provided U.S. fans with even more chances to witness Taylor Swift's incredible performances on their home turf.

After the North American shows wrap up, Taylor Swift's international journey will continue with performances in Latin America. Swift's presence will grace stages in major cities including Mexico City, Buenos Aires, Rio de Janeiro, and Sao Paulo, later this year.

Looking ahead to 2024, the Eras Tour has plans to take Taylor Swift to even more international destinations, including Tokyo, Sydney, Australia, and Singapore. The tour will continue to captivate audiences, with its European leg commencing in Paris and culminating in a series of sensational performances at London's iconic Wembley Stadium.

With Taylor Swift's boundless energy and a lineup of extraordinary performances, fans can rest assured that the Eras Tour promises to deliver an unforgettable experience. The opportunity to secure a spot is available now through Verified Fan registration, and it's an experience no one would want to miss. This extraordinary musical journey with one of the world's most iconic artists is a must-attend event for music enthusiasts and Swift fans alike.