Taylor Swift Flaunts Thigh-High Leather Boots as She Chooses Girls' Night Out Over Travis Kelce's Game in NYC
The "Shake It Off" singer was spotted in the company of her close friends, Sophie Bridges and renowned Game of Thrones actress, Sophie Turner.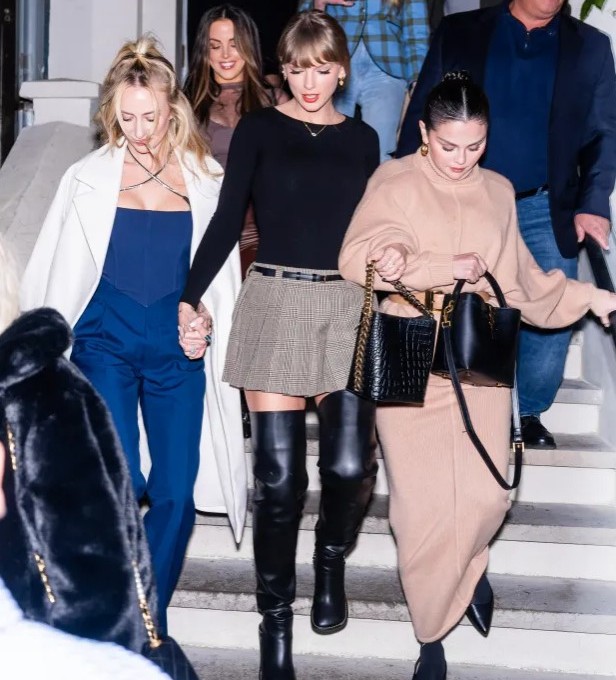 Taylor, 33, sported a fashionable look, pairing a short checkered shirt with a form-fitting long black skirt neatly tucked in. However, it was her choice of footwear that turned heads – thigh-high black leather boots that perfectly matched her stylish bag.
The trio of friends relished their night out in the vibrant city, making their way to a dinner destination. Taylor opted for a classic bun to keep her blond locks neat, while her choice of accessories remained simple and elegant. As always, she donned her signature lipstick, and her radiant smile lit up the night as she strolled alongside her friends.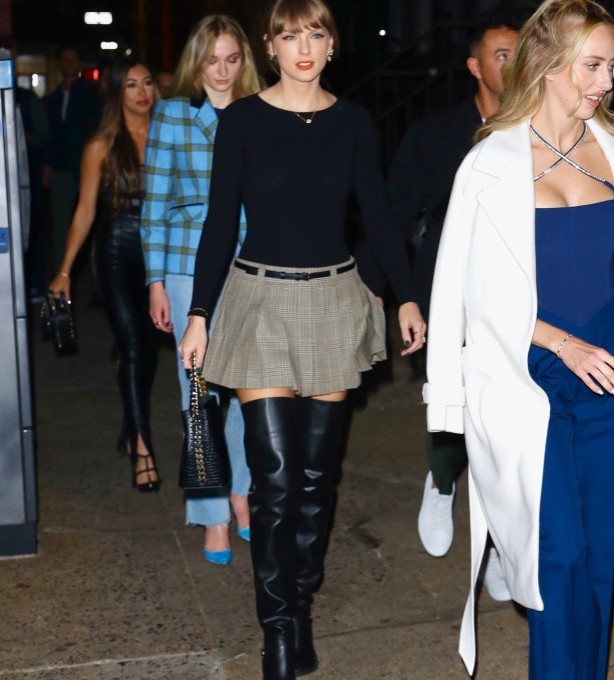 Sophie, Joe Jonas' ex and a talented actress, rocked light blue denim jeans and a bright blue checkered blazer that perfectly complemented her red hair. She rounded off her outfit with a pair of chic blue heels, creating a look that exuded both style and confidence.
Taylor and Sophie's bond has grown stronger since Sophie's separation from Joe, Taylor's ex-boyfriend. The two have frequently been seen enjoying dinners and each other's company, fostering a close-knit friendship.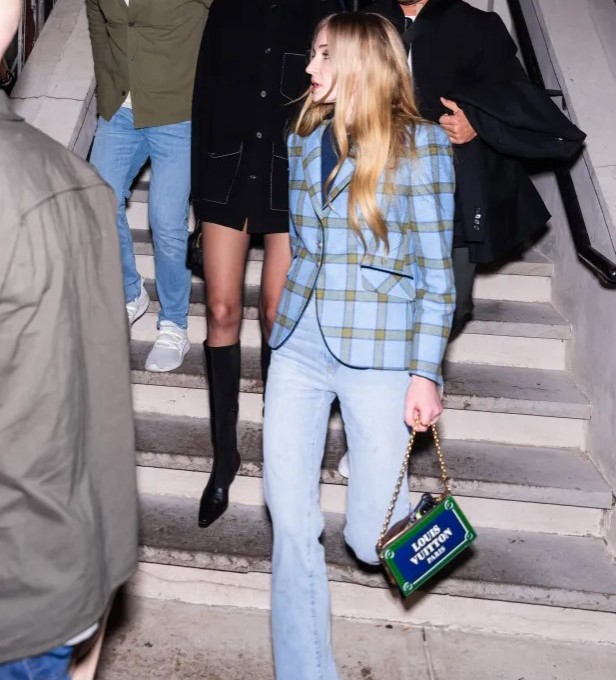 Notably, Gigi Hadid and Selena Gomez were also part of this unforgettable night out.
Meanwhile, Taylor's boyfriend Travis was thousands of miles away in Frankfurt, Germany, playing against the Miami Dolphins as part of the 2023 NFL International Series. In the past, Taylor was rumored to be dating the Kansas City Chiefs' tight end, Travis, after they were seen at several games, often in the company of his family.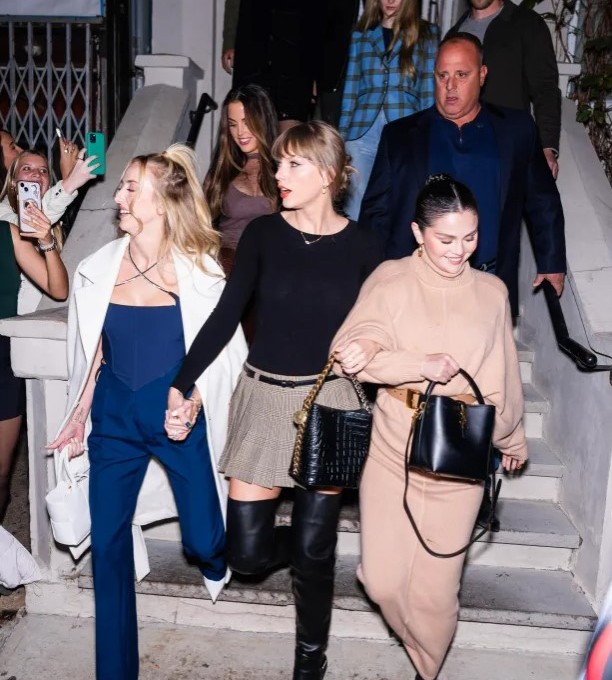 However, the couple officially confirmed their relationship late in October, as they were photographed hand in hand while leaving a restaurant in New York.
Taylor has had a significant influence on Travis's career, as he has sought new horizons with her support. The eight-time NFL Pro Bowler filed five trademark requests in his home state of Ohio last week, which is a testament to their enduring bond.
These filings, documented by the United States Patent and Trademark Office, give Kelce the rights to use these names and phrases on a wide range of merchandise, including bobbleheads, jerseys, and pins, among others.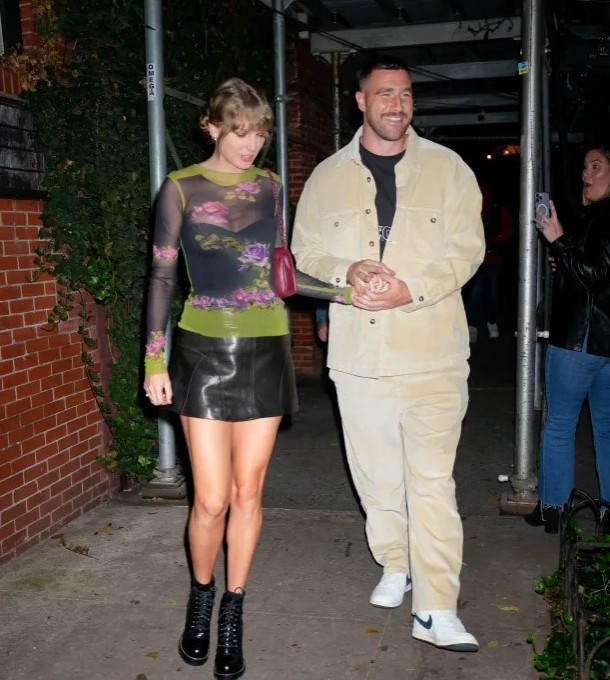 The five trademarks requested by Travis Kelce are his full name, "Travis Kelce," "Flight 87" referencing his jersey number, "Alright Nah," his signature catchphrase, "KillaTrav," his Instagram username, and "Kelce's Krunch," which he intends to use for his breakfast cereal.
Through these trademarks, Kelce aims to distribute an array of merchandise, encompassing buttons, bobbleheads, hats, hoodies, posters, sweatpants, sweatshirts, polo shirts, jerseys, and t-shirts.
Taylor Swift's influence on her partner's career continues to be a remarkable aspect of their relationship, and Kelce's trademarks mark another step in their journey together.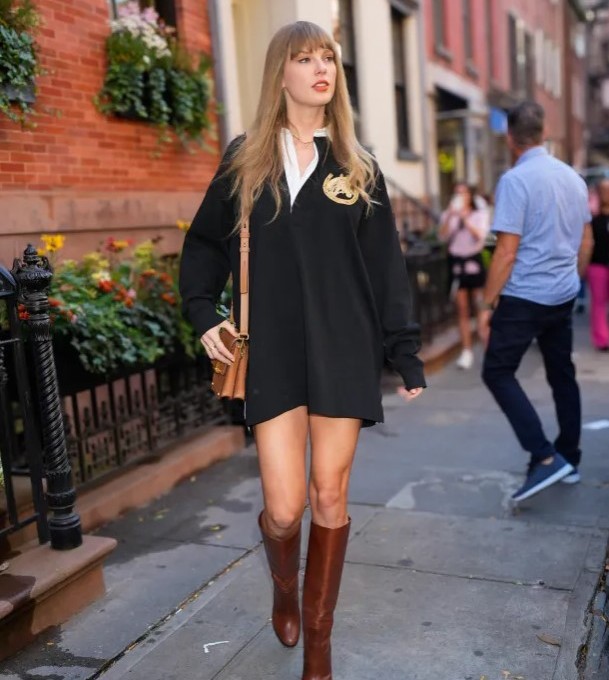 Is Taylor Swift a billionaire now?
Yes, Taylor Swift is now a billionaire. She is one of the few entertainers to reach that status based on music and performing alone.
Are Taylor Swift and Brittany Mahomes friends?
Yes, Taylor Swift and Brittany Mahomes are friends. They have been seen together on multiple occasions, and they have both posted about their friendship on social media.
Why is Brittany Mahomes in New York?
Brittany Mahomes is in New York to support her husband, Patrick Mahomes, who is the quarterback of the Kansas City Chiefs. The Chiefs are playing the New York Jets on September 25, 2023.
What ethnicity is Taylor Swift?
Taylor Swift is white.
Was Taylor Swift's dad rich?
Yes, Taylor Swift's dad, Scott Swift, was a successful financial advisor.
Which singer just became a billionaire?
Taylor Swift is the first singer to become a billionaire based on music and performing alone.
Taylor Swift age
Taylor Swift was born on December 13, 1989. She is currently 33 years old.
Taylor Swift husband
Taylor Swift is not married.
Taylor Swift tour
Taylor Swift is currently on her "The Eras Tour." The tour began on March 18, 2023, in Glendale, Arizona, and will end on August 9, 2023, in Foxborough, Massachusetts.
Taylor Swift announcement today
Taylor Swift announced on November 1, 2022, that she will be releasing a new album called "Midnights" on October 21, 2023.
Taylor Swift Instagram
Taylor Swift's Instagram handle is @taylorswift. She has over 230 million followers on the platform.
How old is Taylor Swift daughter
Taylor Swift does not have a daughter.
Where is Taylor Swift tonight
Taylor Swift is currently in New York City, where she will be performing at the Madison Square Garden on September 22, 2023.
Taylor Swift Twitter
Taylor Swift's Twitter handle is @taylorswift13. She has over 90 million followers on the platform.