Taylor Swift Joins Travis Kelce's Kansas City Chiefs Game Outing with His Mom Amid Dating Speculations
Swift made a bold fashion statement by donning the team's signature colors, sporting a red-and-white zip-up jacket over a simple white top. Her iconic red lip color added a touch of glamour to her overall look as she styled her hair straight, letting it cascade down.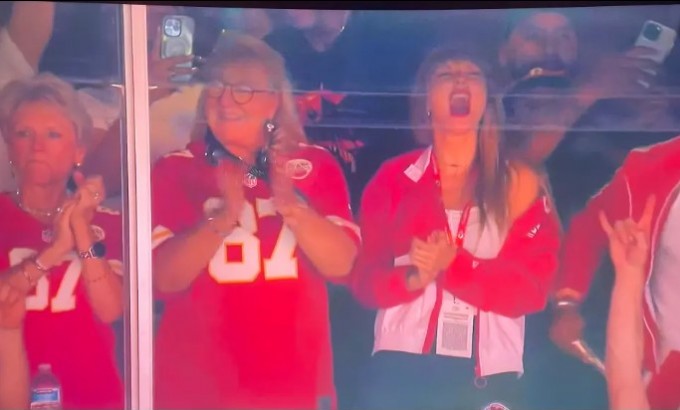 It was a heartwarming sight as Swift, seemingly embracing her WAGS (Wives and Girlfriends of Sports Stars) era, cheered on her rumored beau while seated alongside Travis Kelce's supportive mother, who was proudly wearing a Chiefs jersey adorned with her son's number.

Speculation surrounding a romantic connection between Taylor Swift and Travis Kelce began after the Super Bowl champion shared a charming anecdote about attempting to give Swift his phone number during her Eras Tour stop in Kansas City, Missouri, back in July.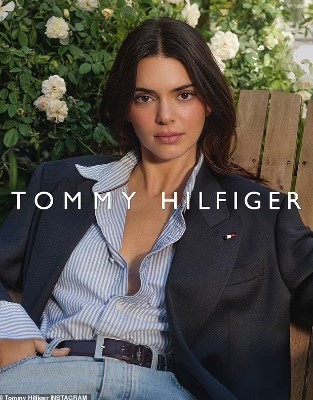 Travis Kelce further stoked the flames of curiosity by extending an invitation to the pop sensation to attend one of his games. He humorously quipped, "I've seen you rock the stage in Arrowhead; you might have to come see me rock a stage at Arrowhead and we can see which one's a little more lit," referencing his NFL team's home stadium.

While addressing the ongoing rumors during an appearance on "The Pat McAfee Show," Kelce humorously referred to them as "intense" and expressed the challenges of navigating the speculation, especially when his brother, Jason Kelce, contributed to the intrigue by joking that the rumors were "100 percent" true during a recent interview.

Travis Kelce concluded his interview by humorously appealing to the public to "stop asking my brother about my love life."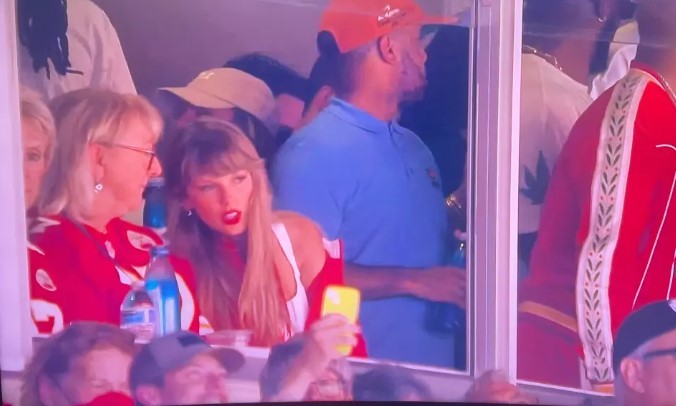 Despite the persistent speculation, Taylor Swift has not publicly addressed the rumors surrounding her and Travis Kelce. However, her appearance at the game alongside the NFL star's mother sends a significant message.

Insiders have recently revealed that the two celebrities have already hung out on multiple occasions. While a source clarified that their connection is "nothing serious," it was noted that Swift finds Kelce charming, and the two have been engaged in texting conversations over the past week. Kelce, however, is reportedly slightly taken aback by the level of attention their interactions have garnered but has expressed his interest in continuing to see Swift.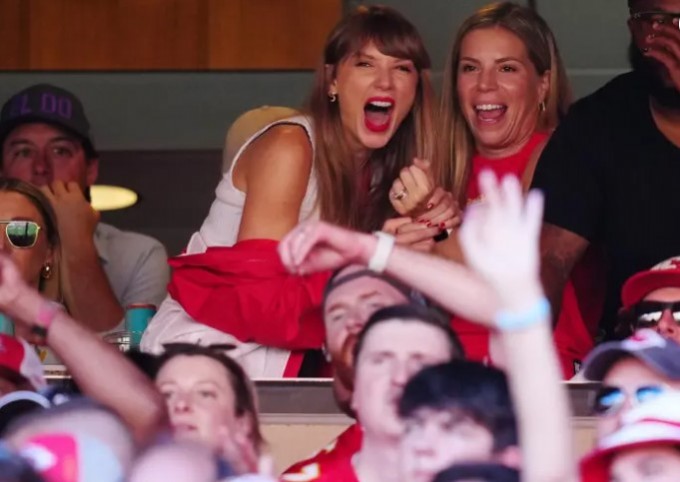 Taylor Swift's previous romantic link was with The 1975 frontman Matty Healy, following her split from longtime boyfriend Joe Alwyn in April after a six-year relationship. Meanwhile, Travis Kelce had an on-and-off relationship with model Kayla Nicole for five years before they parted ways in May 2022.
Some sources have speculated that Swift and Healy's relationship was never serious, and that they were simply having fun together. Others have said that their relationship ended because they were too busy with their careers.

Whatever the reason for their breakup, it is clear that Swift and Healy are both talented and successful individuals. Swift is one of the biggest pop stars in the world, and Healy is the lead singer of one of the most popular bands in the world.

Travis Kelce's previous relationship was with model Kayla Nicole. The two started dating in 2017, and they were on and off for five years before breaking up in May 2022.

Some sources have said that Kelce and Nicole broke up because they were not compatible in the long run. Others have said that their relationship ended because of the pressure of being in the public eye.

As fans eagerly await further developments in this intriguing celebrity connection, representatives for Taylor Swift and Travis Kelce have not issued any official comments on the matter.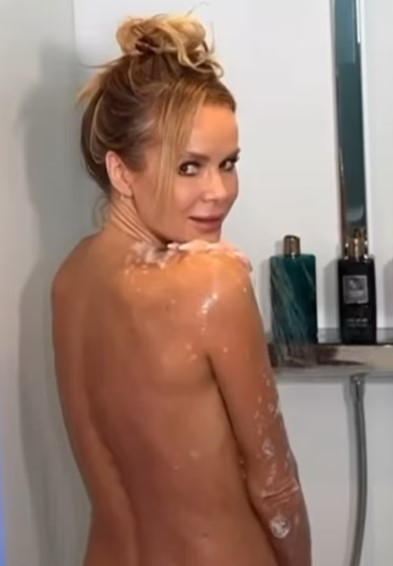 In other sporting news, the NFL announced earlier on Sunday that R&B superstar Usher is set to headline the Super Bowl 2024 halftime show in Paradise, Nevada. This highly anticipated performance follows Rihanna's iconic halftime show from last year's championship game in Glendale, Arizona.
Usher is one of the most popular and successful R&B artists of all time. He has sold over 100 million records worldwide and has won numerous awards, including eight Grammy Awards. Usher is known for his energetic live performances and his smooth vocals.
Usher's halftime show performance is expected to be a must-see event. He is sure to put on a show that will entertain fans of all ages.
Here are some additional thoughts on Usher's upcoming Super Bowl halftime show performance:
Usher is a great choice to headline the Super Bowl halftime show. He is a talented entertainer with a wide range of hits.
His performance is sure to be one of the most talked-about events of the year.
I am excited to see what Usher has in store for his halftime show performance. I know he will put on a show that will be remembered for years to come.