Taylor Swift plants a kiss on boyfriend Travis Kelce in very loved up snap
This heartwarming moment came after the pop sensation watched her NFL star beau secure another victory for the Kansas City Chiefs.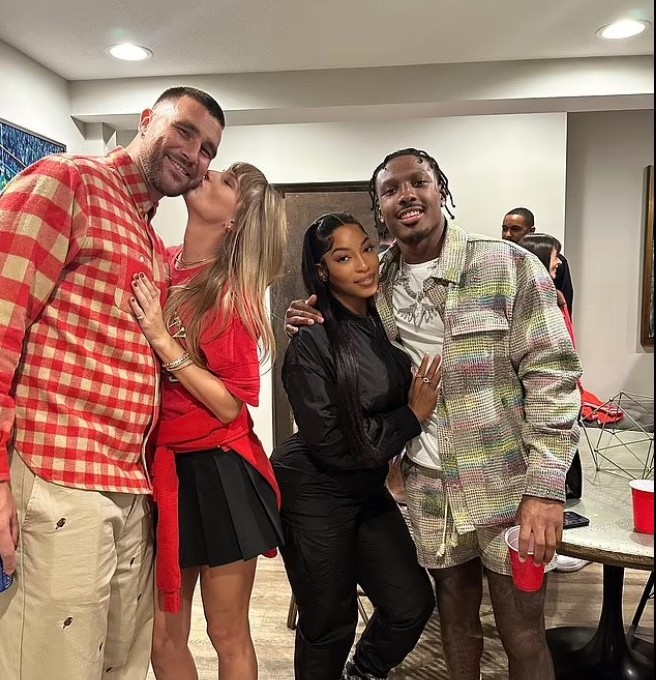 Taylor Swift and Travis Kelce have certainly been catching the world's attention with their whirlwind romance. On Monday morning, Chariah Gordon, who is the girlfriend of Travis' Chiefs teammate, Mecole Hardman Jr, posted a series of photos on Instagram, marking the adorable moment when Taylor and Travis shared their first public kiss.

In the viral image, the 33-year-old Taylor Swift, a global music sensation, is seen reaching up to kiss her football player boyfriend, the 34-year-old Travis Kelce, sweetly on the cheek. Their hands rest intimately on each other's chests, emphasizing the affection they share.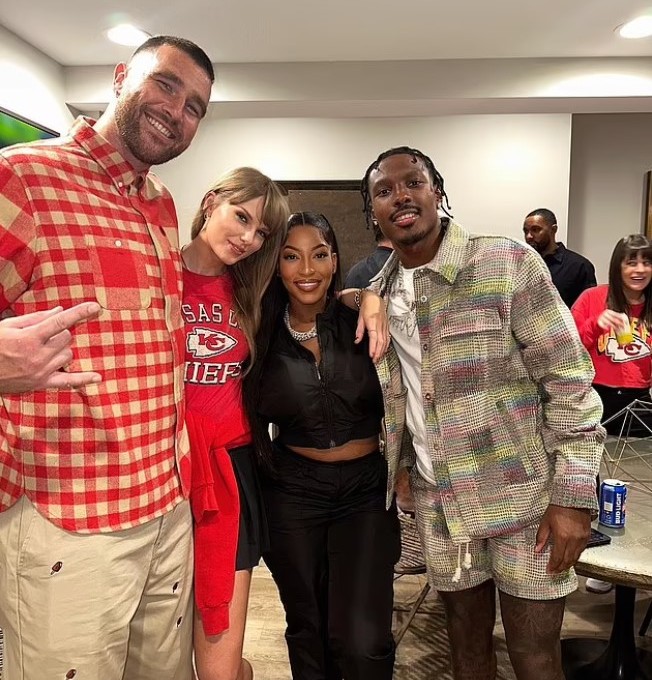 The romantic moment occurred in the family and friends area of Arrowhead Stadium after the Chiefs secured a remarkable victory against the Los Angeles Chargers with a final score of 31-7.

The heartwarming images were captured inside a private room at the stadium, with other people in the background of the photos. In one of the photos, Travis, who stands tall at six-feet-five-inches, towers over Taylor, who is five-feet-11-inches. Taylor, who initially wore black heeled loafers, had changed into sneakers. The pair were beaming with joy, with Travis wrapping his arm around Taylor, and the happiness was evident as they posed alongside Chariah Gordon and Mecole Hardman.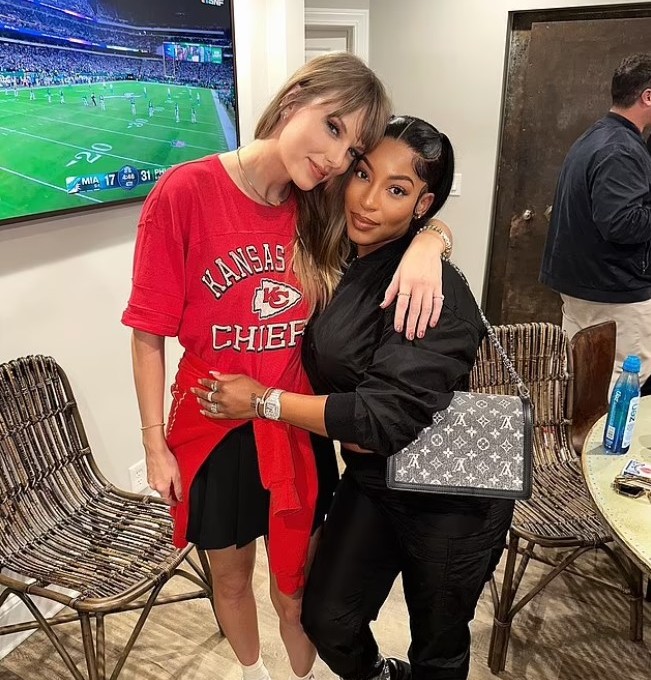 Chariah also posted a heartwarming image where she and Mecole are cuddled up, while Taylor plants a sweet kiss on Travis' cheek. The last image she shared was a girls-only moment, with Chariah and Taylor smiling radiantly in the snapshot.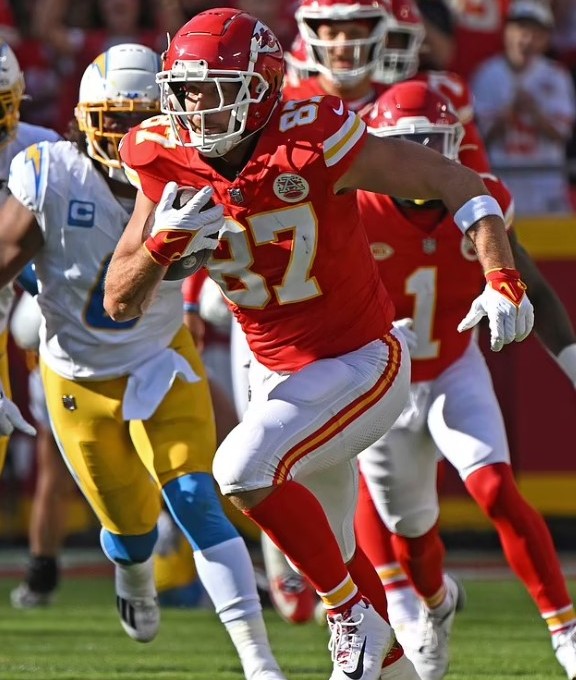 The love story of Taylor Swift and Travis Kelce has been captivating, especially as Travis continues to lead his team to victory. Taylor attended the game dressed in her Chiefs crewneck sweater over a coordinating Chiefs tee, with a black mini skirt and lace-up loafers. She also sported a friendship bracelet with Travis' jersey number, #87. During the game, she sat in a suite at Arrowhead Stadium in Kansas City, along with Patrick Mahomes' wife, Brittany Mahomes, who was accompanied by their two children, Sterling Mahomes and Bronze Mahomes, and Patrick's brother, Jackson Mahomes.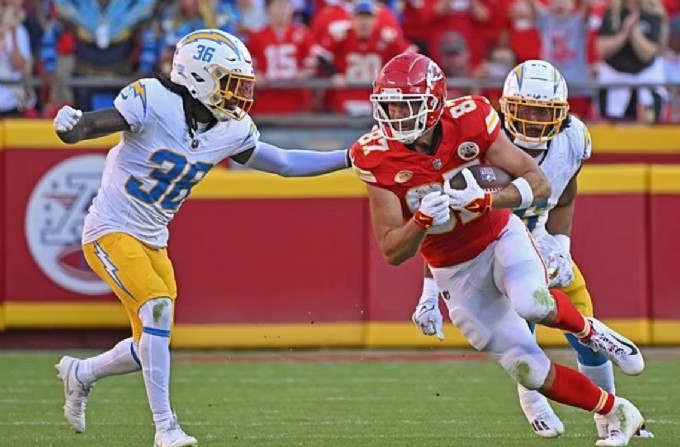 Travis Kelce's remarkable performance during the game included catching 12 passes for 179 yards, and he scored a touchdown with just 15 seconds left in the first half. Travis and Taylor's post-game celebration took place at Travis's mansion, surrounded by friends.

Their budding romance became official on September 24 when Taylor attended her first Chiefs game. It remains a mystery when the couple began seeing each other in person, but Travis had previously expressed his hope of meeting Taylor at one of her Eras Tour stops.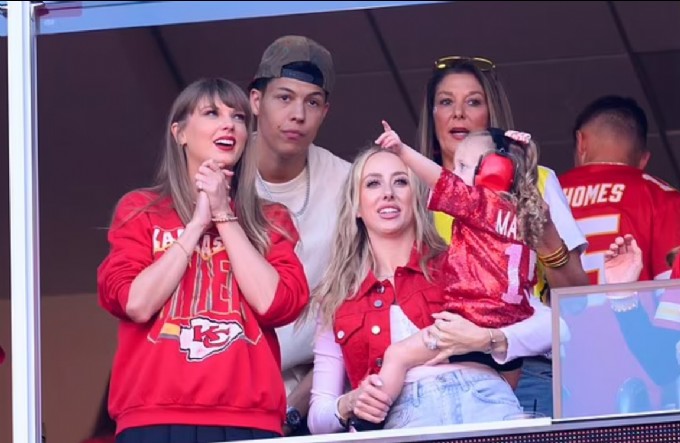 Following their public kiss at Arrowhead Stadium, Travis and Taylor walked hand in hand, fueling the excitement around their relationship. This sweet and romantic moment marked a significant step in their whirlwind love story, leaving fans eager to witness more of their heartwarming journey together.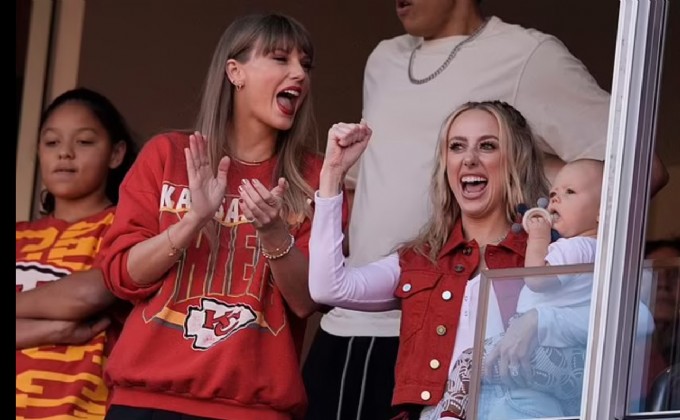 Taylor Swift Travis Kelce Timeline: Explore the timeline of key moments in Taylor Swift and Travis Kelce's relationship, from their first meeting to their recent public displays of affection.
Travis Kelce Taylor Swift Age Difference: Learn about the age gap between Travis Kelce and Taylor Swift, a topic of interest among their fans.
Taylor Swift Travis Kelce Twitter: Find out what Taylor Swift and Travis Kelce are sharing on Twitter about their relationship and activities.
Travis Kelce Taylor Swift Today: Stay up to date with the most recent events involving Travis Kelce and Taylor Swift, their outings, and public appearances.
Taylor Swift Travis Kelce After Game: Get the inside scoop on Taylor Swift and Travis Kelce's post-game moments, showcasing their affection.
Taylor Swift Travis Kelce Leave Together: Discover the latest news on Taylor Swift and Travis Kelce leaving an event together, highlighting their growing connection.
Travis Kelce Taylor Swift Relationship: Explore the details of the budding romance between NFL star Travis Kelce and global music sensation Taylor Swift.
Taylor Swift has had several high-profile relationships over the years. Here are some of her notable past relationships:
Joe Alwyn: Since 2017, Taylor Swift has been in a relationship with British actor Joe Alwyn. They have kept their relationship relatively private, with Swift expressing her love for him through her music.
Tom Hiddleston: After her split with Calvin Harris, Taylor Swift dated British actor Tom Hiddleston for a few months in 2016. Their relationship was heavily covered by the media.
Calvin Harris: Swift's longest public relationship was with Scottish DJ and producer Calvin Harris, which lasted from 2015 to 2016. They collaborated on music during their relationship.
Harry Styles: Taylor Swift and Harry Styles, a member of One Direction, dated briefly in late 2012 and early 2013. This relationship garnered significant media attention.
Conor Kennedy: In 2012, Swift dated Conor Kennedy, a member of the Kennedy family. The relationship was highly publicized, but it didn't last long.
Jake Gyllenhaal: Taylor Swift and actor Jake Gyllenhaal were involved in a short-lived romance in late 2010. Their relationship reportedly inspired her song "All Too Well."
John Mayer: In 2009, Taylor Swift dated singer-songwriter John Mayer. Their age difference sparked discussions, and it is said that her song "Dear John" is about their relationship.
Taylor Lautner: After her split with Joe Jonas, Swift briefly dated actor Taylor Lautner. They were both in the movie "Valentine's Day" together.
Joe Jonas: Taylor Swift's relationship with Joe Jonas, a member of the Jonas Brothers, began in 2008. However, the relationship didn't last long, and they broke up, which reportedly inspired her song "Forever & Always."