Taylor Swift's 'Barbie' Moment: Pop Star Performs On Tiptoes After Breaking Heel During Brazil Eras Tour Concert
The incident, caught on video, shows the "Blank Space" singer coolly ripping off the damaged heel of her bejeweled Christian Louboutin boot and tossing it into the crowd. Undeterred, Swift continued with her "Lover" set, engaging with the thousands of enthusiastic concertgoers.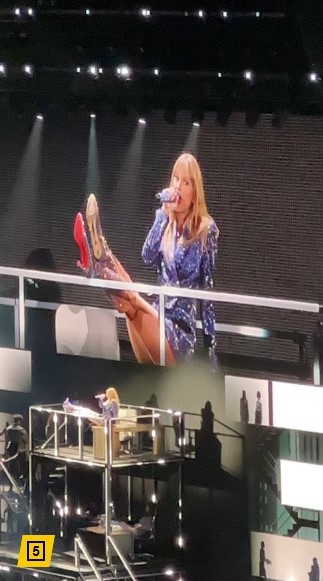 In a moment that mirrored Barbie's iconic arched foot scene, Swift gracefully balanced on the ball of her foot, charming the audience with her poise and professionalism. Despite the wardrobe malfunction, she flawlessly delivered several songs before making a quick wardrobe change.
Swift's Barbie-like move delighted fans, with many taking to social media to express their admiration. One Twitter user remarked, "Taylor Swift IS the real-life Barbie," while another cleverly dubbed her "Taylor Swift (Barbie's version)."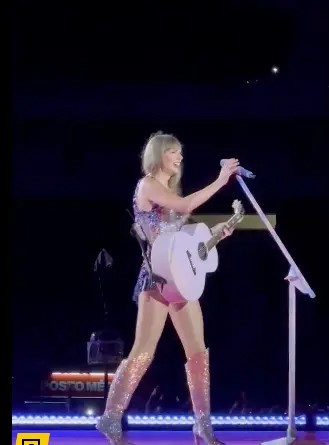 After the concert, a lucky fan proudly shared the souvenir they received – Swift's discarded heel. The incident added an unexpected twist to what was already a memorable performance.
The concert itself was rescheduled from Saturday to Monday due to a tragic incident that occurred before the originally planned show. A fan named Ana Clara Benevides suffered cardiac arrest at the stadium and was resuscitated for about 40 minutes before experiencing a second cardiac arrest during transportation to the hospital, resulting in her unfortunate passing.
Swift expressed her devastation over the tragedy on her Instagram Story, extending her condolences to Benevides' family and friends. She admitted feeling overwhelmed by grief and announced her decision not to address the incident from the stage.
While fans gathered at the stadium the next day, Swift decided to postpone the performance due to extreme temperatures in Rio. Writing on her Instagram Story, she emphasized the importance of prioritizing the safety and well-being of her fans, fellow performers, and crew.
The unforeseen events in Brazil added an emotional layer to Taylor Swift's Eras Tour, reminding fans of the unpredictable nature of live performances and the resilience of their beloved pop icon. Despite challenges, Swift's professionalism and connection with her audience shine through, making her "Barbie" moment just another chapter in the singer's remarkable journey.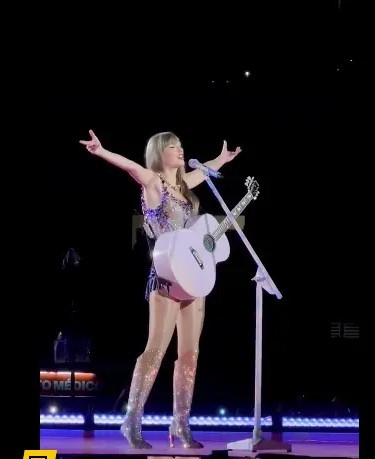 Is Taylor Swift married to Joe Alwyn?
No, Taylor Swift is not married to Joe Alwyn. They have been in a relationship since 2016, but they have not announced any plans to get married.
• What is Taylor Swift's real name? Taylor Swift's real name is Taylor Alison Swift.
• Is Taylor Swift a billionaire? As of 2023, Taylor Swift's net worth is estimated to be $400 million. She is not a billionaire according to the most recent Forbes 400 list of billionaires, but she is certainly very wealthy.
• How many boyfriends has Taylor Swift had? Taylor Swift has been in a number of high-profile relationships throughout her career. Some of her most famous ex-boyfriends include Jake Gyllenhaal, John Mayer, Harry Styles, Joe Jonas, and Calvin Harris. It is difficult to say for sure how many boyfriends she has had in total, but it is likely to be more than a dozen.
Taylor Swift's age: 34 years old. She was born on December 13, 1989.
• Is Taylor Swift married? No, Taylor Swift is not married.
• What is Taylor Swift's most recent announcement? Taylor Swift is making several recent announcements through her Instagram account.
• Where is Taylor Swift tonight? It's uncertain as most celebrities often choose to keep their movements private. However, on November 16, she attended the 2023 American Music Awards at the Microsoft Theater in Los Angeles, California.
• When is Taylor Swift's next tour? Taylor Swift has not announced any tour dates yet.
• What is Taylor Swift's Instagram address? Taylor Swift's Instagram handle is @taylorswift. She has over 241 million followers.
• What is Taylor Swift's most recent news? Here are some of Taylor Swift's most recent news:
Taylor Swift won six awards at the 2023 American Music Awards, including Favorite Female Artist, Favorite Pop Artist, and Favorite Album (for her album "Red (Taylor's Version)").
Taylor Swift's music video for the song "Anti-Hero" from her album "Midnights" has over 300 million views on YouTube.