Taylor Swift's NYC Oasis: A Detailed Exploration of the $50 Million Eras Tour Retreat
This urban sanctuary, composed of a historic Tribeca townhouse and strategically acquired adjacent units, not only serves as a retreat between Eras Tour performances but also offers a rare glimpse into the multifaceted world of the pop sensation.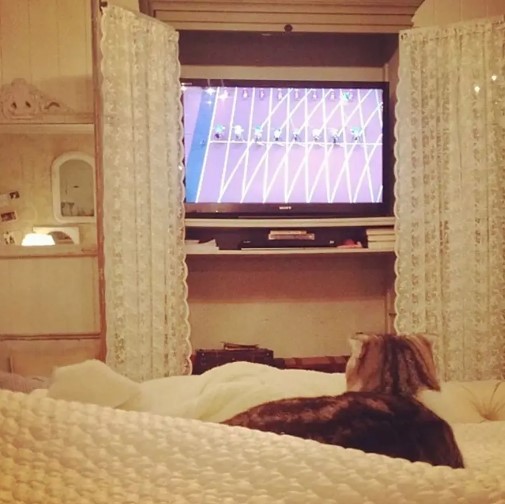 Acquisition of Urban Opulence: The saga of Taylor Swift's Manhattan haven began in 2014 when she secured a 7-bedroom, $18 million Tribeca townhouse on Franklin Street. The residence, once owned by "Lord of the Rings" director Peter Jackson, laid the foundation for Swift's urban retreat. Expanding her domain, the singer strategically acquired three units in the neighboring building, each valued at just under $10 million. Meticulously merging the top two floors, she sculpted an expansive 8,300-square-foot duplex that encapsulates modern luxury.
A Glimpse into Swift's Inner Sanctum: While Taylor Swift remains notoriously private about her personal life, intermittent snapshots shared on social media provide a captivating glimpse into the interiors of her Manhattan abode. The dining room, characterized by crimson walls, hosts a long wooden table, plush velvet couches, vintage red rugs, and neoclassical chandeliers. This carefully curated decor emanates a harmonious blend of inviting warmth and edgy sophistication, mirroring the dichotomy of Swift's artistic persona.
In stark contrast, the kitchen unfolds as a bright and contemporary space. Bathed in sunlight from massive windows, the yellow-walled kitchen features a striking white and gray marble island, creating a seamless fusion of farmhouse aesthetics and state-of-the-art culinary technology.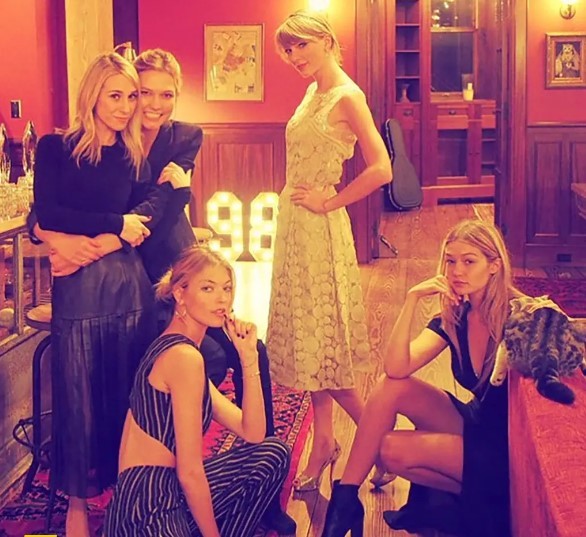 Entertainment Haven: Beyond its visual appeal, Taylor Swift's NYC home functions as an entertainment haven. The Grammy-winning artist has strategically designed spaces for social gatherings, including a moody wet bar and an elegant pool table. A-list celebrities, including Blake Lively, Ryan Reynolds, Gigi Hadid, and Sophie Turner, have graced the halls of Swift's abode, underscoring its status as a coveted social hub.
Celebrity Connections: Adding a layer of glamour to Swift's Manhattan retreat is her romance with Travis Kelce, the 34-year-old football star. Notably, Kelce has been spotted leaving the singer's glamorous pad, intertwining the world of sports and music in the heart of the city.
New York City's Enchanting Allure: While Taylor Swift's $50 million compound serves as a haven, her affinity for New York City extends beyond her elegant abode. The singer has been frequently spotted at some of the city's most vibrant restaurants and nightlife hotspots, contributing to the allure of her NYC retreat.
In conclusion, Taylor Swift's $50 million NYC compound stands not only as a testament to her refined taste but also as a dynamic space where luxury, entertainment, and celebrity converge. As the pop sensation navigates the demands of her Eras Tour and finds solace in the company of A-list guests, her Manhattan haven remains an emblem of respite and opulence in the pulsating heart of the city that never sleeps.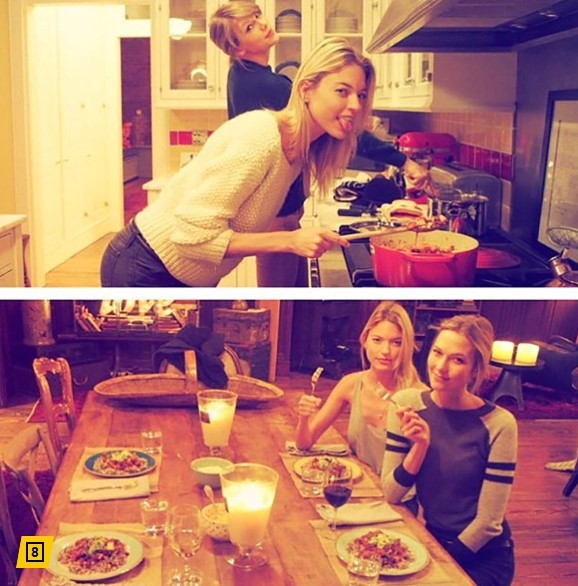 What is Taylor Swift's nationality?
Taylor Swift is an American citizen. She was born in West Reading, Pennsylvania, on December 13, 1989.
Does Taylor Swift have tattoos?
Yes, Taylor Swift has several tattoos. Her most famous tattoo is a red heart on her right foot, which she got when she was 17 years old. She also has a butterfly on her shoulder, a rose on her back, a cat on her wrist, and several other tattoos that hold special significance for her.
Is Taylor Swift married to Joe Alwyn?
Taylor Swift and Joe Alwyn have been in a relationship since 2016. They are not currently married.
How is Taylor Swift a billionaire?
Taylor Swift is a billionaire because of her successful music career, which includes album sales, touring, endorsement deals, and songwriting royalties. Her music catalog is valued at approximately $400 million, and she has earned over $370 million from ticket and merchandise sales. She also has an estimated $80 million in music royalties and $110 million in real estate.
Taylor Swift Age
Taylor Swift was born on December 13, 1989. As of today, October 4, 2023, she is 33 years old.
Taylor Swift Husband
Taylor Swift is not currently married. She has been in several relationships throughout her career, but none of them have led to marriage.
Where is Taylor Swift Tonight
Taylor Swift is currently on her "The Eras Tour," which began on March 18, 2023, and is scheduled to end on August 9, 2024. The tour is in support of her re-recorded albums, and it is her first tour since the "Reputation Stadium Tour" in 2018.
Taylor Swift Tour
Taylor Swift is currently on her "The Eras Tour." The tour began on March 18, 2023, and is scheduled to end on August 9, 2024. The tour is in support of her re-recorded albums.
Taylor Swift Announcement Today
Taylor Swift has not made any recent announcements.
Taylor Swift Instagram
Taylor Swift has over 200 million followers on Instagram. Her Instagram handle is @taylorswift.
Taylor Swift Twitter
Taylor Swift has over 86 million followers on Twitter. Her Twitter handle is @taylorswift13.
Taylor Swift Tour 2023 Locations
Taylor Swift's "The Eras Tour" will visit approximately 60 cities in North America, Europe, Australia, and Asia. Here are some of the cities that the tour will visit:
North America: Glendale, AZ; Nashville, TN; Chicago, IL; Cincinnati, OH; Los Angeles, CA; Buenos Aires, Argentina; Rio de Janeiro, Brazil; São Paulo, Brazil; Tokyo, Japan; Melbourne, Australia; Sydney, Australia; Auckland, New Zealand
Europe: London, England; Manchester, England; Glasgow, Scotland; Dublin, Ireland; Paris, France; Amsterdam, Netherlands; Berlin, Germany; Brussels, Belgium; Barcelona, Spain; Madrid, Spain
Asia: Singapore, Singapore; Tokyo, Japan; Osaka, Japan; Seoul, South Korea