Taylor Swift says that she loves teaching 'men how to apologize' during debut concert of her Eras Tour: 'It's kind of my thing'
yo blong With Me singer,33, who rocked a pink rhinestone leaotard and belted out a 44-song set list, opened up about 'recurring themes' in her music as she candidly spoke to State Farm Stadium with a guitar in her arms.
'So, sort of a recurring theme in my music is that I love to explain to men how to apologize. I just love it,' said the 12-time Grammy winner, per footage posted to Twitter.
'It's kind of my thing,' added Taylor. 'I love to tell them step-by-step, "Here's how simple this is to fix things if you just follow these easy steps that I'm laying out for you in a three-minute song." I just love the idea of men apologizing.'
The Bad Blood songstress was explaining how her eighth studio album Folklore was inspired by her imagination instead of her own life.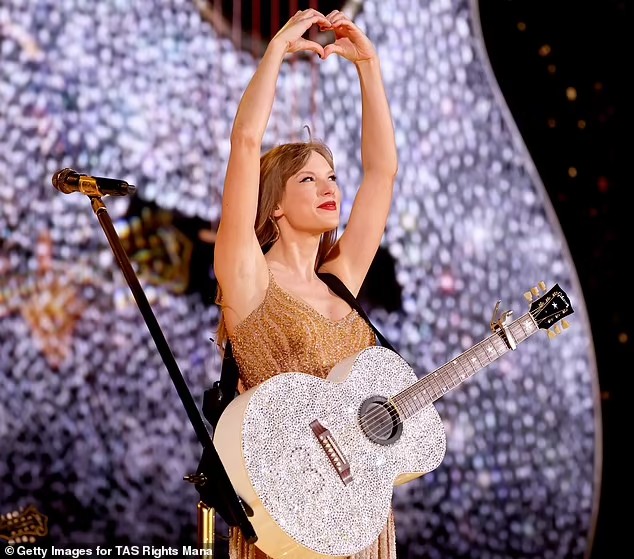 [My songs are] kind of like journaling for you or something,' Taylor told her massive audience. '[And] I wanted to do a different thing that I had done before [with Folklore].'
Earning thunderous applause, the pop megastar went on to describe the 'excruciatingly autobiographical' nature of her first seven albums, likening them to 'live-streamed public autopsies.'
'You know,' she explained, 'my albums have characteristically been, sort of, excruciatingly autobiographical where, like, when I put out an album, it just feels like getting some sort of live-streamed, public autopsy.'
Taylor continued to discuss the different approach she took when writing Folklore, crafting 'characters and storylines' instead of purely using her own experiences.
The hitmaker said: 'With [Folklore], I thought, "Wouldn't it be so fun to create characters and storylines? They'll live in different times, and they'll do all these things and fall in love and hurt each other, go to wars and all these things." So, I created all these characters.'
Released in 2020, Swift's smash hit album Folklore featured a pair of characters inspired by the two daughters of her close friends Ryan Reynolds and Blake Lively – James, seven, and Betty, three.
Taylor wove the two characters into a storyline for the song called Betty, which revolved around a very romantic apology.
Swift said: 'This is a song about a teenage [boy] named James trying to apologize to the love of his life and her name is Betty.'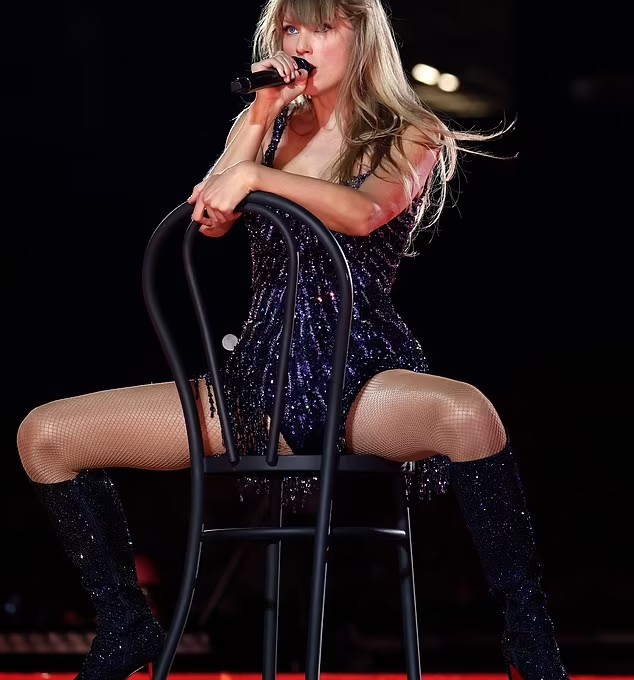 Taylor has been in a relationship with English actor Joe Alwyn, 32, since 2016, and the pair are intensely private about their life together.
Swift rarely discusses Alwyn, but she did give her handsome partner a sweet and subtle nod at Grammys after-party in February when she wore his black leather jacket.
Performing for 3 hours and 15 minutes Friday night, the chart topper belted out hit songs such as Miss Americana & The Heartbreak Prince, Cruel Summer and You Need to Calm Down from the Lover era.
About an hour into her performance, Taylor told the sold-out audience, 'Is it just me or do we have a lot of things to catch up on? It's been a really long time since I've been on tour.'