Taylor Swift shines in a diamante-studded leotard as she takes the stage during the Las Vegas stop on her The Eras Tour
The Grammy Award-winning singer, 33, belted out her top hits at the Allegiant Stadium, which has a 65,000 seat capacity and is home to the Las Vegas Raiders football team.
She will also perform at the arena again on Saturday, March 25 with her latest opening acts: beabadoobee and Gayle.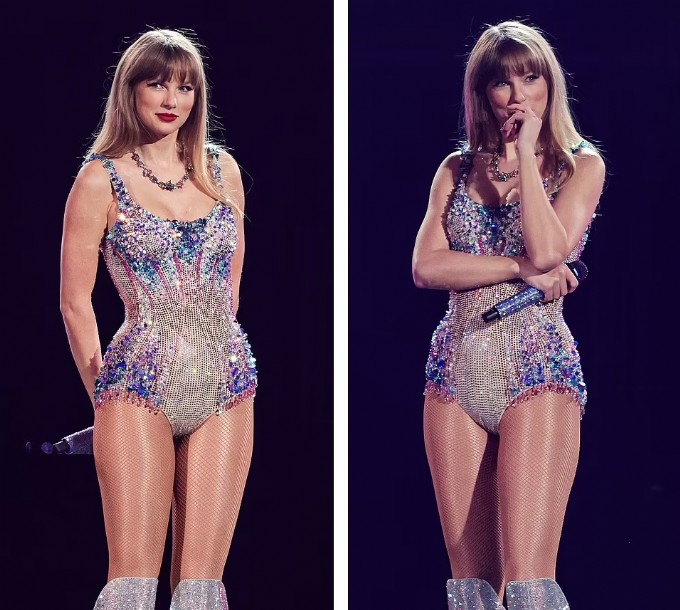 Taylor opened the concert , which is a career retrospective that spans across 10 studia albums and countless single, in a sparkly rhinestone bodysuit that highlighted her endless legs.
She carried a blinged out microphone in hand and confidently danced around the massive stage with a lengthy catwalk that put her close to fans on the floor.
The Mean hitmaker strutted her stuff in a pair of dazzling Christian Louboutin boots that added height to her already statuesque frame.
The Pennsylvania native's golden blonde tresses cascaded down her back in straightened strands and her fringe was bumped under.
She rocked her signature ruby red lip and dusted a generous amount of hot pink blush on the apples of her cheeks.
To complete her stage makeup, Taylor lined her blue eyes in black and swiped shimmery shadow on her lids.
Getting back to her roots, the singer-songwriter busted out her acoustic guitar which her parents helped her bedazzle ahead of the tour's start.
For her next outfit, Taylor slipped in a 1920s inspired gold and silver fringe dress that sparkled under the stage lights.
It had a flattering sweetheart neckline.
She was surrounded by her talent band members and background dancers during this portion of the three-hour show.
At one point, she gathered her backup singers together to share a joint bow in front of the audience.
Next, Taylor went full boss babe in a crystal-covered blazer and matching mini shorts that paired perfectly with her glitzy knee-high Christian Louboutin boots.
She performed within an office-inspired set that included a rolling chair and a desk.
Throwing it back to her country era, Taylor ditched the rhinestone and reemerged in an orange boho style maxi dress and brown suede boots.
The concert comes after it was revealed that Tayloris making a series of donations to local food banks in cities she's visiting on her highly-anticipated The Eras Tour.
She was hailed in an Instagram post by the Nevada-based nonprofit three Square Food Bank on Wednesday after a contribution to the organization described as generous.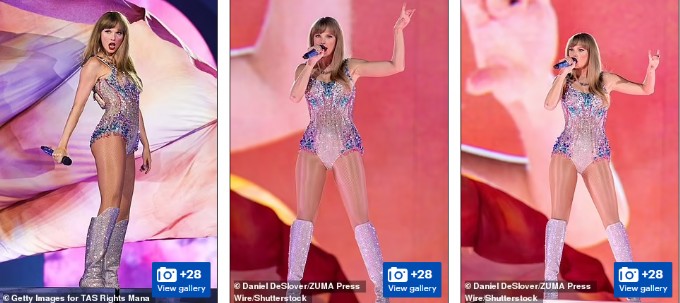 We don't know about you, but we're feeling grateful on this day, March 22!' the organization said in a social media post with a collage of images of the Anti-Hero artist. ⠀
The organization said, '@TaylorSwift has made a generous gift to Three Square, allowing us to provide thousands of meals to families and individuals struggling with hunger.
'Thank you to Ms. Swift for supporting our mission and the local community.'
The We Are Never Ever Getting Back Together singer, who kicked off her first trek in more than four years at Glendale, Arizona's State Farm Stadium last weekend, also recently donated to the Arizona Food Bank Network.
The organization's vice president of external relations Terri Shoemaker told the outlet Az Central, 'It's not every day that you get a call from someone who works for Taylor Swift, so we were dubious at first, but happily, it turned out to be absolutely real.'
Swift teared up as she paid tribute to her late grandmother as she kicked off her Eras tour with back-to-back shows on Friday and Saturday in Glendale, Arizona.
Performing at the State Farm Stadium, where the Super Bowl was held last month, the pop artist paid tribute to grandmother Marjorie Finlay.
During her performance of the 2020 song, which was named after her maternal grandparent, Taylor got emotional.
Footage was captured and posted on social media by fans in the audience during the opening shows.
Tiktok user mlpowers007 shared an outtake to her personal account and wrote, 'Such a beautiful tribute to Marjorie.'
Fans were first introduced to the heartfelt tune in December 2020 when Taylor unexpectedly dropped her album Evermore.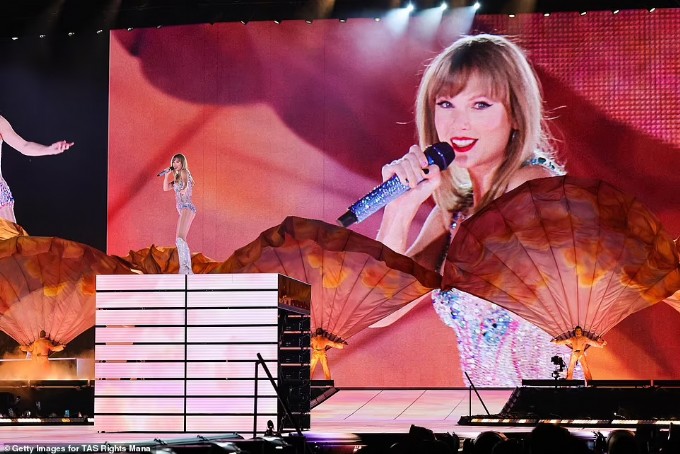 It came just five months after the release of her critically-acclaimed album Folklore.
When the Pennsylvania-born songwriter put the new music out, she explained that Marjorie was written with her grandmother in mind, nothing that she 'still visits me sometimes…if only in my dreams.'
The sentimental lyrics recount timeless advice passed on by Finlay, who passed away in 2003, as she included the line: 'Never be so kind you forget to be clever and never be so clever you forget to be kind.'
Swift also detailed Marjorie's career as an opera singer with the Puerto Rico Symphony Orchestra.
Perhaps the most touching element of the recording is the sound of Finlay's vocals supporting Taylor in the background.
Swift commented at the time of the music's release: 'My mom found a bunch of her old records of her singing opera, and I sent them to Aaron Dessner and he added them to the song.'
'It says, "If I didn't know better, I'd think you were singing to me now," and then you hear her, you hear Marjorie actually sing,' Taylor emphasized.
The song Marjorie is just one of the 44 songs included in the musician's three-hour-long setlist.
The late singer never got to see her granddaughter follow in her musical footsteps as she became a global phenomenon.
Finlay passed away when Swift was 13-years-old, one year before she signed her first record deal.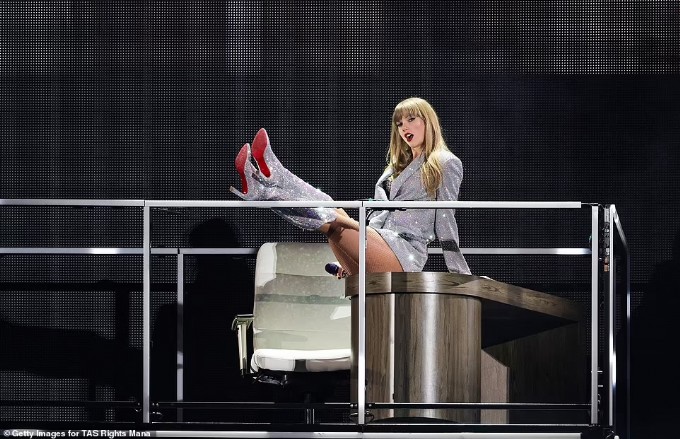 Elsewhere in the dedication, Taylor reflects on her grandmother's aspirations as she sings, 'All your closets of backlogged dreams / And how you left them all to me.'
The video outtakes from the performances feature a tearful Taylor overcome with feeling as Marjorie's voice echoes through the stadium.
One fan commented on one of the posts and said, 'She took Marjorie's backlogged dreams out of the closet and into the big stage for the whole world to hear.'
Someone else added, 'She took Marjorie's backlogged dreams out of the closet and into the big stage for the whole world to hear.'
During the high-profile performances Swift stunned on stage in Glendale, which was nicknamed 'Swift City' for the weekend.
She flaunted her statuesque figure as she gave a powerhouse performance that did not disappoint.
And her outfits were just as remarkable as her music and flawless vocals, with the pop star making multiple changes.
The 12-time Grammy winner conquered the stage in shimmering knee-high boots as part of one of her ensembles.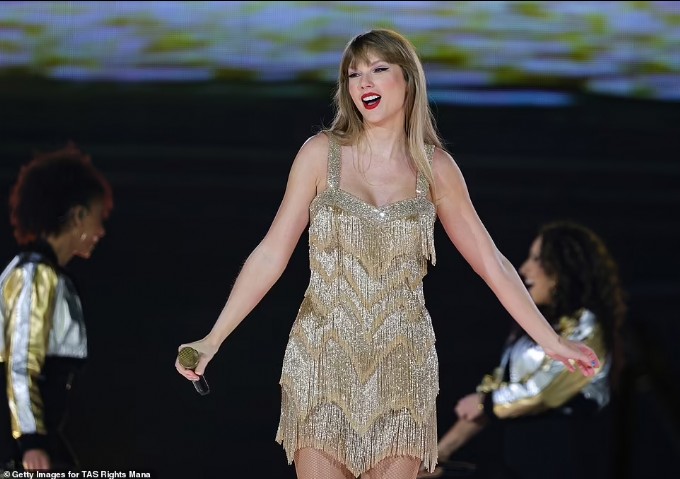 At another point she slipped into a bedazzled silver blazer before donning a fringed champagne minidress and later a sultry one-legged black bodysuit adorned with ruby red snakes.
The U.S. leg of Taylor's sixth headlining tour will be taking the country by storm for the next five months, concluding with a slate of Los Angeles concerts in August.
After Sunday's performance Taylor appeared on Instagram to share a snapshot from the show and write: 'WELL. Last night was a rush. Thank you to everyone in that glorious Glendale night 2 crowd for giving us all you had and more. Counting down the hours til we get to play again. See you in Vegas.'