Taylor Swift Stuns in Tiny Denim Shorts and Knee-High Boots After Cheering on Travis Kelce
This star-studded event, filled with A-list celebrities, had fans and onlookers captivated by the night's festivities.
Swift, who has been somewhat of a good luck charm for the Kansas City Chiefs, continued the celebratory atmosphere well into the evening at the exclusive private members club, Zero Bond. Her presence at the game seemed to have brought luck to Travis Kelce's side, as they emerged victorious against the New York Jets.

The "Fearless" singer showcased her incredible figure in a pair of tiny denim shorts, beautifully complemented by knee-high boots and a stylish faux leather shirt. The long-sleeved, plain black shirt was tucked into her $695 Daisy Dukes, creating a chic and fashionable look that Swift is renowned for.

Swift's signature blonde locks were styled in loose, wavy waves, adding to her effortless charm. Her iconic bright red lipstick completed her ensemble, enhancing her natural beauty.

For accessories, Taylor Swift opted for understated elegance, wearing a gold-chained necklace and a delicate bracelet on her right wrist.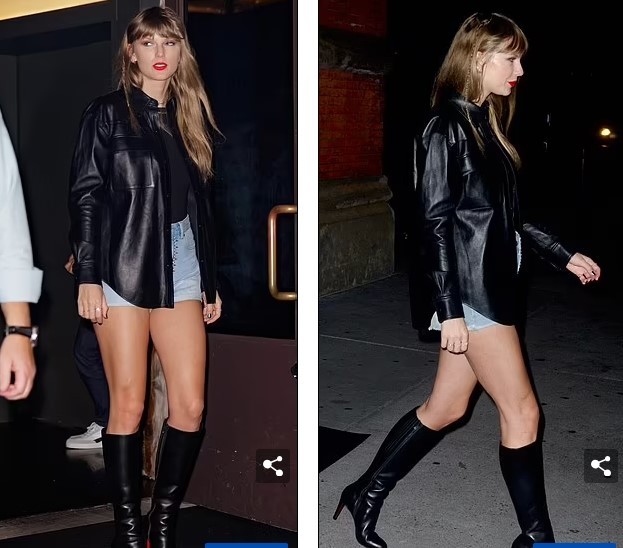 A Night of Star-Studded Entertainment

Before her unforgettable night at the game, Taylor Swift was seen with her A-list entourage at the MetLife Stadium, enthusiastically cheering on Travis Kelce. The NFL star, at 33 years old, had Taylor's support in the company of her close friends.

Among her companions were Blake Lively and her husband, Ryan Reynolds, who were spotted enjoying the game alongside Swift. The trio's presence was a testament to the excitement surrounding the event.

Another notable addition to the group was Sophie Turner, who recently parted ways with her husband, Joe Jonas. She stood beside Taylor Swift in a VIP box, adding to the star power on display as they witnessed the Chiefs taking on the Jets.

Sabrina Carpenter, set to open for Taylor Swift in upcoming international Eras Tour dates, was also part of the lively gathering.

Even Hugh Jackman made an appearance, having recently undergone a surprising separation from Deborra-Lee Furness. His presence added to the star-studded atmosphere surrounding the game.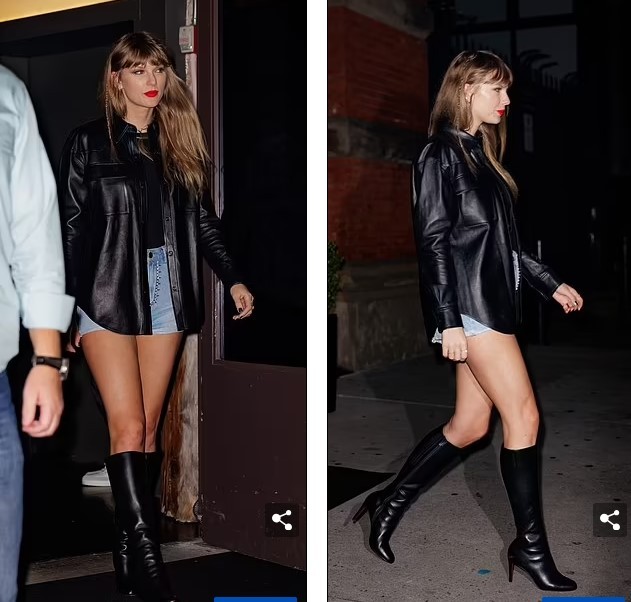 A Star-Studded Guest List

The Chiefs game attracted a wide array of celebrities who came to support Travis Kelce and enjoy the thrilling sports event. Taylor Swift's brother, Austin Swift, was seen at the game, as was Queer Eye star Antoni Porowski, filmmaker Shawn Levy, and actress Robyn Lively, sister of Blake Lively.

Shawn Levy, known for directing and producing "Deadpool 3," starring Ryan Reynolds and Hugh Jackman, was among the attendees. Austin Swift was accompanied by his girlfriend, Sydney Ness, in the VIP box.

Brittany Mahomes, wife of Chiefs quarterback Patrick Mahomes, was also part of the group, adding to the excitement of the evening.

Taylor Swift's presence next to Travis Kelce's mother, Donna, in a VIP suite at Arrowhead Stadium sent fans into a frenzy. The pop star's appearance added an extra layer of star power to the event.

After the game, Taylor Swift and Travis Kelce were seen leaving the Chiefs' locker room together. They continued their celebration with a private dinner date at Prime Social Rooftop in Kansas City. Travis reportedly reserved the entire restaurant for his family and team, with the group staying out until 2 a.m.

Photographs obtained by TMZ captured the pair in an affectionate moment, with Taylor wrapping her arm around Kelce as they enjoyed their time together.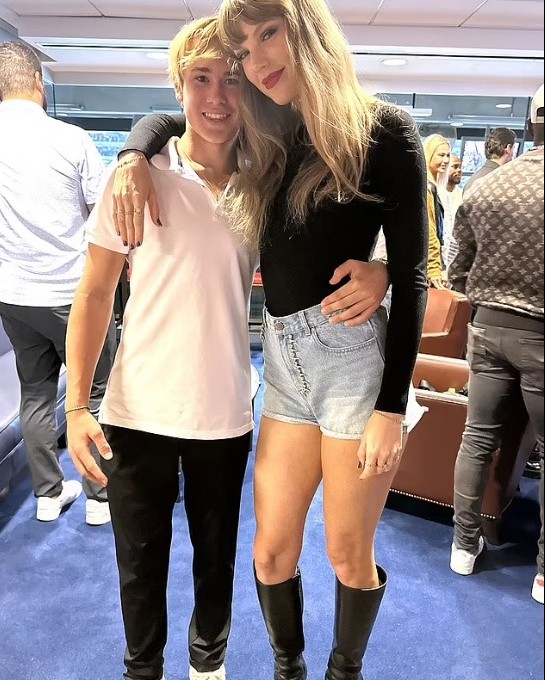 Travis Kelce's Podcast Revelation

Travis Kelce's interest in Taylor Swift became a hot topic when he revealed on his podcast, "New Heights With Jason and Travis Kelce," that he had attended Taylor's Eras Tour concert in Kansas City. He had initially planned to give the singer his phone number but didn't manage to do so.

During an appearance on "The Pat McAfee Show," Travis disclosed that he had invited Taylor Swift to attend a game at Arrowhead Stadium, saying, "I threw the ball in her court." Taylor indeed accepted the invitation, leading to her attendance at the Chiefs game.

In a recent podcast episode, Travis and Jason Kelce addressed the attention surrounding their personal lives and the newfound frenzy surrounding Travis and Taylor. Travis expressed his appreciation for Taylor's boldness in attending the game and complimented her appearance, saying she "looked amazing."

The event was memorable not only for Taylor Swift but also for Chiefs fans, as the day went perfectly for the team. Travis Kelce summed it up by saying, "We script it all, ladies and gentlemen. It was just impressive," acknowledging that it's a game he'll remember.