Tennessee Football: Phillip Fulmer's List of 16 Potential Candidates to Replace Jeremy Pruitt Revealed in Internal Email
An internal email has surfaced, shedding light on Phillip Fulmer's thought process during the final days of Jeremy Pruitt's tenure as head coach of Tennessee football. The email, obtained through an open records request, unveils a list of 16 potential candidates that Fulmer considered to replace Pruitt before his firing and Fulmer's retirement in January 2021.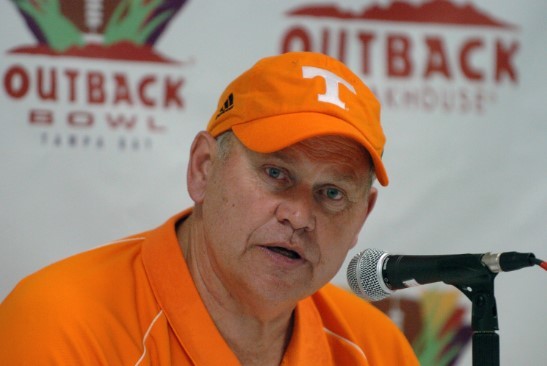 Among the notable names on Fulmer's list were former UT quarterback Tee Martin, Auburn coach Hugh Freeze, Florida coach Billy Napier, and South Carolina coach Shane Beamer. Surprisingly, there was also a candidate listed as Alex French, whose identity remains unknown.
The email provides additional insights into Fulmer's mindset during the early stages of the NCAA's investigation into major recruiting violations under Pruitt's leadership. The investigation concluded with Pruitt receiving a six-year show-cause penalty, several assistant coaches and staff members receiving multi-year show-cause penalties, and the university facing probation, scholarship cuts, recruiting restrictions, vacated wins, and a hefty fine.
The email, titled "Football Appraisal," initially advocated for retaining Pruitt as the coach, expressing belief in overcoming the challenges and signs of progress. However, Fulmer concluded the email with a list of potential candidates in case Pruitt was fired. This ultimately led to the hiring of Josh Heupel as Tennessee's head coach.
Fulmer's list included Hugh Freeze, despite concerns about his past controversies and "baggage." Freeze had been rebuilding his reputation at Liberty after resigning as the head coach of Ole Miss amid an NCAA scandal. Another intriguing option was Billy Napier, who had ties to rival Alabama as a former Crimson Tide assistant coach alongside Pruitt.
Tee Martin, a former assistant coach under Pruitt, was also listed as a candidate, showcasing Fulmer's willingness to consider internal options. The email further revealed that Fulmer had connections with Shane Beamer and Justin Wilcox, who had previously worked under him during their coaching careers.
Although the email contained misspelled names and appeared to be rough notes rather than a completed presentation, it provided valuable insights into Fulmer's thought process and criteria for selecting the next coach. Fulmer envisioned an offensive-minded coach, a great recruiter, a disciplinarian, a developer of players, and a builder of men. Ultimately, these criteria aligned with the hiring of Josh Heupel, who has since made significant strides in developing the program and leading the Vols to success on the field.
As the Vols continue their journey under Heupel's guidance, the email serves as a fascinating glimpse into the decision-making process that shaped the future of Tennessee football.