Tennis legend Martina Navratilova syas she has overcome breast and throat cancer
Martina Navratilova says she is now 'cancer free' after overcoming breast and throat cancer.
The tennis legend revealed the good news in an emotional interview with Piers Morgan, adding she had feared she 'wouldn't see next Christmas'.
The 66-year-old said the diagnosis had forced her to put on hold plans to adopt a child with her wife Julia Lemigova and she was moved to tears by the kindness of staff during her treatment.
In an interview on Morgan's TalkTV show, which will air tomorrow, Navratilova said the double diagnosis had terrified her and left her working on her bucket list of things she wanted to do before she dies.
However, she fought through and now says that she only has another two weeks of radiotherapy on her breast before she is officially in the clear.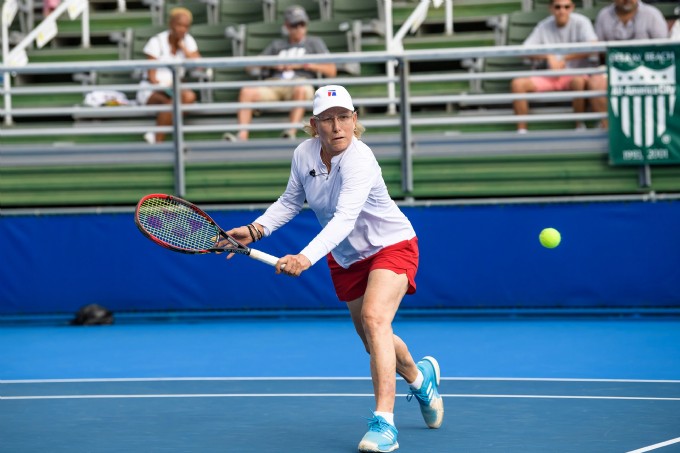 The tennis ace, who won 59 major titles in a career spanning four decades, announced she had been diagnosed with cancer at the start of the year, sparking an avalanche of support.
She had previously beaten breast cancer in 2010, but said she feared she might not see Christmas 2023 after it returned.
Navratilova confirmed she was diagnosed after doctors found an enlarged lymph node in her neck last November, with tests later confirming she had both breast and throat cancer.
After being diagnosed at the beginning of last December, she said: '[I'm thinking] I will see this Christmas but maybe not the next one.'
Fortunately, doctors informed Navratilova her cancer was 'extremely treatable', the Sun reports.
She said during the treatment, which took place while she wore a specially fitted mask, she was moved to tears as nurses played Elton John's I'm Still Standing while she was in the hospital.
The singer had dedicated the song to the Czech-born athlete at a concert in Paris during the French Open in the 1980s.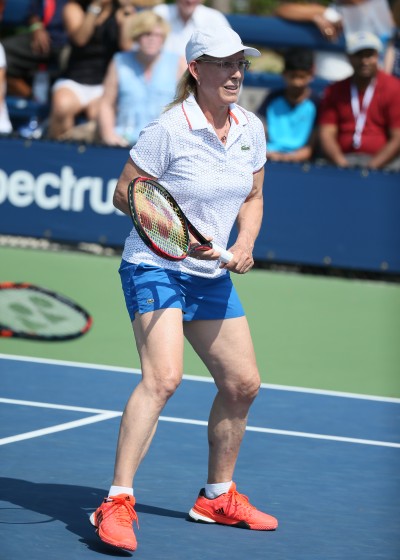 Now a naturalised American, the tennis ace told Morgan she began writing her bucket list after the diagnosis.
She said: 'This may sound really shallow, but I was like, okay, "Which kick ass car do I really want to drive if I live like a year?"'
But now the tennis commentator will have more time than she had feared after beating the disease following a gruelling combination of chemotherapy, radiotherapy and proton therapy.
In the interview, which will feature a video of Navratilova ringing a bell at the hospital to signal she was in the all clear, Navratilova says it was the toughest thing she has ever done.
However, she added she told herself to 'suck it up' after seeing children as young as six months old being treated for cancer in the same clinic.
The news of the Wimbledon legend beating the disease will come as welcome news to fans, who overwhelmed her with support after announcing she was fighting cancer again.
Navratilova said she wasn't 'done yet' after the diagnosis, adding: 'I'm hoping for a favourable outcome. It's going to stink for a while but I'll fight with all I have got.'
It was this outspoken defiance which has been a feature of her life both on and off the tennis court.
In the course of her more than 40-year career, she Prague-born athlete won 59 Grand Slam titles, including 31 in women's doubles and 10 in mixed doubles.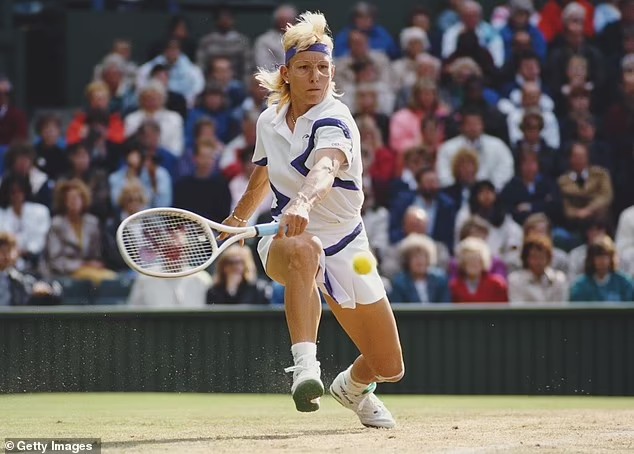 Her last win was at the 2006 US Open, when she won the mixed doubles with Bob Bryan just one month before turning 50 years old.
Navratilova had originally retired in 1994, but returned to play doubles and the occasional singles tournament in 2000 - the same year she was inducted into the International Tennis Hall of Fame.
Becoming a TV analyst in recent years, Navratilova was outspoken during her playing career with her political views and sexual orientation.
As an openly gay woman, she would have her romantic partners sit courtside at championship matches without anyone in the crowd necessarily knowing about it.