The Ballon d'Or 2023: A Night of Glitz, Glamour, and Footballing Majesty
The Ballon d'Or, the annual awards ceremony that recognizes the world's top footballing talents, brought together footballing royalty, A-list celebrities, YouTube sensations, and former players and managers in a star-studded gathering.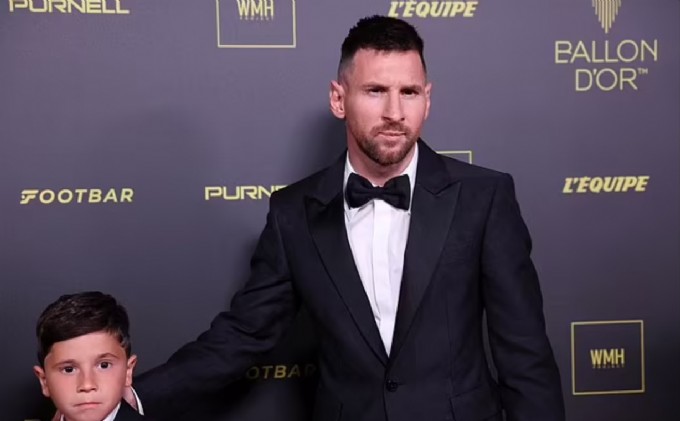 This year's event was particularly anticipated, with Lionel Messi widely expected to claim his eighth Ballon d'Or, reinforcing his status as the best men's performer in football. The Argentinian legend, known for his dazzling performances on the pitch, decided to keep it understated for the gala, sporting a suave black tuxedo. Accompanied by his family, Messi returned to the city of Paris, a place he had once called home during his tenure with Paris Saint-Germain.

Sharing the limelight was none other than football icon and Inter Miami owner, David Beckham. The English legend, renowned for his fashion-forward choices, exuded charisma and sophistication in a cross-jacketed navy suit. With a fresh, short haircut and a radiant smile, Beckham delighted fans and photographers alike as he posed along the red carpet.

In a fashion twist that was quintessentially Kylian Mbappe, the French sensation opted for a unique grey tuxedo, paired with a striking black undershirt. Known for his dynamic and unconventional playing style, Mbappe's choice of attire perfectly mirrored his on-field creativity and flair.

As they arrived at the glamorous event, Manchester City players, fresh off a resounding victory over their cross-city rivals Manchester United in the weekend derby, were understandably in high spirits. Erling Haaland, who had a record-breaking debut season at Man City, was elegantly dressed in a navy tuxedo as he strolled down the red carpet hand-in-hand with his girlfriend, Isabel Haugseng Johansen.

A surprising and heartwarming appearance came from former Chelsea star Eden Hazard, who had been seldom seen since his decision to retire from professional football earlier in October. The Belgian footballer, known for his immense talent, opted for a classic and sophisticated black suit and tie, exuding an air of charm and nostalgia as he was accompanied by his family on the red carpet.

The event held a sense of nostalgia for former Liverpool star Djibril Cisse, who had earned fame not just for his on-field performances but also for his flamboyant fashion choices and distinctive hairstyles during his time at Anfield. Cisse chose a look that perfectly echoed his unconventional style, donning a white suit without a shirt and sporting striking blue-dyed hair, capturing the essence of his unforgettable persona.

The fashion choices were not limited to the players; the Ballon d'Or gala also saw some intriguing style selections from other attendees. Jude Bellingham, the rising star of Real Madrid and the English national team, stood out with his unconventional six-button jacket and stylish bow tie. His teammate, Vinicius Jnr, took an even bolder step in fashion, appearing in a striking red jacket that harmonized beautifully with the red carpet that celebrities treaded upon.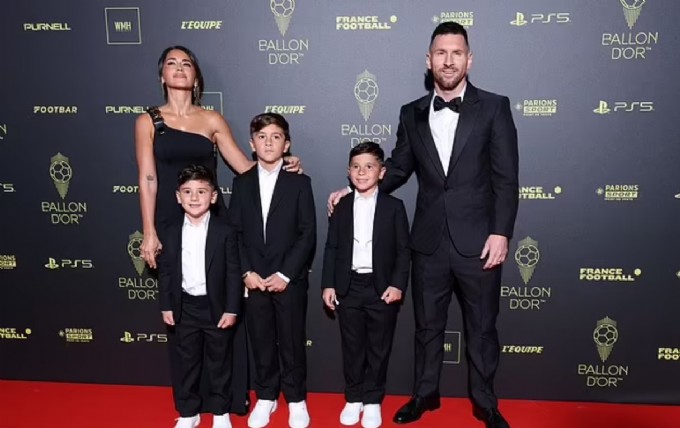 Emiliano Martinez, the accomplished goalkeeper for Aston Villa and a World Cup winner with the Argentina national team, presented a stylish ensemble in a suede-jacket tuxedo as he posed for photographs with his wife outside the theatre. His elegant attire was a testament to the classic and timeless charm that formalwear can exude.

Bernardo Silva, another Premier League standout, looked every bit the suave footballer as he made his way into the grand event hall. His club teammate, Rodri, followed closely in his footsteps with a similar sense of style and elegance.

The Ballon d'Or red carpet was not just about current players; it also witnessed the presence of Ilkay Gundogan, who had recently left Manchester City to join Barcelona. His attendance stirred up nostalgia and excitement among fans, presenting the possibility of a reunion with his former teammates and colleagues.

Adding an extra layer of diversity to the red carpet was none other than Novak Djokovic, the tennis superstar, and ardent football supporter. Djokovic made a surprising appearance at the invite-only ceremony, blending his passion for football with his renowned excellence in tennis.

While sports stars naturally took center stage at the Ballon d'Or, the event was not limited to their presence alone. Social media influencers IShowSpeed and Luva de Pedreiro graced the red carpet with their unique styles. IShowSpeed chose a pair of designer trainers with a distinctive design that could have been mistaken for beach footwear. On the other hand, Luva de Pedreiro made a bold statement in a red suit and black shoes, showcasing individuality and creativity through fashion.

The Ballon d'Or 2023 red carpet was a magnificent showcase of style, personality, and elegance. It set the stage for an evening of celebration and recognition of football's finest talents. As the star-studded event unfolded, the world watched in anticipation of Lionel Messi's eighth Ballon d'Or triumph, marking yet another chapter in the history of football's most prestigious award.