The blonde bombshell Kourtney Kardashian looks like Marilyn Monroe as she poses in lingerie and heels to promote Lemme
The 43-year-old TVstar resembled movie icon Marilyn Monroe as she showed off her blonde hair while in a very provocative look
The Keeping Up With The Kardashians vet was almost spilling out of her light pink lingerie set as she leaned down to pick up an item.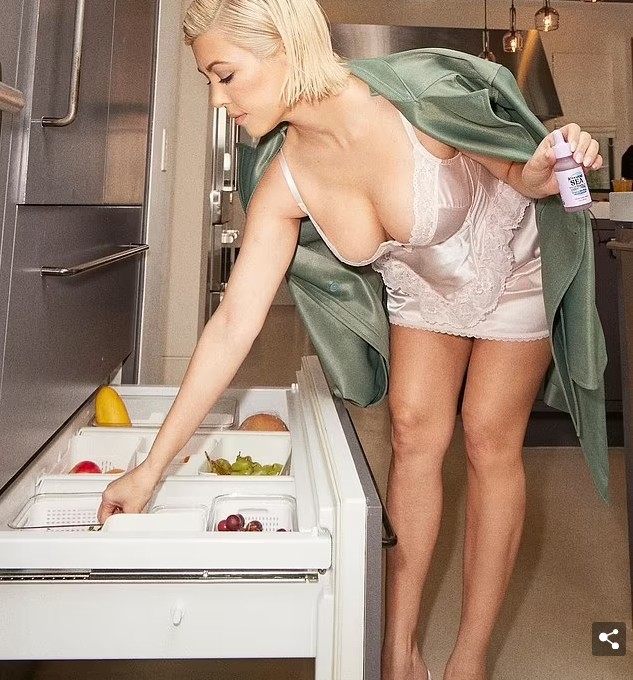 The wife of Blink 182 rocker Travis Barker was plugging her Lemme gummy brand which has come out with Lemme Sea.
The sister of Kim and Khloe, who were seen in bikinis in throwback photos, boasted the gummies 'promotes radiant skin and hair, supports healthy thyroid function, supports immune system health, maintains brain health, supports energy metabolism and digestion, supports bone, teeth and muscle health!'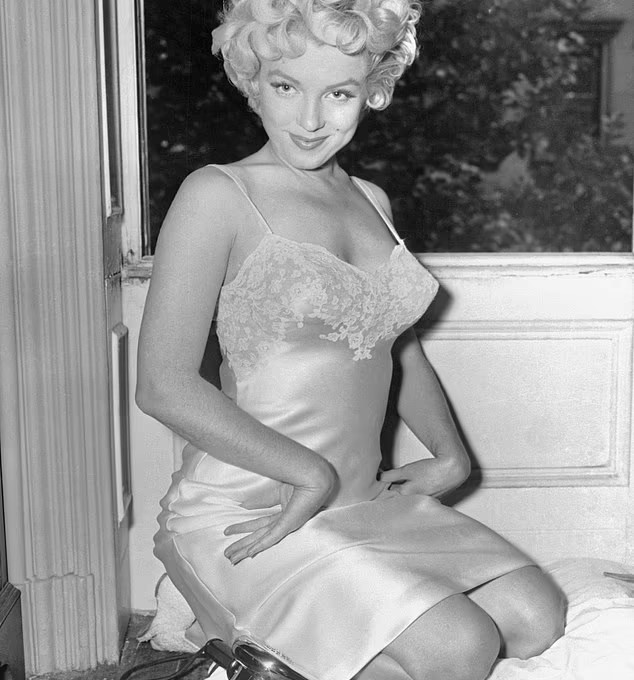 She added they 'taste like a sweet mint delight. ✨☘️ .'
Kourtney also noted in her caption: 'Sea the benefits (of @lemme Sea): Irish Sea Moss is one of the most powerful plants and mineral-dense superfoods on the entire planet that naturally has 92 of the 102 minerals that the human body needs.
'We paired our wildcrafted Irish Sea Moss with D3 and Biotin for an extra boost of beauty, immunity, brain and skin health.
In February she released her Lemme Purr line which she said would make a woman's private part be fresher.
It was developed with 'clinically-studied probiotics to support its taste, odor and freshness, complete with pineapple extract for added sweetness,' per the Lemme website.
So what's in it? The gummies contain pineapple, vitamin C and probiotics.
The mother-of-three posed in a yellow outfit with cats walking around her in circles to plug the gummies.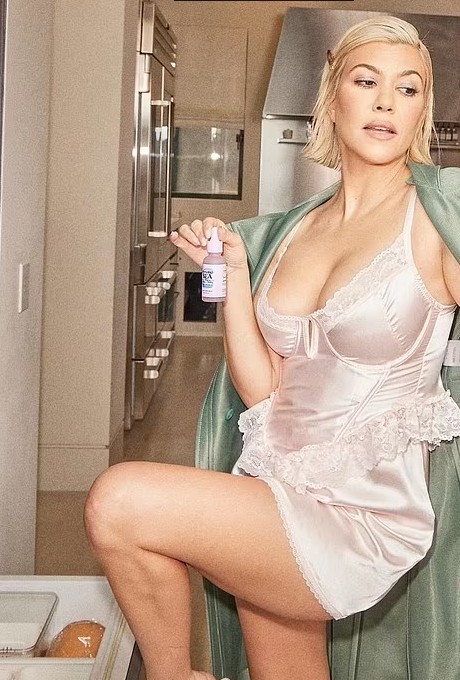 'Meet Lemme Purr: our new vaginal health gummy!' it said on the Lemme/Kourtney Instagram page.
'Your [cat emoji] is going to love this,' it said in the caption.
'Vaginal health is such an important part of a woman's overall well-being (and not talked about enough) which is why we are so excited to launch this!
'Give your vagina the sweet treat it deserves (and turn it into a sweet treat). You know what they say…you are what you eat.
'We combined real pineapple and Vitamin C with the power of clinically-studied SNZ 1969 probiotics to target vaginal health and pH levels that support freshness and taste.'
In December she wore a sparkly silver dress and posed with purple presents to promote the launch of the holiday shop for her vitamin brand Lemme Live.
In the first photo posted by the star, she stood in a slightly provocative but cute stance, pushing her butt out and puckering her lips.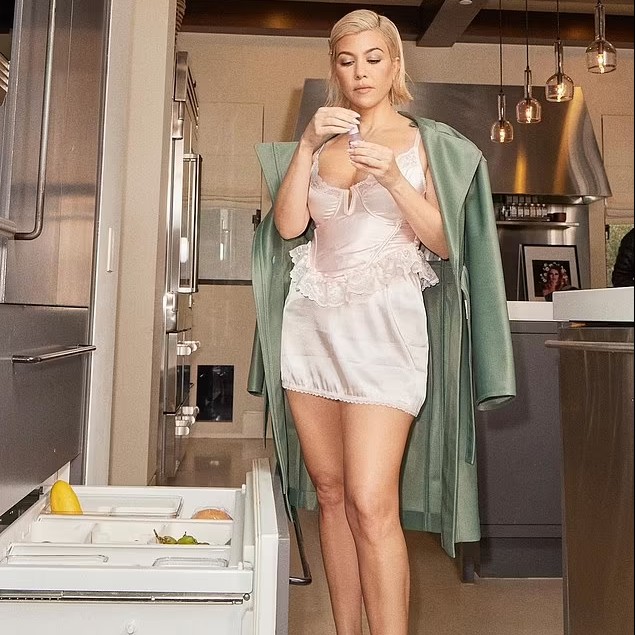 The ingredients of Lemme Focus are Lion's mane - A unique mushroom that has been shown to contain a number of health-promoting substances, including antioxidants and beta-glucans - Citicoline, MCT oil and vitamin B12.
She wore a skin-tight holographic dress which cut off at the middle of her thighs. Around her neck was a matching silver garland with stars hanging off.
The beauty's dark brown hair was pin straight and cut into a bob at her chin and she had on platform silver stilettos to tie the outfit together.
The post was captioned: 'It's the most wonderful time of the year. Sooooo our @lemme holiday shop just launched just in time! From digital gift cards with personalized notes to building your own gummy bundle (choose 3 of your favorites) – it's a Lemme land extravaganza!'
Another photo consisted of the star doing a virgin Mary-inspired with the garland over her head and the vitamin bottle enclosed in her hands.
She also kneeled on the floor and held the garland in the air in other pictures.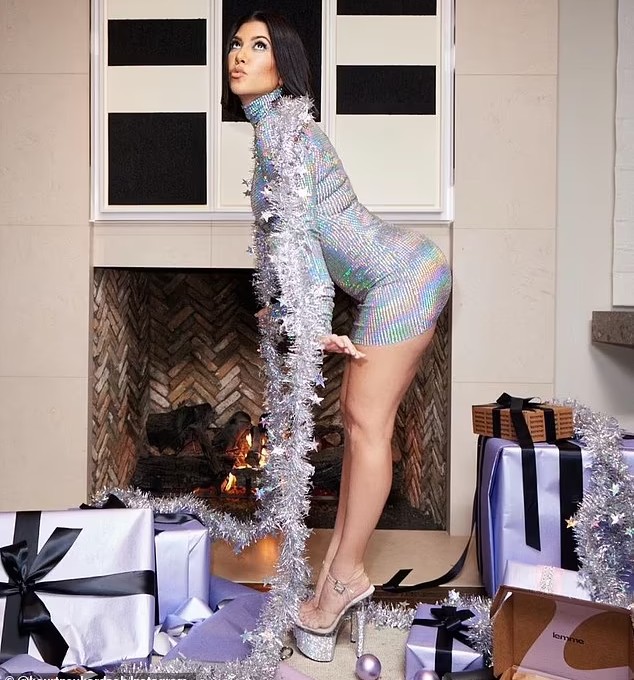 First launched in late September of 2022, the Lemme Live vitamins and supplements were created by the Keeping Up with the Kardashians star and aimed to make gummy vitamins that are good for the body and taste good.
On the website, Kardashian said: 'I made them so delicious you won't believe they're this good for you.'
The company carries vitamins such as Lemme Sleep, melatonin with chamomile, Lemme Debloat, a prebiotic and probiotic blend, and Lemme Focus, citicoline with lion's mane.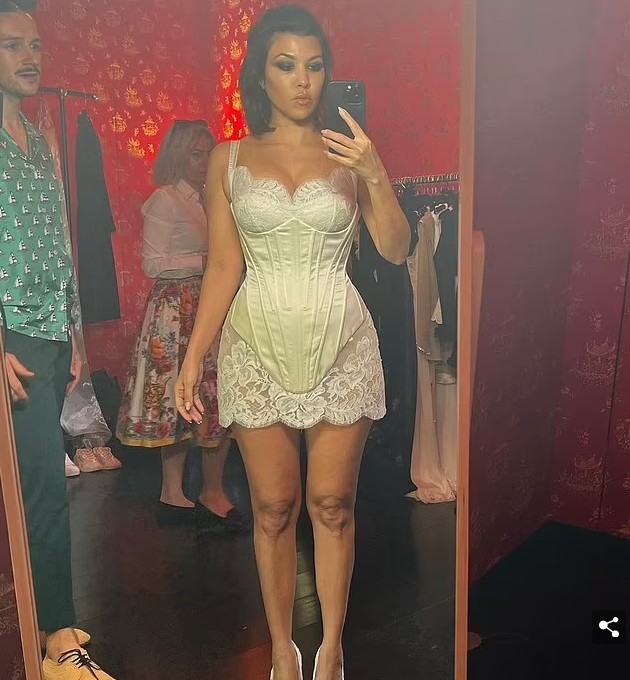 One of the most recent additions to the collection was a matcha energy vitamin titled Lemme Matcha.
The beauty was inspired by her husband and musician Travis Barker, 47, who was the one to introduce her to matcha originally.