TikTok Star Brianna Chickenfry Raises Questions About Taylor Swift and Travis Kelce's Relationship: Is It 'Fake' and 'Performative'?
However, not everyone is buying into the love story, and TikTok sensation Brianna Chickenfry is leading the charge of skeptics, raising questions about the authenticity of the high-profile couple's relationship. Chickenfry, known for her candid commentary, has labeled Swift and Kelce's romance as "fake" and "performative."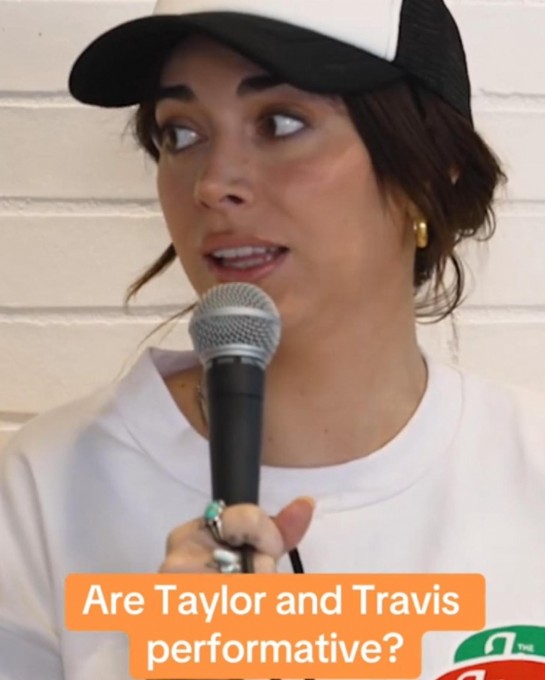 The intrigue into the legitimacy of Swift and Kelce's relationship reached new heights during a recent episode of the "BFFs" podcast, where Chickenfry engaged in a compelling conversation with co-hosts Dave Portnoy and Josh Richards. The trio dissected the couple's public display of affection, particularly during Swift's Eras Tour show in Buenos Aires, Argentina.
Swift, 33, made headlines when, during her performance of "Karma," she altered the lyrics from "Karma is the guy on the screen, coming straight home to me" to "Karma is the guy on the Chiefs, coming straight home to me." Videos from excited attendees showcased Kelce, 34, grinning and reacting with shock, holding his hands up to his face in disbelief.
Adding another layer to the spectacle, Swift's father, Scott Swift, who was positioned next to the NFL star, joined in the celebration, dancing alongside Kelce in their VIP tent. The climax of the evening occurred when Swift, after waving to adoring fans, embraced Kelce with a hug and a kiss on the lips—marking their first public display of affection.
Brianna Chickenfry, 24, expressed her reservations about the authenticity of these moments during the podcast discussion. "I feel like the more they do s–t like this, I think it's fake. They're doing it for the cameras, no?" she candidly shared. When pressed for clarification, Chickenfry elaborated, "Not, like, fake, but why are they doing it? It feels performative. Changing the lyrics, jumping into his arms right when he's waiting off stage so that everyone sees it?"
In response to Chickenfry's skepticism, Portnoy and Richards countered with information about Swift's past behavior, asserting that the Grammy-winning artist has "never changed the lyrics" of her tracks or "mentioned any names" in connection to her previous romantic entanglements. Undeterred, Chickenfry maintained her stance, expressing, "but I don't know, it feels a little … she's never done anything like that."
The conversation took an intriguing turn when Chickenfry was asked about her own experiences, specifically whether her boyfriend, country musician Zach Bryan, ever engaged in similar public displays of affection. Chickenfry's response revealed a stark contrast: "No," she admitted, prompting Richards to inquire further, "Like, he's never sung at you during a song?" Portnoy injected humor into the exchange, quipping, "Maybe we're not 'End Game.'"
As the podcast discussion unfolded, Brianna Chickenfry's skepticism shed light on the intense scrutiny that high-profile relationships face in the public eye. The inquiry into the authenticity of grand gestures and public displays of affection reflects a broader fascination with the intricacies of celebrity romances. Swift and Kelce, being no strangers to the limelight, may find themselves navigating not only the complexities of their relationship but also the watchful eyes and opinions of a curious audience.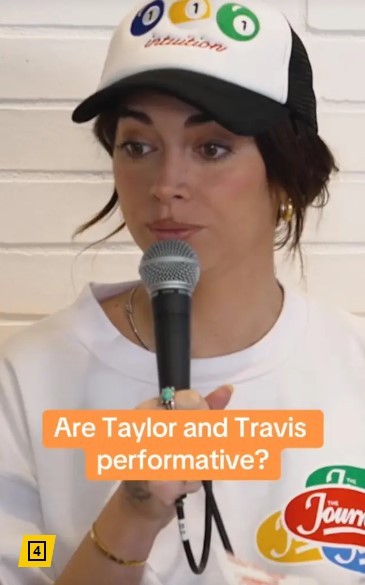 Brianna Chickenfry Instagram: You can find Brianna Chickenfry on Instagram using her username @briannachickenfry. Instagram profiles often contain the latest updates and information about individuals.
Brianna LaPaglia: This is Brianna Chickenfry's real name. It's always a good idea to use an individual's real name when looking for information.
Brianna Chickenfry Wiki: As of my last update, there isn't a dedicated Wikipedia page for Brianna Chickenfry. You may find information about her on social media or other online platforms.
Brianna Chickenfry Real Name: Brianna Chickenfry's real name is Brianna LaPaglia.
Brianna Chickenfry Theo Von: As of my last update, there is no widely known association between Brianna Chickenfry and Theo Von, who is a comedian and podcast host. However, relationships and collaborations can change, so it's advisable to check their respective social media or official announcements for any updates.
Brianna Chickenfry Podcast: There is no specific information available regarding Brianna Chickenfry hosting a podcast. Again, for the most recent details, you may want to check her social media accounts or other reliable sources.
Brianna Chickenfry Age: In the provided article, Brianna Chickenfry's age was mentioned as 24. However, ages can change over time, and for the latest information, you may want to check her social media profiles or recent interviews.