Tori Spelling Enjoys Casual Lunch After Sudden Move from Rental Home
Exclusive photos obtained by DailyMail.com capture this moment of transition for the actress as she steps out for a relaxed meal.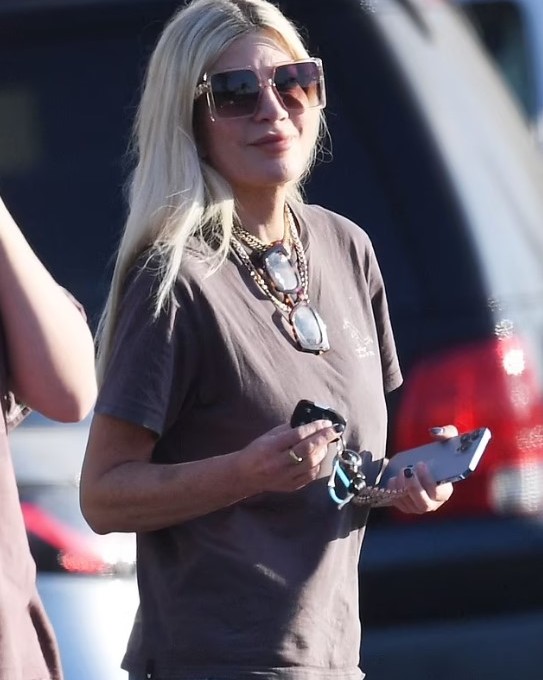 In the photos, the 50-year-old actress can be seen wearing faded denim jeans, adhering to the mom-fit style, while she accompanied her son, Liam, 16, to Miho Sushi in Tarzana, Los Angeles. Her choice of clothing was a brown vintage T-shirt paired with blue and white Nike sneakers.

Tori Spelling completed her look with an interesting touch by wearing two pairs of glasses. She sported a large pair of rectangular sunglasses to shield her face from the Californian sun and a second pair of tortoiseshell glasses that hung from flashy gold chains. Her bright blonde hair flowed freely, and her minimal makeup look highlighted her natural beauty.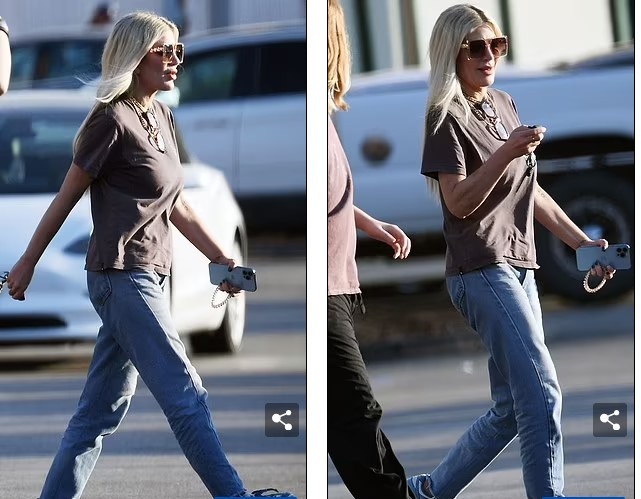 The mom-and-son lunch date follows Tori's recent move from an $18,000-a-month mansion she had been renting. This sudden change was prompted by a dramatic incident where a neighbor barricaded himself inside his home with an AR-15, leading to LAPD SWAT evacuating Tori Spelling and her family.

DailyMail.com was on-site during the move-out process, where professional movers swiftly packed Tori's belongings, which included clothes, makeup, toiletries, fans, and other household items, into a truck. The destination of her belongings remains uncertain, leaving us to ponder her next move.

The now-vacant rental home was fully furnished when Tori Spelling arrived, offering her a temporary, comfortable residence. It was a substantial upgrade from her prior accommodation, which included low-budget hotels and an RV due to financial constraints and a persistent mold issue at her previous rental in Hidden Hills.

The former rental home is a single-story 3,300-square-foot property with four bedrooms and three bathrooms. It also features an additional guest house with a bath. The house is described as "exquisitely furnished" and boasts an abundance of natural light. Hardwood floors, dining for six, bar seating for four, large sliding glass doors, an office area, flat panel TVs, a gaming room, plush furniture, and ample storage are some of the highlights. The fully updated kitchen includes a gas range and stainless steel appliances.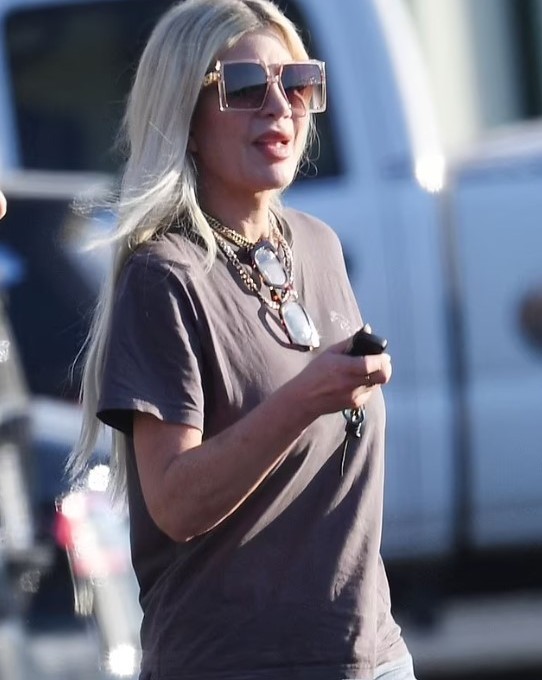 The house comes with a large pool and outdoor entertaining space, ideal for enjoying the warm San Fernando Valley weather.

Tori Spelling, known for frequently changing her place of residence, has expressed her passion for real estate. This constant shifting has led to some financial instability, as she mentioned in her 2013 memoir, "Spelling It Like It Is."

The recent move appears to be another chapter in Tori's residential journey, and she may be opting for fully furnished short-term rentals that accommodate her evolving needs.

This shift was initiated after a dramatic event where a man barricaded himself inside his home with an assault rifle, leading to law enforcement involvement and a subsequent evacuation. However, once the situation was resolved and her family's safety was ensured, Tori Spelling resumed her usual activities, including dining out with her kids.

As Tori Spelling adapts to her new living situation, it will be interesting to see where this chapter of her life leads, especially with the challenges and changes she has faced in recent years.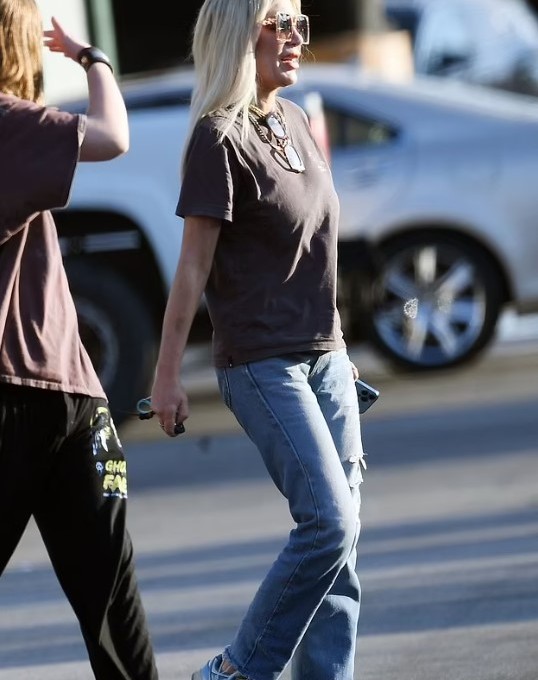 Tori Spelling 2023: Tori Spelling has had an eventful 2023 so far. In January, she announced that she was splitting from her husband Dean McDermott after 16 years of marriage. The couple had been struggling for some time, and Spelling said that it was the best decision for their family.
In the months since the split, Spelling has been focusing on her children and her career. She has been spotted filming a few new projects, and she has also been active on social media, sharing photos and videos of her family and friends.
In August, Spelling was seen filming a mystery project in Beverly Hills. She was dressed in a red pantsuit and a black lacy camisole, and she looked polished and put-together. It is unclear what exactly Spelling is working on, but it is reported that she is looking to return to reality TV.
Spelling has also been open about her struggles with mental health. In a recent interview, she said that she has been diagnosed with bipolar disorder and ADHD. She said that she is now medicated and in therapy, and that she is feeling much better.
Overall, it seems like Tori Spelling is doing well in 2023. She is focusing on her children and her career, and she is open about her struggles with mental health. She is an inspiration to many people, and we wish her all the best in the future.
Tori Spelling Net Worth: Tori Spelling's net worth is estimated to be around $1.5 million as of my last knowledge updat in September 2021. Her net worth may have fluctuated since then due to changes in her career, investments, and financial circumstances. For the most current information on Tori Spelling's net worth, consider checking financial news and celebrity net worth websites.
Tori Spelling Age: Tori Spelling was born on May 16, 1973, which makes her (age as of 2023). She has been a well-known actress, reality TV personality, and author for many years, and her age is often a point of interest for fans and followers.
Tori Spelling Mom: Tori Spelling's mother is Candy Spelling, the widow of TV producer Aaron Spelling. Candy Spelling is known for her philanthropic work and her prominent role in the family. Tori has occasionally talked about her relationship with her mother in interviews and her autobiographical works.
Tori Spelling Brother: Tori Spelling has a younger brother named Randy Spelling. Randy has also been in the entertainment industry, and he is known for his appearances on reality TV shows and his work as a life coach. He is the son of Aaron and Candy Spelling, making him Tori's sibling.