Travis Kelce's Family Express Concern Over Safety Amid Intense Scrutiny from Taylor Swift's Fans
In a recent TMZ report, it was revealed that the Kelce family, while happy for Travis, has expressed concerns about his safety due to the unparalleled level of attention brought on by his relationship with Swift.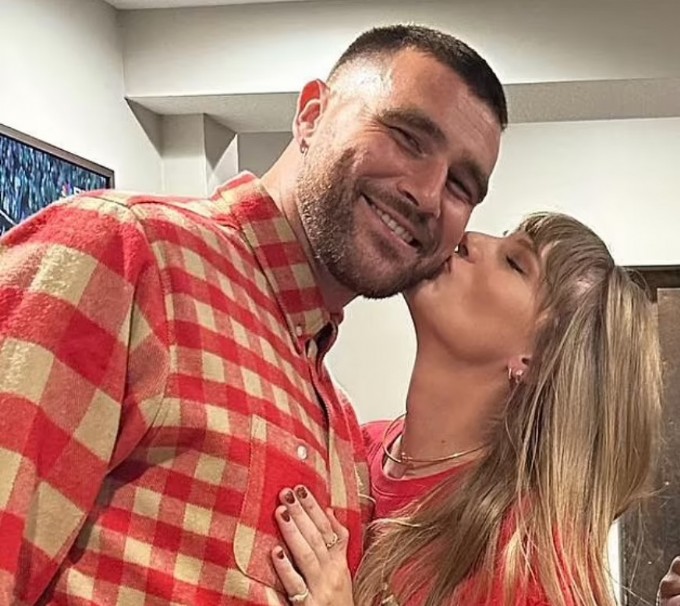 Travis Kelce hails from one of the most prominent families in football. His brother, Jason Kelce, is a Philadelphia Eagles player, and their parents, especially their mother, Donna, are known for their enthusiastic support of both sons. Donna went viral during this year's Super Bowl when the Kansas City Chiefs played the Philadelphia Eagles while sporting a 50-50 jersey to support her boys.
However, their family's profile has skyrocketed over the past month since Travis Kelce began dating Taylor Swift. This sudden surge in attention has been a major adjustment for the Kelce family, who are still adapting to the newfound fame.
While Swift has met Kelce's parents and even watched him play in Kansas City, her presence in their lives has undeniably elevated their public image. The Kelce family has appeared open to discussing Swift and the new dynamics that have emerged since Travis's high-profile relationship began.
Jason Kelce, Travis's brother, recently spoke about the peculiar situation they find themselves in. He shared his mixed feelings with NBC Sports, saying, "It's certainly been weird, the level that it is now. On one hand, I'm happy for my brother that he seems to be in a relationship that he's excited about, that he is genuine about. But there's another end of it where it's like, 'Man, this is a lot.' So, on one hand, [I'm] really, really happy for my brother and where he's at in his current situation with Taylor. But on the other hand, there's some, I think, alarms sometimes with how you know, over-in-pursuit people can be."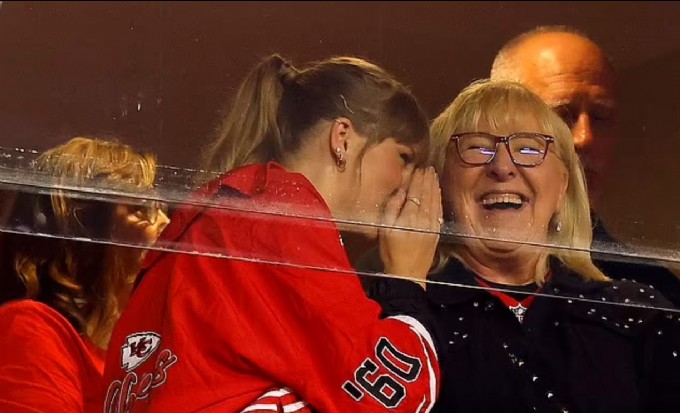 Swift has become a recurring topic on Travis Kelce's podcast, 'New Heights,' which he co-hosts with his brother Jason. Donna, their mother, has also shared her thoughts about Swift. In contrast, their father, Ed Kelce, maintains a lower profile and rarely interacts with the media, a trend that existed before Taylor Swift entered the picture.
The Kelce brothers, while jesting about their dad's personality, expressed their concern when they witnessed him conversing with Taylor Swift at a recent game. Jason humorously stated on the podcast, "If you were watching the game, you saw something momentous happen — which was Taylor Swift talking to Ed Kelce." Travis chimed in with a laugh, "This is a terrifying conversation. I felt terrible for Taylor."
Fortunately for the Kelce family, the relentless attention might taper off in the near future. Taylor Swift is not expected to attend a Chiefs game for almost another month. She recently skipped the game in Denver to focus on her upcoming Eras tour dates in Brazil and Argentina, which will keep her on the road for most of November. The next Chiefs game at Arrowhead Stadium where Swift could conceivably attend is scheduled for December 10, against the Buffalo Bills.
In conclusion, the Kelce family's concerns over Travis Kelce's safety amid the intense scrutiny from Taylor Swift's fans highlight the unique challenges that come with fame and high-profile relationships. As the relationship between the NFL star and the global music sensation continues to captivate the public, the Kelce family is navigating the complexities of newfound celebrity status while expressing their genuine support for Travis and his exciting new chapter with Taylor Swift.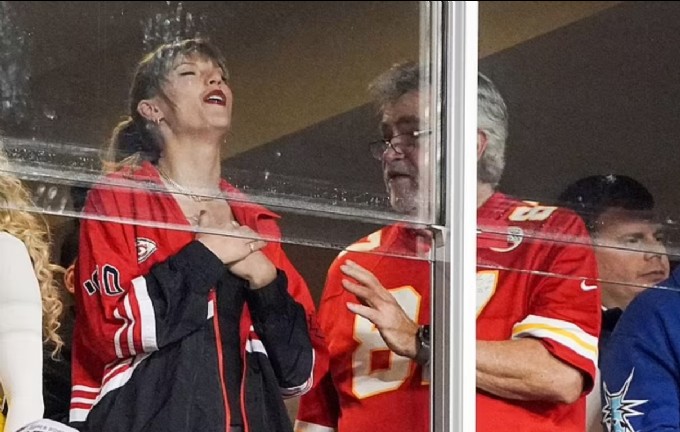 Super Bowl LVII
Super Bowl LVII was the 57th American football game played to determine the champion of the National Football League (NFL) for the 2022 season. The American Football Conference (AFC) champion Kansas City Chiefs defeated the National Football Conference (NFC) champion Philadelphia Eagles, 38–35. The game was played on February 12, 2023, at State Farm Stadium in Glendale, Arizona.
Super Bowl LVII Score
Kansas City Chiefs 38, Philadelphia Eagles 35
Super Bowl LVII Halftime Show
Rihanna was the halftime show performer for Super Bowl LVII. Her performance was widely praised by critics and fans alike.
Super Bowl LVII Tickets
The average price for a ticket to Super Bowl LVII was $9,250. The most expensive ticket sold for $150,000.
Super Bowl Contenders
The Kansas City Chiefs and the Philadelphia Eagles were the two favorites to win Super Bowl LVII. Both teams had finished the regular season with a 14–3 record.
Super Bowl 2024
Super Bowl LVIII will be played on February 11, 2024, at Allegiant Stadium in Paradise, Nevada.
The Philadelphia Eagles are a professional American football team based in Philadelphia, Pennsylvania. The Eagles compete in the National Football League (NFL) as a member club of the National Football Conference (NFC) East division. The Eagles were founded in 1933 and play their home games at Lincoln Financial Field.
The Eagles have won four NFL championships, in 1948, 1960, 2005, and 2018. They have also won nine NFC East division titles. The Eagles are one of the most popular and successful teams in the NFL, and they have a large and passionate fan base known as the "12th Man."
The Eagles are currently led by head coach Nick Sirianni. The team's roster features a number of talented players, including quarterback Jalen Hurts, wide receiver A.J. Brown, running back Miles Sanders, and defensive tackle Fletcher Cox.
The Eagles are one of the favorites to win Super Bowl LVIII in 2024. They have a young and talented team, and they are playing with a lot of confidence. The Eagles will be looking to build on their success from the 2022 season, and they will be hoping to bring another NFL championship to Philadelphia.
Taylor Swift is an American singer-songwriter. She is one of the most successful and popular recording artists of all time, having sold over 200 million records worldwide. Swift is known for her honest and relatable songwriting, her catchy melodies, and her powerful vocals.
Swift was born in West Reading, Pennsylvania, and moved to Nashville, Tennessee, at the age of 14 to pursue a career in country music. She signed her first record deal at the age of 15 and released her self-titled debut album in 2006. The album was a commercial success, and Swift became the youngest artist to ever top the Billboard Hot Country Albums chart with her debut album.
Swift has released nine studio albums, all of which have reached number one on the Billboard 200 chart. She has also won numerous awards, including 11 Grammy Awards, 40 American Music Awards, and 29 Billboard Music Awards.
Swift is a role model for many people around the world. She is known for her work ethic, her dedication to her fans, and her positive attitude. She is also a vocal advocate for social justice issues.
Here are some of Taylor Swift's accomplishments:
She has won 11 Grammy Awards, including Album of the Year for "1989" and "folklore."
She has sold over 200 million records worldwide, making her one of the best-selling artists of all time.
She has been named one of Time magazine's 100 Most Influential People in the World multiple times.
She is a vocal advocate for social justice issues, including LGBTQ+ rights and women's empowerment.
She is a role model for many people around the world, and she continues to inspire people with her music and her message.