Trump Campaign Raises Funds with Merchandise Featuring Mugshot Image
This innovative campaign aims to generate funds for his re-election efforts. The eye-catching mugshot picture has been emblazoned on T-shirts and mugs, with all profits from sales designated for his defense fund.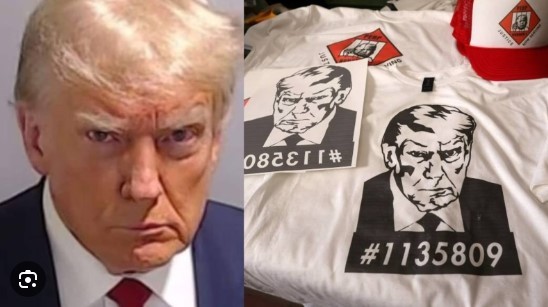 Capitalizing on the Mugshot: The campaign's latest fundraising email, subject-lined "Breaking News: The Mugshot is Here," introduces the newly designed T-shirt showcasing the distinctive mugshot image of Donald Trump. The mugshot, previously taken after his fourth criminal arrest of the year, has made history as the first-ever mugshot of a former US president.
Don Jr. Joins the Cause: Even Donald Trump Jr. has thrown his weight behind the campaign. He took to his platform, formerly known as Twitter and now called X, to promote the cause. In his tweet, he emphasized that all proceeds generated from the sale of T-shirts and posters featuring the mugshot would contribute to his father's defense fund.
Mugshot Symbolism: Following his arrest and subsequent booking process, Donald Trump issued an email plea for financial support. In this appeal, he highlighted the profound significance of his mugshot image, stating that it would be remembered as an emblem of America's stand against tyranny. Despite describing the experience of being photographed in such circumstances as "terrible," Trump remains steadfast in his determination to challenge perceived injustices.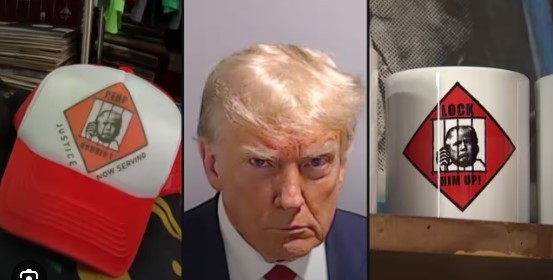 Legal Troubles and Defiance: Trump's legal woes continue as he faces charges alongside 18 other defendants in Georgia under racketeering law. The charges stem from his alleged involvement in attempts to overturn President Biden's victory. Prosecutor Fani Willis is pushing for an arraignment hearing in the week commencing September 5. Trump, undeterred by the legal proceedings, stands by his belief that the election was rigged and stolen, asserting his right to challenge the outcome.
A Symbolic Booking: After surrendering himself and undergoing the booking process, Trump was released on a $200,000 bond. He seized the opportunity to share his mugshot image on his Truth Social site and on Twitter/X, marking his return to the platform. Accompanying the image were defiant captions such as "Election Interference" and "Never Surrender!"
Biden's Light-hearted Reaction: In an unexpected turn, President Biden was asked for his thoughts on the matter during a visit to Nevada. With a touch of humor, Biden commented, "I did see it on television. Handsome guy."
In this extraordinary fundraising endeavor, Donald Trump's team leverages his unique mugshot image to generate funds for his re-election campaign. This symbolic initiative intertwines legal challenges with a message of defiance against perceived injustices. As the saga continues, Trump remains resolute in his fight, while even political opponents find a lighthearted angle in the unfolding drama.