Victoria Beckham's Star-Studded Paris Fashion Week Show Draws A-Listers
Kim Kardashian, Pamela Anderson, Eva Longoria, Sabrina Elba, and Mia Regan led the glamorous arrivals, creating quite a buzz in the fashion world.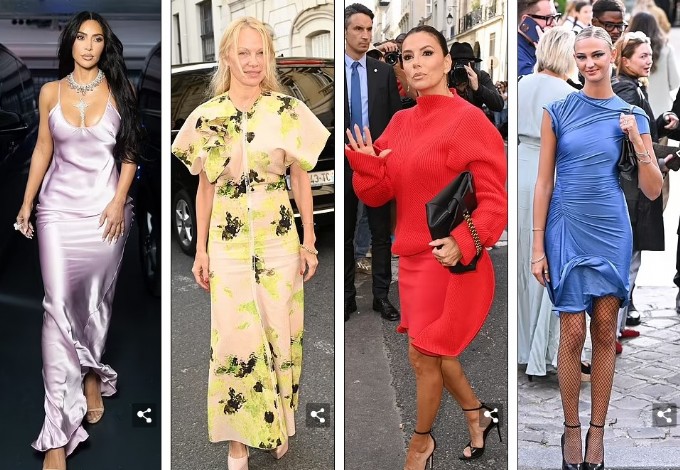 Victoria's daughter, Harper, made a stylish appearance, donning a fashionable white dress paired with Prada mule heels, showing off her fashion-forward sense at just 12 years old. Cruz, her son, also joined in, adding to the fashion-forward family vibes.

However, one fashion misstep stole the spotlight, as David Beckham, usually a style icon, committed a rare faux pas by sporting socks with sandals. Despite this unusual choice, David showed his unwavering support for his wife on her big night, donning a navy suit, a plain white T-shirt, and trendy orange-tinted shades.

Kim Kardashian led the glamorous arrivals in a lilac satin gown with a scooped neckline, epitomizing elegance. She was accompanied by iconic Baywatch star Pamela Anderson, who rocked a floral gown paired with towering platform heels, demonstrating her evergreen style.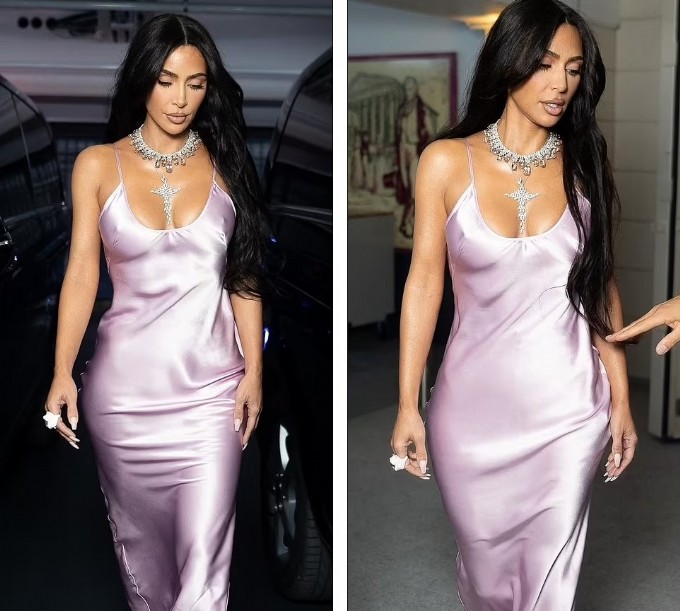 Eva Longoria, a close friend of the Beckhams, showcased her fashion prowess in a red mini dress with voluminous sleeves, adding a dash of glamour with peep-toe black heels and a chic black handbag.

Mia Regan, Romeo Beckham's girlfriend, shone in a blue hemmed mini dress, completing her look with black platform heels and dramatic black eyeliner.

Despite the fashion-forward ensemble of her family, the standout moment was when David shared an affectionate kiss with Harper before heading to Victoria's fashion show. This gesture stirred conversation, as David has previously been both praised and criticized for such displays of affection with his children. However, he remains steadfast in his commitment to showing love and support for his family.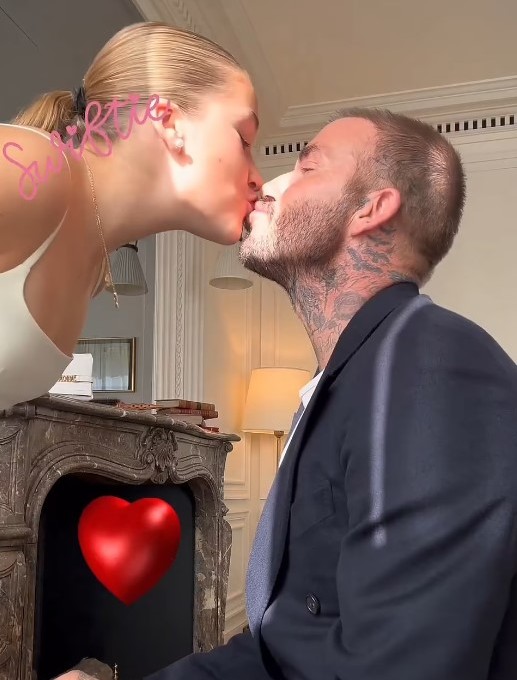 Victoria's Paris Fashion Week show marked a special moment for her as an independent brand, following her successful PFW debut last year. She expressed her excitement, stating, "I am going to enjoy every moment." Her brand has seen financial success recently, and she credited CEO Marie Leblanc for restructuring and boosting sales.

This year's show followed the announcement of a fragrance collection being added to Victoria Beckham Beauty, showcasing her ever-expanding presence in the fashion and beauty industry. Victoria's dedication and talent continue to shine as she makes her mark on the fashion world.

As Paris Fashion Week unfolds, Victoria's show stands as a testament to her creative vision and enduring influence in the world of fashion. Stay tuned for more updates and highlights from this prestigious event.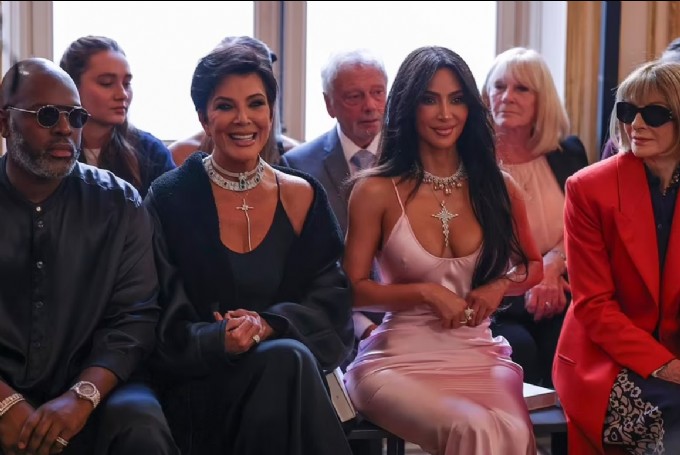 Victoria Fashion Website:

Victoria Fashion's official website offers a wide range of trendy clothing and accessories.
Explore the latest fashion collections and style guides on Victoria Fashion's website.
Shop online for the hottest fashion trends at Victoria Fashion's website.
Discover exclusive deals and promotions by visiting Victoria Fashion's official website.
Stay updated with fashion news and tips through Victoria Fashion's online platform.
Victoria Fashion Store:

Visit a Victoria Fashion store near you to experience high-quality clothing and accessories.
Find your nearest Victoria Fashion store and explore the latest arrivals.
Victoria Fashion stores offer a unique shopping experience with personalized assistance.
Shop in-store for the best selection of women's fashion from the Victoria brand.
Enjoy a diverse range of clothing options when you step into a Victoria Fashion store.
Victoria Fashion Online:

Victoria Fashion is accessible online, allowing you to shop from the comfort of your home.
Explore the convenience of online shopping with Victoria Fashion's e-commerce platform.
Discover the latest fashion trends with just a click through Victoria Fashion's online catalog.
Victoria Fashion's online store provides secure payment options for a seamless shopping experience.
Join the online fashion community and follow Victoria Fashion for style inspiration.
Victoria Fashion Boutique:

Visit Victoria Fashion's boutique for an exclusive selection of designer clothing.
Experience personalized service and unique fashion finds at Victoria Fashion's boutique.
Find limited-edition pieces and curated collections at Victoria Fashion's boutique stores.
Victoria Fashion's boutique offers a luxurious shopping environment for fashion enthusiasts.
Check out the boutique locator on Victoria Fashion's website to find a boutique near you.
Women Victoria Fashion:

Victoria Fashion specializes in women's fashion, catering to a diverse range of styles.
Women can explore a variety of clothing, footwear, and accessories from Victoria Fashion.
Find the perfect outfit for any occasion with Victoria Fashion's women's collection.
Join the community of stylish women who choose Victoria Fashion as their go-to brand.
Victoria Fashion celebrates women's individuality and empowers them through fashion.
Victoria Clothing Brand:

Victoria Fashion is a renowned clothing brand known for its elegance and style.
The Victoria clothing brand offers a signature collection designed for fashion-forward individuals.
Discover the story behind the Victoria clothing brand and its commitment to quality.
Explore the brand's heritage and innovative fashion creations from Victoria Fashion.
Join the loyal customer base that trusts the Victoria clothing brand for exceptional fashion.
Victoria Beckham:

Victoria Beckham, the fashion icon, has made a significant impact on the industry.
Learn more about Victoria Beckham's journey from pop star to acclaimed fashion designer.
Explore Victoria Beckham's clothing line, characterized by sophistication and modernity.
Stay updated with Victoria Beckham's latest ventures and collaborations in the fashion world.
Discover how Victoria Beckham's style and influence continue to shape the fashion landscape.
Victoria Beckham Clothing:

Victoria Beckham's clothing line reflects her signature style and impeccable taste.
Explore Victoria Beckham's clothing collections, featuring tailored pieces and elegant designs.
Find inspiration for your wardrobe with Victoria Beckham's fashion-forward clothing.
Learn about the craftsmanship and attention to detail that define Victoria Beckham's clothing.
Shop for Victoria Beckham's clothing items at her brand's official stores or authorized retailers.