Victoria Beckham turns heads as she goes braless in a VERY racy backless white gown from her collection after Rio Ferdinand claimed he'd never seen her eat
The former Spice Girl, 48, whose net worth is approximately $450 million, took to Instagram to reveal that her frock was split into two parts in two separate shades, as she posted two snaps posing in the jaw-dropping piece.
Victoria's gown was completely backless, with the rear consisting of a halterneck fastening and a stunning black fishtail skirt and a tie around the neck.
Her frock showcased her slender arms and she also added black stilettos to the stylish look.
Victoria wore her balayage locks in tousled waves and opted for a glowing neutral makeup palette.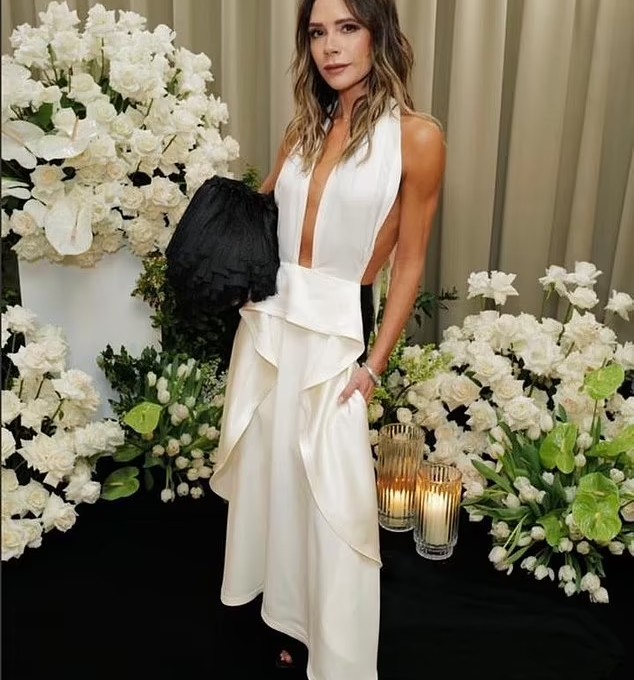 In another snap, the star posed as though she was climbing the stairs and she captioned her post: 'This is one of my favourite pieces from my new season collection..
'Who doesn't love a backless dress!! Shop the Sleeveless Circle Draped Dress in two colourways – ivory and black and sky blue and coral.'
It comes after it was recently announced Victoria's business had finally made a profit after spending 13 years in the red.
The business, which has borrowed £30 million from other parts of the Beckham empire over the years, is at last showing a profit.
In an interview with industry bible Women's Wear Daily (WWD) to celebrate the news, her brand's investor, David Belhassen, shone a rare spotlight on the inner workings of Posh's empire.
He said that revenues are up by a huge 42 per cent to £58 million — and predicted that when the business files accounts for the 2022 financial year this coming December, the former Spice Girl will make her many critics eat their words.
She's certainly taken her time to get here: the most recent accounts, which cover the period up to December 2021, show a loss of £2.2 million.
The key to her eventual triumph lay in Victorias diversification into accessories — particularly her signature 'watch chain' pouch handbags — and in the runaway success of her make-up range.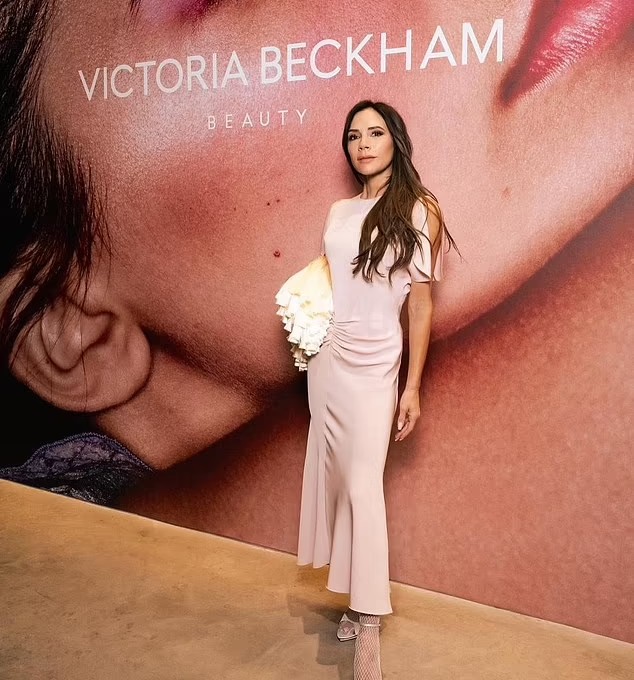 Other big sellers include the Frame Buckle belt, costing £190, and the distinctive Shield sunglasses, from £300, modelled by Victoria at every opportunity.
It is these items — all keenly priced for the luxury market — and not her clothes that have helped her beat fashion's bitchiest naysayers.
Sources at the company confirm that her new chain strap pouch handbag, priced from £650, has become a sought-after 'hero' item. It sold out after debuting in her Spring/Summer '23 show in Paris last September, and now, such is the demand, there is a waiting list.
Recognising the hit on her hands, Victoria has had it made in a further three sizes. The jumbo size, priced at £1,290, is already sold out in a few colourways, having only just gone live on her website.
What's more, after launching into the competitive world of beauty, Posh has won critics over with her smudgy Satin Kajal eyeliner, which at £26 has been selling strongly in most colours and is on its way to attaining cult status.
It's quite a turnaround from a few years ago, when the very existence of the Victoria Beckham brand was in doubt.
Accounts for 2021 showed losses of £2.2 million, at which point auditors said the company was facing 'material uncertainty' requiring 'shareholder support'.
But now, following what sources at the company call an 'entire reshuffle', and as a result of Victoria's undoubted tenacity, the brand is on the up.
NEO investment partners pumped £30 million into Victoria Beckham back in 2017 and its boss, David Belhassen, now says he expects the business will achieve 'more than' £100 million in revenue over 'the next couple of years', with half that coming from the beauty and skincare business which was launched in September 2019.
It also comes after Rio Ferdinand said he has never seen her eat anything, having dined with the Beckhams during training for the 2008 World Cup.
The BT Sport pundit, 44, and Inter Miami president, 47, both represented England in the World Cup, and Rio would sometimes dine with the Beckhams during training.
While speaking to Australian radio show Kyle and Jackie O on Thursday, host Jackie 'O' Henderson admitted she was 'obsessed' with Victoria's diet because the fashion designer is a notoiously picky eater.
Rio responded: 'I've never seen her eat anything. I don't remember anything that sticks out of my memory, to be honest.'
'Was she nice?' Jackie then asked, to which Rio replied: 'Yeah, she is nice.'
Jackie's co-host Kyle Sandilands then laughed: 'You can't be asking a player about another soccer player's wife!'
Rio was a guest on the radio show to promote the advertising start-up WeAre8, which has been backed by the footballer for its 'zero-hate' policy.
Back in July, Victoria offered a glimpse of her 'extreme' diet after David admitted she 'only eats grilled fish and vegetables'.
The mother of four, 48, told vogue Australia her husband made her tastes 'sound boring' when in fact she fills her diet with 'healthy fat' and regularly does detoxes where she abstains from drinking alcohol.
Victoria's comments came after a high-profile chef revealed the star's 'complicated' dinner demands when she and David attended Spanish footballer Sergio Ramos' 2019 wedding, where she constantly requested 'bowls of mints and coconut water'.
Following David's remarks about her diet, Victoria told Vogue: 'I mean, talk about making me sound boring! No. What he meant is that he's never met anyone who is more disciplined with the way that they eat.
'I eat lots of healthy fat: fish, avocado, nuts, that sort of thing. I do drink alcohol, unless I have a reason not to.
'I'll detox from anything for three to six months where I won't drink. I'm quite extreme in anything I do, whether it's eating or working out or drinking or not drinking.'
Earlier this year, David offered insight into Victoria's eating habits while discussing his own favourite foods during a podcast interview.
'I get quite emotional about food and wine, when I'm eating something great I want everyone to try it,' he said.
'Unfortunately I'm married to someone that has eaten the same thing for the last 25 years!
'Since I met her she only eats grilled fish [and] steamed vegetables. She will very rarely deviate from that.'