WhatsApp is secretly 'LISTENING to you in your sleep' expert claims – here's how to check your phone and stop it
But there appears to be a less nefarious explanation behind the bizarre revelation.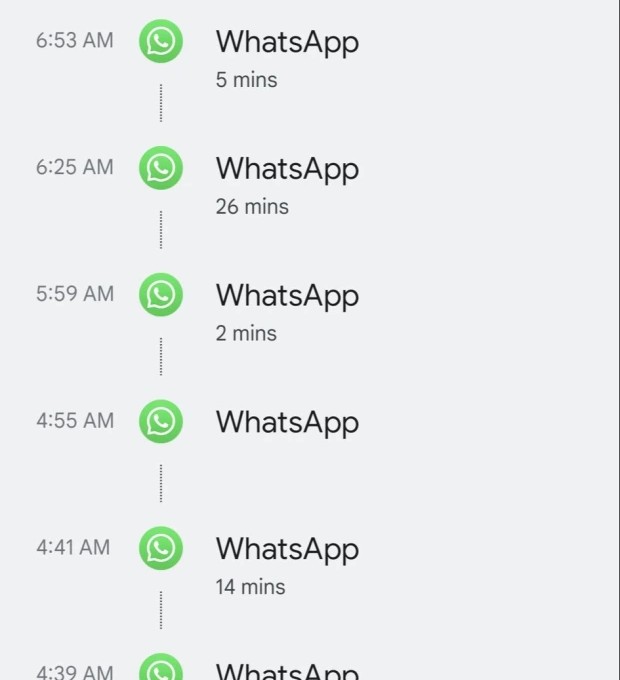 Over the weekend, Twitter engineer Foad Dabiri tweeted a screenshot of his microphone usage from his Google Pixel phone.
It showed WhatsApp listening through the device in stints as long as 26minutes, while the app wasn't in use.
"WhatsApp has been using the microphone in the background, while I was asleep and since I woke up at 6AM (and that's just a part of the timeline!) What's going on?," he wrote on Twitter.
Twitter boss and eccentric billionair Elon Musk boosted the post last night, saying: "WhatsApp cannot be trusted."
The statement sparked a frenzy among WhatsApp users.
The Meta-owned messaging app is the most popular in the world, used by an eyewatering 2billion people.
However, Yann LeCun, chief AI scientist at Meta, quickly chimed in to squash concerns that WhatsApp is spying on its users.
"Dude, it's an Android bug," he wrote.
both WhatsApp and Google have since confirmed that it is a cyber flaw affecting Android devices.
"We believe this is a bug on Android that mis-attributes information in their Privacy Dashboard and have asked Google to investigate and remediate," WhatsApp wrote in a statement on Twitter.
"Users have full control over their mic settings.
"Users have full control over their mic settings.
"Once granted permission, WhatsApp only accesses the mic when a user is making a call or recording a voice note or video - and even then, these communications are protected by end-to-end encryption so WhatsApp cannot hear them."
A Google spokesperson said: "We are aware of the issue and are working closely with WhatsApp to investigate."
Musk's comment comes as he prepares to roll out encrypted messaging on Twitter tomorrow - a feature which historically set WhatsApp from other messaging services.
Encryption is when data such as text messages are scrambled into a code to prevent unauthorised access - which in WhatsApp's case, is everyone except the sender and the recipient.
So even if WhatsApp was recording audio while users slept, all sound bites are encrypted, so they cannot be accessed by WhatsApp or anyone else.
How do I check if WhatsApp accessed my microphone?
WhatsApp likely has access to your microphone if you use the app to make phone calls, voice notes or record videos.
You can block this access if you're concerned about your privacy, but it should be noted that you will not be able to record any sound in WhatsApp if you do so.
Simply follow these steps:
On your Android phone, open the Settings app.
Tap Apps.
Tap the app you want to change. If you can't find it, tap See all apps. Then, choose your app.
Tap Permissions.

If you allowed or denied any permissions for the app, you'll find them here.

To change a permission setting, tap it, then choose Allow or Don't allow.
For microphone permissions, you may be able to choose:
Allow only while using the app: The app can use the permission only when you're using that app.
Ask every time: Every time you open the app, it'll ask to use the permission. It can use the permission until you're done with the app.
Don't allow: The app cannot use the setting, even when you're using the app.
There have been no reports of this impacting Apple devices.
But many iPhone owners can access their very own App Privacy Report, which tells you which apps are accessing your microphone, cameras, and location.
This means you can decide which apps to trust, and which settings and permissions you want to tweak.
Simply open Settings > Privacy & Security > App Privacy Report and turn the toggle on and wait for the reports to come in.
Best Phone and Gadget tips and hacks
Looking for tips and hacks for your phone? Want to find those secret features within social media apps? We have you covered...
How to delet your Instagram account
What does pending mean on Snapchat?
How to check if you've been blocked on whatsApp
How to dropp a pin on google Maps
How can I change my Facebook password?
How to go live on TikTok
How to the cache on iphone
What is NFT art?
What is OnlyFans?
What does Meat mean?
Get all the latest WhatsApp, Instagram, Facebook and other tech gadget stories here.