Wild Dingo Bites Sunbather's Bottom on Beach, Highlighting Growing Concerns After Recent Attacks
The alarming footage, which has been circulating online, depicts the predator approaching the bikini-clad woman and swiftly nipping her. Startled by the sudden attack, the woman quickly jumps up from her towel while onlookers rush to her aid.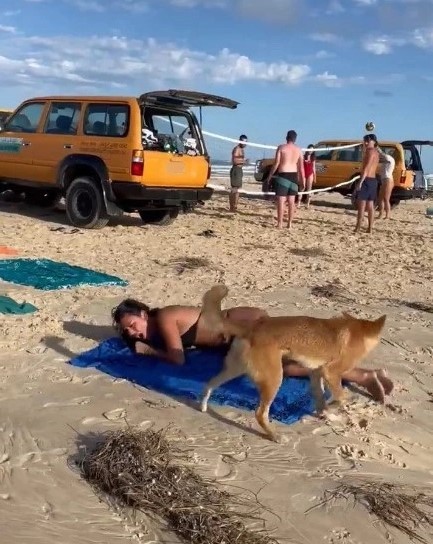 This incident occurred just weeks before another disturbing dingo attack, where a ten-year-old boy was mauled and dragged into the sea. The attack took place on K'gari beach in Australia, less than two weeks after park rangers euthanized another dingo. The young boy was bitten and pulled underwater while walking along the water's edge on the island's west coast. Thankfully, his brave 12-year-old sister intervened and saved him from further harm.

The boy suffered puncture wounds to his shoulder and arms, as well as scratches and bruises on his collarbone and arm. Assistant Principal Ranger Danielle Mansfield expressed gratitude that the injuries were not more severe, as the family declined medical assistance offered by the Queensland Parks and Wildlife Service. The rangers identified the tagged dingo, which was later seen loitering near the camping area, digging up food scraps buried in the sand.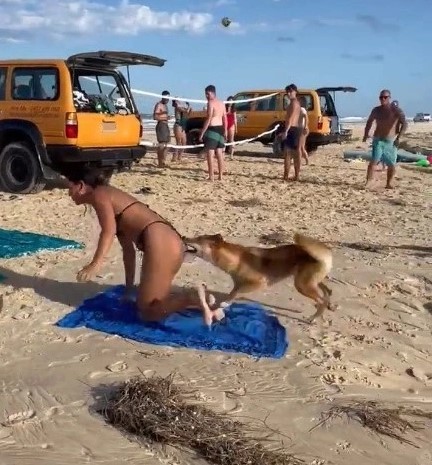 Rangers promptly chased the dingo away and have increased patrols in the area. Mansfield emphasized the need for proper supervision of children on the island, stating that they must be within arm's reach of an adult at all times, even if no dingoes are visible. She also warned that visitors' "harmless" feeding of these dangerous animals leads to their frequent return to the beach in search of food.

The recent spate of dingo attacks on the island has prompted rangers to distribute reminders for people to remain vigilant. Previous incidents include a dingo biting a seven-year-old boy and a 42-year-old woman. In April, a toddler was horrifically mauled by a dingo at a popular campsite in Karijini National Park, although his injuries were not life-threatening. Additionally, a six-year-old girl was attacked by a dingo off Australia's east coast, leaving her with bite wounds on her head and minor cuts on her hands.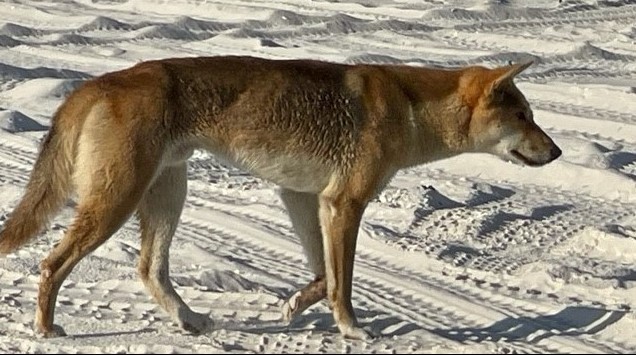 These incidents highlight the growing concern surrounding dingo encounters and emphasize the importance of respecting their wild nature. Authorities are urging visitors to refrain from feeding them and to maintain a cautious distance to ensure their own safety and the preservation of these unique but potentially dangerous animals.