'World's Sexiest Volleyball Player' Celebrates 1 Million Instagram Fans
To mark the occasion, the 27-year-old athlete and model delighted her fans with a provocative photo showcasing her shapely derriere and a hint of sideboob. The post quickly garnered over 29,000 likes and sparked an outpouring of compliments from her dedicated fanbase. Simmons, a former Marshall University volleyball star, transitioned into modeling and gained further popularity as an OnlyFans content creator, accumulating nearly 220,000 likes on her page.
Captivating Instagram Post:
Simmons captivated her followers with a steamy Instagram post, capturing herself lounging on a sunbed. The photo highlighted her voluptuous rear and a tantalizing glimpse of sideboob. Accompanying the image, she cheekily captioned it as "had to crop my toes out."
Enthusiastic Fan Reactions
Simmons' post sparked a wave of admiration from her devoted fans, who eagerly expressed their adoration in the comments section. Supporters praised her stunning appearance, with one follower commending her for "doing it right," while another exclaimed that she "kept the best in." However, not everyone was pleased with the toe cropping, as one commenter humorously expressed their frustration, stating, "YOU NEVER CROPPED THEM OUT BEFORE. YOU ONLY STARTED DOING IT NOW, JUST TO TEASE US."
Modeling Career and OnlyFans Success
After concluding her volleyball career at Marshall University, Simmons pursued a modeling path, catapulting her into the spotlight. Additionally, she established a presence on OnlyFans, where she has garnered a significant following, accumulating almost 220,000 likes. Fans have the opportunity to subscribe to her page for exclusive content, as indicated in Simmons' bio, which humorously states, "this is where wifey gets wild... it's me, I'm wifey."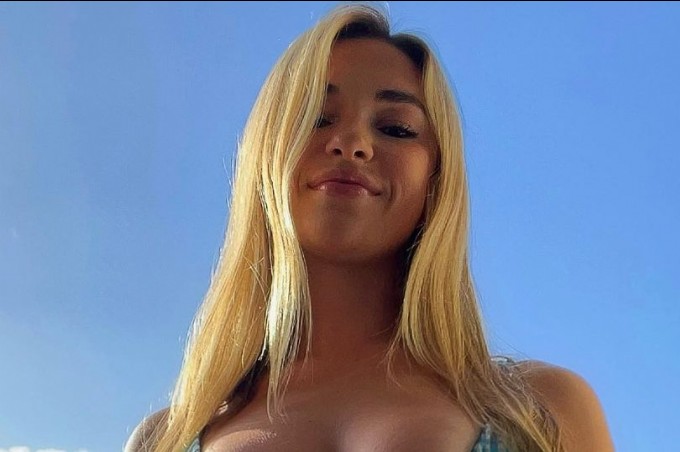 Addressing Rumors
Simmons frequently captivates her social media audience with posts showcasing her ample bosom, leading to speculation about their authenticity. During a YouTube interview, the model settled the debate by confirming that her breasts are indeed real. She also reminisced about her younger years, revealing that she had once desired smaller breasts, particularly during her middle school years. Simmons humorously reflected on the challenges her ample bosom posed in her volleyball career, affecting her vertical leap and running speed.
Kayla Simmons, the 'world's sexiest volleyball player,' celebrated reaching one million Instagram followers with a scintillating post that accentuated her enviable curves. The captivating image, which quickly gained popularity and amassed thousands of likes, showcased her prominent rear and a tantalizing hint of sideboob. As Simmons continues to flourish in her modeling career and maintain an avid following on OnlyFans, her fans eagerly anticipate her future endeavors and captivating social media content.