Amanda Holden, 52, Stuns in Swimsuit as She Enjoys Hot Tub Time
On Easter Saturday, Amanda delighted her Instagram followers with a snapshot of herself gracefully seated on the hot tub's edge. She wore a serene pale green swimsuit, with the backdropp featuring gently swaying blossom trees.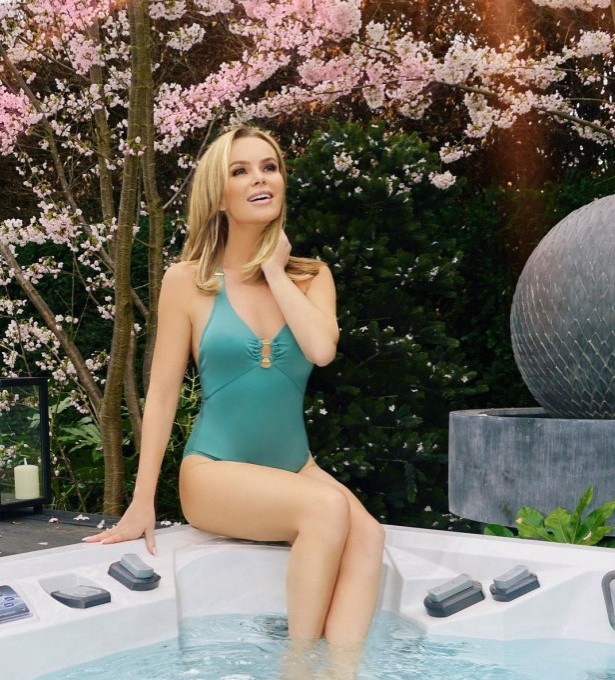 In her post, Amanda expressed gratitude to her dear friend, fellow TV personality Tess Daly, for gifting her the elegant one-piece from the new Clio collection by Naia Beach. Tess promptly chimed in, complimenting Amanda and describing her as a "gorgeous GODDESS." Amanda's photo exuded confidence, highlighting her slender, well-toned legs and a flat stomach.

This picturesque moment follows Amanda's Easter Bunny-themed photoshoot from the previous day, where she embraced a more playful and daring persona. Clad in a black and white bunny bodysuit with delicate straps and a bunny tail, Amanda added bunny ears, a choker, and cuffs to complete her captivating look. She playfully captioned the post with "HAPPY EASTER EVERYONE.. 🐰👯‍♀️💛," sparking enthusiastic responses from her fans, who couldn't help but shower her with compliments.

Amanda Holden continues to captivate her audience with her charisma, style, and timeless beauty, proving that age is just a number.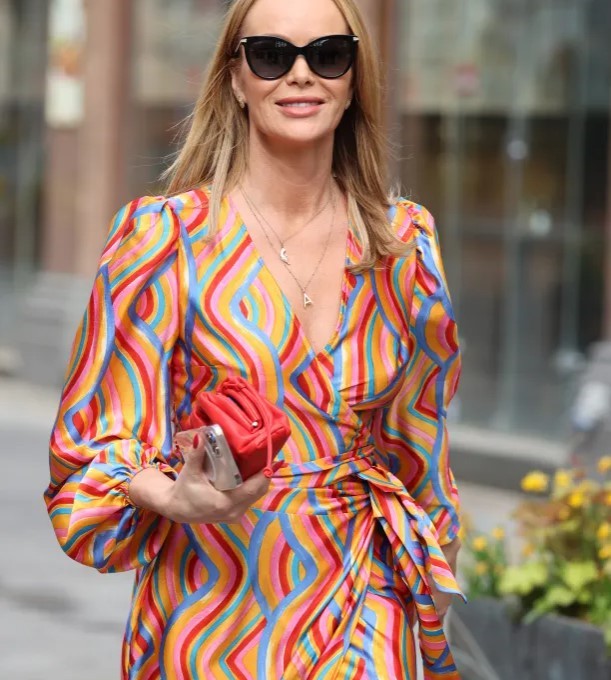 Amanda's Swimsuit Elegance: Amanda Holden has long been recognized for her enduring beauty and remarkable fashion sense. In her recent Instagram post, she effortlessly blended elegance and comfort as she soaked up the serenity of her hot tub. The pale green swimsuit she donned not only complemented her radiant complexion but also accentuated her stunning physique. Amanda's poised posture by the hot tub's edge and the backdropp of blossoming trees painted a picture of tranquility and relaxation.

The Naia Beach Swimsuit: Amanda took a moment to express her gratitude to her friend and fellow TV star, Tess Daly. The swimsuit she wore was a special gift from Tess, designed by Naia Beach as part of the Clio collection. This thoughtful gesture between friends not only highlighted their strong bond but also showcased Amanda's enduring sense of style. Tess Daly's choice for Amanda was impeccable, and it perfectly matched Amanda's grace and beauty.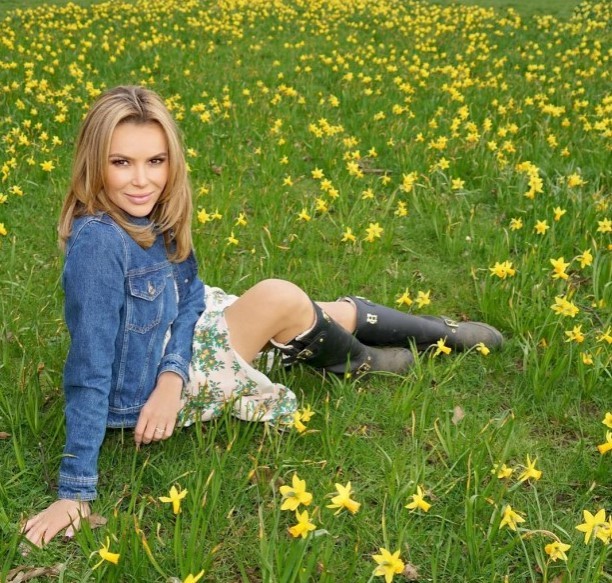 Tess Daly's Compliments: Tess Daly, known for her warm and endearing personality, didn't miss the opportunity to compliment Amanda Holden. In her response to Amanda's post, Tess referred to her as a "gorgeous GODDESS" and used fire emojis to emphasize Amanda's stunning appearance. Such mutual admiration between friends was heartwarming to witness and showcased the camaraderie they share.

Amanda's Confidence: Amanda Holden's photo radiated confidence and self-assuredness. At the age of 50, Amanda continues to inspire and empower others with her body positivity and self-confidence. Her swimsuit-clad appearance displayed her well-toned legs and a flat stomach, setting an excellent example that beauty knows no age.

The Easter Bunny Transformation: Amanda Holden's playful side was on full display in her Easter Bunny-themed photoshoot from the day before. In a departure from her elegant swimsuit look, Amanda embraced a fun and flirtatious persona. Her choice of a black and white bunny bodysuit with delicate straps and a bunny tail added a touch of whimsy to the occasion.

The Easter Bunny Accessories: Amanda's transformation into the Easter Bunny was completed with the addition of bunny ears, a choker, and cuffs. These accessories not only enhanced her playful look but also showcased her creativity and attention to detail.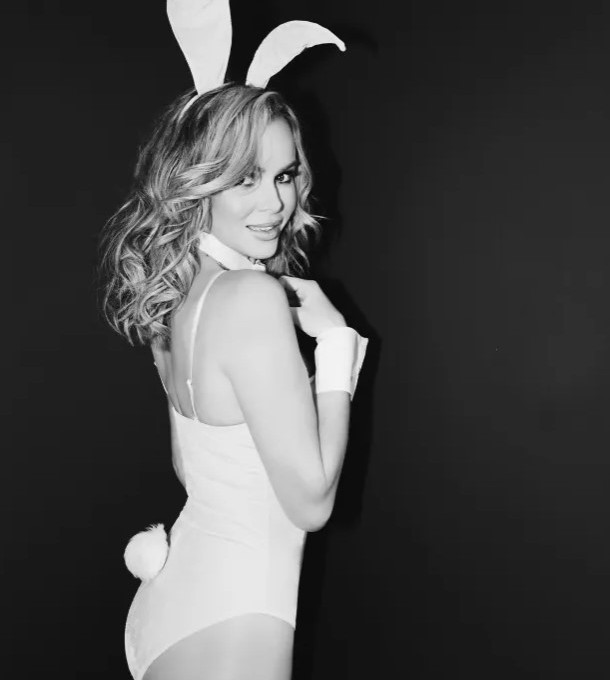 Amanda Holden's Easter Bunny Instagram post generated an outpouring of positive reactions from her fans, who were quick to express their enthusiasm and admiration through comments and emojis. Phrases like "HAPPY EASTER INDEED" and "absolute goddess" echoed the sentiments of those who appreciate her vibrant and playful spirit.

Holden's ability to effortlessly transition from elegant swimsuit moments to playful Easter Bunny escapades underscores her versatility and timeless beauty. Her posts continue to captivate and inspire her audience, proving that age is merely a number in the world of style and grace.
As Amanda Holden shares her moments of joy, confidence, and creativity with her fans, she remains a source of inspiration for those who appreciate her authenticity and zest for life. With her enduring allure and genuine personality, Amanda continues to leave a lasting impression, reminding us all to embrace our unique selves with confidence and enthusiasm.
Here are some additional thoughts on Amanda Holden:
Holden's positive energy and infectious smile are contagious. She radiates a sense of joy and confidence that is inspiring to others.
Holden is not afraid to be herself. She embraces her unique style and personality, and she encourages others to do the same.
Holden is a role model for women of all ages. She shows that it is possible to be successful, stylish, and confident at any stage of life.
Amanda Holden is a true inspiration. She is a reminder that we should all embrace our unique selves and live life to the fullest.