Amanda Holden and Ashley Roberts Make a Charitable Statement with Style
The pair, known for their vibrant on-air chemistry, took part in a series of exhilarating challenges to raise funds for small, local charities making a significant impact across the UK as part of Global's philanthropic initiative.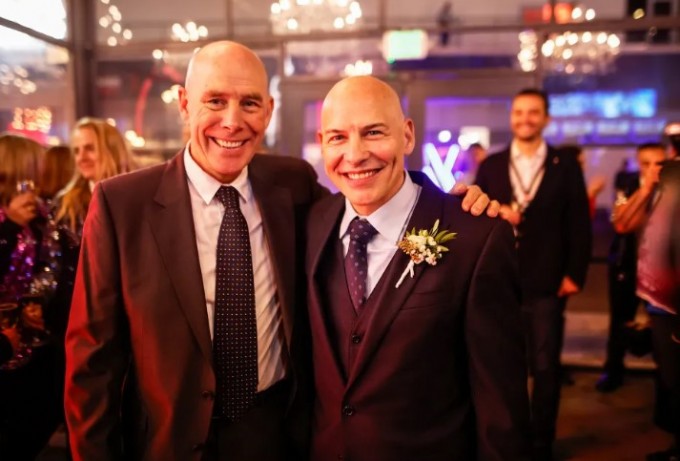 Amanda Holden, the renowned Britain's Got Talent judge and beloved radio presenter, arrived at London's Leicester Square radiating confidence and style. Her fit physique was on full display as she confidently jogged through the bustling area, where eager fans eagerly awaited her arrival. Dressed in striking red skintight leggings paired with a crisp white sweater, Amanda showcased her impeccable fashion sense and undeniable fitness.

Completing her sporty ensemble were sleek black trainers and chic rounded black shades, adding an element of urban flair to her look. As Amanda confidently made her way through the crowd, she looked every bit the epitome of a modern, fashionable, and philanthropic celebrity.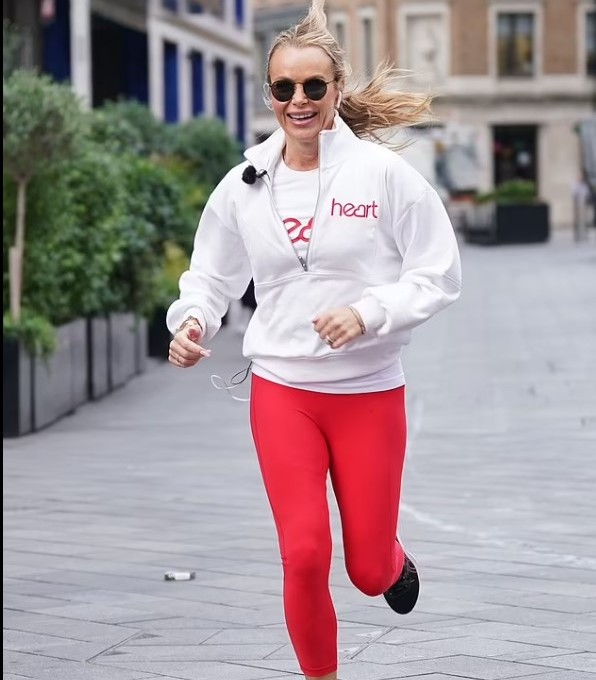 Throughout the week, Amanda embarked on a series of grueling challenges, each designed to push her limits and support Heart's charity initiative aptly named "Race Against Time." The challenges were diverse and demanding, symbolizing Amanda's dedication to making a positive impact on her community and the lives of those in need.

One of the standout moments of Amanda's charity efforts was a daring 13,000-foot skydive, an experience that would leave even the most adventurous hearts pounding with anticipation. As Amanda soared through the sky, she was joined by The Wings Parachute Display Team, renowned for their breathtaking aerial displays. The heart-pounding freefall was followed by a mesmerizing parachute formation in the clear blue sky, a testament to Amanda's fearless spirit and unwavering commitment to her charitable mission.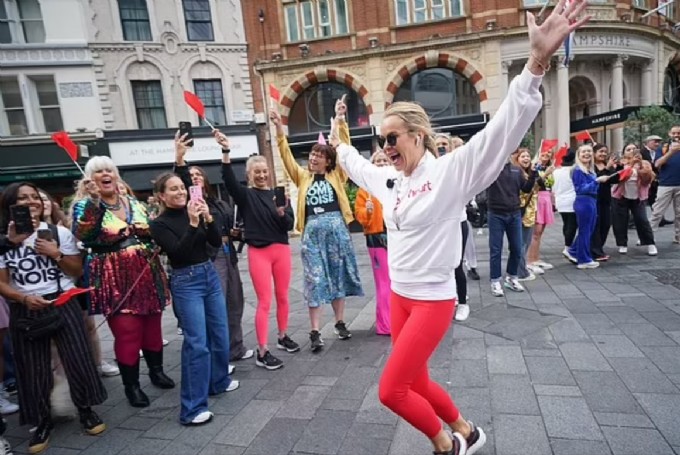 Reflecting on the exhilarating experience, Amanda shared her excitement, saying, "I feel like I might learn how to do it on my own one year…if I keep doing it. I was in free-fall for about 30/40 seconds, and then you have a tiny weeny, it looks like a jellyfish, parachute, that slows you down to about 20mph so you can then do all the formation stuff. I have to say it was amazing, it is always terrifying and odd when you're sitting on the edge of the plane with your legs dangling out."

Amanda's journey throughout the week was not limited to the skies; she also conquered formidable terrestrial challenges. One such feat was her ascent of Blackpool Tower, a historic and iconic landmark. Despite the physical and mental demands of the climb, Amanda's indomitable spirit prevailed as she reached the summit and touched the towering flagpole. Her achievement was particularly remarkable as she became the first person ever to accomplish this feat, completing it in an impressive 57 minutes and 59 seconds.

The Make Some Noise Charity Day was a comprehensive and impactful endeavor that saw Amanda, Ashley, and Jamie Theakston, their fellow Heart Radio presenter, engage in a series of challenges for an incredibly noble cause. Their collective mission aimed to raise awareness and vital funds for small, local charities that are changing lives across the UK. The challenges addressed a range of pressing issues, including mental health, food poverty, domestic abuse, homelessness, and loneliness, reflecting the diverse and complex challenges faced by communities across the nation.

Amanda and Ashley's unwavering commitment to this charitable cause was evident not only in their daring exploits but also in their infectious enthusiasm and genuine desire to make a meaningful impact. Their charity initiative marked a decade of supporting small projects that have a profound and lasting effect on local communities.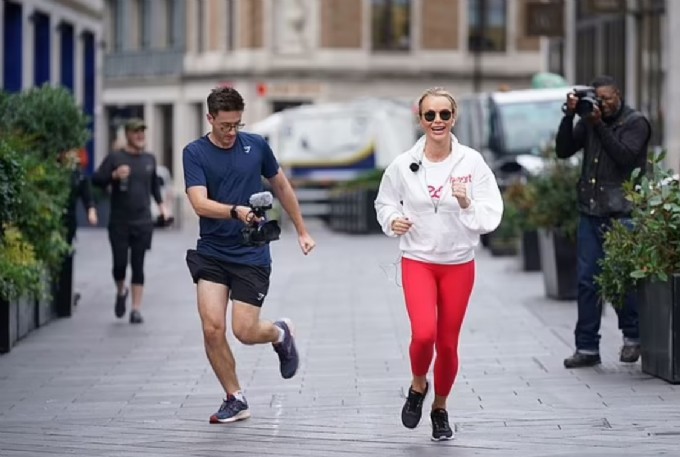 As Amanda and Ashley arrived back at Global Studios after their day of incredible achievements, they were met with jubilant applause and support from fans and colleagues alike. The pair radiated positivity and shared their joy with the world, celebrating the success of their charity mission and the generosity of those who contributed to their cause.

In addition to the physical challenges, the day was also a celebration of the power of community, compassion, and collective action. Amanda and Ashley's commitment to supporting small charities exemplified the profound impact that individuals and organizations can have when they come together to create positive change.

The culmination of their charity efforts was a heartwarming moment as Amanda and Ashley, dressed in their stylish and sporty attire, danced around the square alongside presenter James Theakston. The trio exuded joy and camaraderie, embodying the spirit of unity and resilience that defines charitable endeavors.

As the sun set on this remarkable day of challenges and triumphs, Amanda Holden, Ashley Roberts, and Jamie Theakston stood as beacons of hope, demonstrating the incredible potential for positive change that resides within us all. Their dedication to making a difference, paired with their undeniable style and charisma, left an indelible mark on the hearts of those who witnessed their remarkable journey.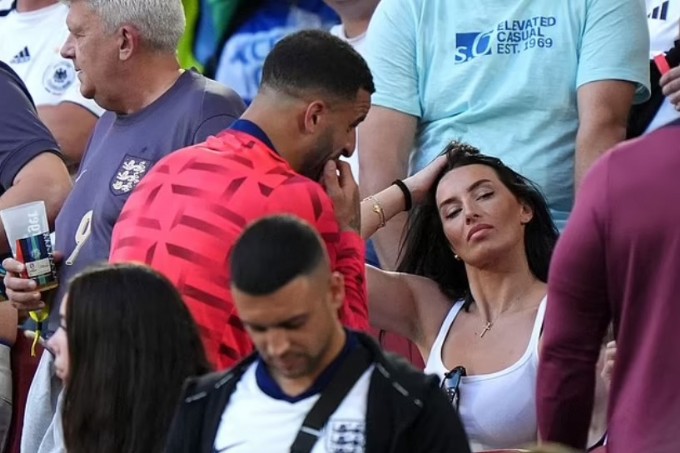 For those inspired by Amanda and Ashley's charitable mission and wishing to contribute to Global's Make Some Noise, visit this link. You can also make a meaningful donation by texting HEART10, HEART20, HEART30, or HEART40 to 70766, with 100% of your contribution directly supporting Global's Make Some Noise.

Amanda Holden and Ashley Roberts are not only celebrated for their entertainment prowess but also for their compassionate and philanthropic spirit, reminding us all that positive change is possible when we join forces for a greater good.